Current Issue

Previous Page Page 2 Next Page >



Handle With Care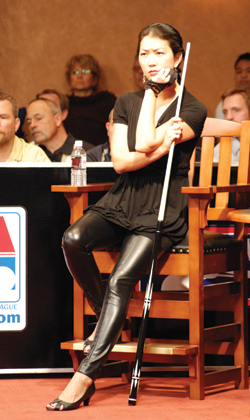 Despite missing one Classic Tour event in 2009, Lee finished the year ranked ninth. (Photo by Anne Craig)
IN JANUARY, while Lee and Breedlove made the two hour-plus journey from home to the Derby City Classic in Elizabeth, Ind., the Black Widow was in full gear. Playing as much and as well as she had in years, Lee was intent on sharpening her game by mixing tournament matches with sets in the action room.

Believing she was on the verge of a breakthrough on the WPBA, Lee knew that 2010 could be the year for her first major victory since the 2004 BCA 9-Ball Open Championship. She placed ninth on the Classic Tour last year (despite missing one of the six events for the birth of daughter Chloe in December), with three semifinal appearances.

"There's a difference between thinking you're playing well when you come in third and feeling like you're taking it from these girls," she said. "I felt dangerous."

While at Derby City, Lee played night after night, becoming such a fixture in the upstairs action room that she was awarded the Louie Roberts Action & Entertainment Award, given to the most entertaining figure (player, backer, whomever) over the course of the nine-day extravaganza.

But somewhere along the way, Lee, now 38, had a sneaky suspicion something wasn't right, a feeling that escalated into increasingly deteriorating health as the nights rolled past. She fought near-constant bouts of nausea, which were especially tough in the morning; she was, by her own admission, an emotional rollercoaster before, during and after matches; and her back ached to the point she limped through her matches on the final two nights. Back home the following Monday morning, Lee made an appointment with her doctor.

"I officially found out the day after Derby," she said. "Obviously, I had some of the symptoms that drove me to [suspect a pregnancy], so I took a test and it was positive."

Now, with the due date officially set for September 9, Lee has found yet another way to add a child to what could be the very representation for the "modern family." Already with two stepdaughters from Breedlove's previous marriage, the couple also adopted 5-year-old Cheyenne at birth and months later adopted John Kang, now 18. Chloe, the latest to join the family, was born to a surrogate in October 2009.

So, just when the couple had covered about every possible way to bring a child into the family, Lee is only five months from her first natural birth, this after multiple attempts at a natural pregnancy have failed. But, just as the road to pregnancy took plenty of detours along the way, she's still got some work ahead of her.

Diagnosed with scoliosis at the age of 13, Lee has been through a number of surgeries, including the placement - and replacement - of metal rods in her spine. Throughout her career, she's had to overcome herniated disks and debilitating arthritis. Now just weeks into the pregnancy, Lee has already been feeling the effects of the increased stress on her body.

Most of her vertebrae are fused together to negate the curving of her spine and prevent her from tipping over like a wet noodle. Her lower back will carry the brunt of the additional weight with the pregnancy. The upshot is that, while Lee is fully expected and capable of carrying the child to term, she'll most likely need to be on bed-rest for most of the final trimester. Already unable to lift any substantial weight, Lee can expect the amount of strain on her rather fragile frame to increase over time.

"They think I'm strong enough," she said of her doctors. "We're paying enough attention and all signs point to a perfectly healthy delivery that will require plenty of rest."

Her doctors have told her that, without the complications of seven surgeries related to her back, she's in perfect condition for bearing a child. Knowing that, Lee's excitement for the experience is not tempered in the least by what it's going to take to get there.

"There are so many parts of my life where I was in so much pain," she said. "I'm not really going to look forward to it, but it's just a fact of life."

Or, as Tom George, her agent and marketing manager, puts it, "What she's going through, it just shows you how much she wants this."

Previous Page Page 2 Next Page >

Top