Current Issue
Next Page >
Small Tables, Big Winners
The U.S. Bar Table Championships crowns six champions while attracting record fields in Reno.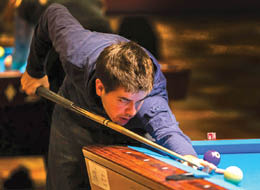 Klatt captured the biggest prize with a $6,000 win in 8-ball. (Photo by Andy Chen)
IT COULD be the first-place prize money or the fact that it's the weekend tournament, 8-ball continues to be the most heavily attended event at the CueSports International U.S. Bar Table Championships, despite the dominance of 9-ball and 10-ball at professional tournaments. The event started out as a 9-ball tournament two decades ago, adding 8-ball in 2001, and then, 10-ball and the all-around cash prize for top points in 2008. This year, at the Grand Sierra Resort and Casino in Reno, Nev., from Feb. 25 to March 3, the number of male entrants in 8-ball topped 200, an increase 30 percent from 2011. On the women's side, the increase in 8-ball participation reached 55, a 50 percent increase from 2011's 36.

"It's the game everybody grew up with," said Jason Klatt, who went undefeated through this year's 8-ball field of 205 male competitors to win the $6,000 first-place prize.

"There are just more options," Klatt went on to say about the game of 8-ball. "Instead of playing for shape on one ball, you can be looking for shape on two or three balls. There's a perception that you have a better chance to win."

"It's the best game on a bar table because of the clusters," said CSI's Mark Griffin. "If you get to be a good 8-ball player, a big table is too easy." According to Griffin, all of the tournaments showed an increase in competitors over last year; for the men, a big one in 10-ball, from 87 to 118, and a smaller increase in 9-ball, from 128 to 144. The women stayed steady in 10-ball (from 24 to 26), and drew eight more in the 9-ball competition. In all, there were 236 men and 56 women competing in this year's events, accounting for repeat entries in divisions, a 10-percent increase from 2012.

Shane Van Boening and Rebecca Wagner were the only repeating champions from 2012. Van Boening, who won the 10-ball competition last year, won the 9-ball event this year, though dropping the opening set of the final to Dennis Orcollo. It was Orcollo who knocked him out of the 10-ball competition, eliminating Van Boening in the tie for fifth place. Darren Appleton took Van Boening down in the 8-ball competition, leaving Van Boening in a tie for ninth.
MORE VIDEO...