Current Issue
Just What The Doctor Ordered

By Ted Lerner
Photos by JP Parmentier
After months of rehab for tendinitis, Dutchman Neils Feijen received medical clearance just in time to inflict pain on his opponents in winning his second World Pool Masters title.
Holland's Niels Feijen has enjoyed some pretty satisfying victories over the course of his illustrious two decade career in professional pool, including capturing the 2014 World 9-Ball Championship, the 2013 World Pool Masters, the 2008 World Straight Pool title, a slew of Euro Tour wins, and eight Mosconi Cup victories (four times MVP) as a part of Team Europe. But his surprise recent win at the 2018 World Pool Masters in Mediterranean British territory of Gibraltar may have just vaulted to the top of the Dutchman's favorite victory list.

That's because even up to three weeks before the 25th anniversary staging of Matchroom Sport's premiere invitational event, Feijen could barely hold a cue. For the past six months he had been suffering from a debilitating case of tennis elbow. Consultations with several physical therapists led to rehab regimes that didn't work. A cortisone shot masked the pain for a few weeks in the fall of 2017, but he still didn't feel right in the two events he played in. When the cortisone wore off, the pain and swelling returned, and the Dutchman was right back to where he started.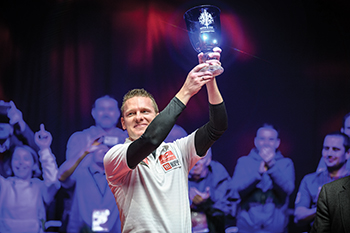 Healed and happy, Feijen had no trouble hoisting the World Pool Masters trophy.

Over these difficult months Feijen kept a diary of his progress on Facebook and it was clear he was suffering, in more ways than one. Not only did he have to miss out on the 2018 Mosconi Cup, but he seemed to sense that he may never find a cure and might never be able to once again reach the lofty heights he had enjoyed for years.

When Feijen received the call to join the Masters, he was pretty sure he would have to turn the invite down. About a month before the event, though, he met with a new physical therapist, who prescribed a new training regime which quickly seemed to bring some relief. Even then he wasn't sure his cueing arm would be 100 percent, but his doctor told him to keep pressing forward. In mid-February, two weeks before the event, Feijen was still on the fence. But with the encouragement of his doctor, he made what could be the gutsiest decision of his career.

Playing loose and without expectation, the Dutchman could do no wrong as he stormed through a gauntlet of top pool talent to capture his second World Pool Masters title. His emphatic 8-4 finals win over American Shane Van Boening even had an ending right out of a movie script. It was enough to move the normally stoic Feijen to tears afterwards.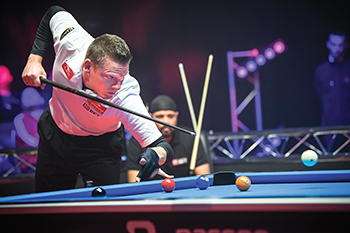 Feijen shook off any rust in the opening round, blitzing Raj Hundal (seated), 8-2, and building confidence for a run.

For the 25th staging of their 16 man invitational of pool's top talents, Matchroom returned for a second straight year to Victoria Stadium in Gibraltar, but decided to add a twist to the event; the England-based promoters invited a slew of past champions, mixed in with some of today's top stars. Despite the fact that the Philippines Francisco Bustamante had visa issues, and China's Jiajing Wu got caught up in bad weather, the final field that assembled in Gibraltar was nothing short of stellar. With short race-to-eight, winner-break matches, hand racking that ensured old fashioned smash-mouth breaking, and Matchroom's usual top class production standards, fans watching live back in Britain and around the world were guaranteed plenty of explosive pool drama.

Feijen gave some inkling of what was in store for the field over the three-day event in his first round match against England-based Indian Raj Hundal. Hundal had won the Masters in 2005 but is barely a part time player these days, so the Dutchman's 8-2 win didn't exactly turn heads. Still, Feijen played in a style all pros constantly strive for but rarely achieve — completely carefree and even enjoying himself.

The attention in the first round was clearly on several high profile matches. England's Darren Appleton, who won the Masters in 2010, squared off with American legend Earl Strickland, a 1997 Masters champion.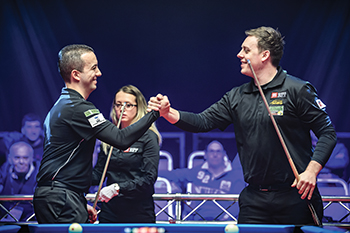 Late entry Boyes (right) unceremoniously dumped defending champion Alcaide (left) in the opening round.

It was a match of two halves, with Strickland looking sensational early on as he rolled out to a commanding 6-2 lead. A scratch from the American in the ninth frame began the unraveling, though, as Appleton took the gift and started to claw his way back into the match. Another scratch from Strickland at 6-6 sealed the deal, as the Englishman grabbed six on the trot to advance.

Scotland's Jayson Shaw came within one frame of winning the 2017 Masters, only to fall just short to Spain's David Alcaide. Shaw came to Gibraltar looking fit and clearly intending to take matters one step further. But he would get no favors in his first pairing, as he was matched up against fellow Mosconi teammate Joshua Filler of Germany.

Filler took an early 4-2 lead, but Shaw outfoxed the young German with some crafty safeties and kicks and eventually took control of the match to win, 8-5.

In terms of performances, however, it was American Shane Van Boening and Filipino Dennis Orcollo who really turned heads. Van Boening is the only player to ever win back-to-back Masters' crowns, and his near perfect 8-2 drubbing of England's Daryl Peach was a clear statement that he intended to repeat his feats of 2014 and '15. But even Van Boening's performance had to take a back seat to Orcollo, who put in a master class in an 8-3 drubbing of Chris Melling.

The drama really started to heat up in the first quarterfinal between England's Karl Boyes and Germany's Ralf. Boyes, a last minute replacement, had dumped out defending champion Alcaide in the first round, 8-3. Souquet, a six-time Masters champion who first won the event in 1993, had earlier beaten Poland's Karol Skoverski, 8-4.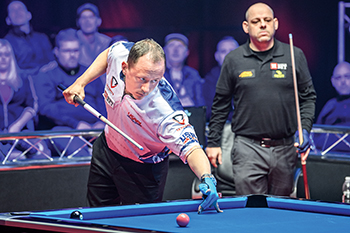 Van Boening (shooting) stormed to the final with wins over Peach, Appleton (above) and Shaw.

Playing like he might just take his seventh Masters crown, the German veteran did everything right and, with a 7-2 lead, seemed certain to have a spot in the semi-finals. But Boyes managed to push the score to 7-4. Then he received a stroke of luck straight from the venerable pool gods. In the 12th rack the Englishman lost control of the cue ball and it headed straight down the rail towards the pocket and a sure loss of the match. At the last second, however, the cue inexplicably turned away from the rail and landed safe. A shocked Boyes continued on and eventually won a thriller, 8-7.

Based upon performance alone, Orcollo came into his quarterfinal match with Feijen as the favorite. The two duked it out in a fine affair and, up 6-5, the Filipino had an open table for a commanding lead. But a miss on the 1 ball brought the Dutchman new life, and he took the opportunity to win three straight racks and the match. The sudden turn had Feijen now clearly brimming with confidence.

Van Boening continued in championship form in his quarterfinal with Appleton. The Englishman missed an easy 2 ball in the first rack, and the American made him pay by streaking to a 3-0 lead. Appleton gave his usual fight back, but it wasn't enough as Van Boening broke well and put several racks together for a relatively easy 8-4 win.

In the last quarterfinal Shaw managed to take down Alex Pagulayan, 8-5, but it was a match that revealed the vulnerabilities that can sometimes creep into the game of a fast and loose player like Shaw. The Scotsman scratched four times in the match. Only his superior shot making skills carried him over the line.

Early on in the first semifinal, it looked like Boyes' miracle win against Souquet was just the start of what would be an amazing run to a first Masters crown, as he stormed out to a 3-0 lead over Feijen. But that turned out to be the last rack the Englishman would notch in this year's event. The Dutchman got his chance and steamrolled Boyes with eight straight racks for a breathtaking 8-3 win.

Shaw versus Van Boening in the second semi-final had pool fans everywhere tuning in. The American, however, kept his superior breaking and potting skills intact, while Shaw continued to falter with the same loose play he exhibited in his previous match. Van Boening won handily, 8-3.

Van Boening drew first blood in the final, clearing the table off a dry break from Feijen. But before the American could even settle in, Feijen had taken complete control of the match. The Dutchman evened the score after Van Boening snookered himself. Then Feijen broke and ran two straight racks before pouncing on an open ball from the American to lead, 4-1.

Van Boening got one back but then subsequently scratched on the break. A clearance and two more break-and-runs put Feijen on the hill, 7-2. Then, headed for an emphatic win, Feijen bobbled a simple cut on the five. For a moment the air seemed to empty from the Dutchman's high flying balloon. Indeed, Van Boening, who loves the winner break format and famously likes to put "packages" on his opponents, piled on some pressure with two straight to make the score 7-4.

But Van Boening broke dry. Amazingly for Feijen, the 1 ball lined up perfectly to the corner pocket with the 9 ball. Feijen leaped out of his chair and, after some intense study, got down and potted the combination for an unlikely second Masters crown.

"I am pretty speechless," an emotional Feijen said after the win. "It has been a long ride. Even up to two weeks ago I didn't know if I could even play. A few weeks ago I was ready to send a text to Matchroom to tell them I couldn't make it. But my [physical therapist] had given me some new rehab exercises for my arm and suddenly I started making really good progress. She was the one that told me to keep going and that I should play. I'm happy I didn't send that text.

"I played loose and relaxed and my timing was good. I didn't really have any pain, just a bit after breaking but not enough to bother me. And how about that ending? After all the stuff that I had been through, I finally got a gift right when I needed it.

"I had been out for so long I knew if I could snap this thing off, it would mean a lot to me. It is a great moment."