Current Issue
Sitting Pretty?

Hall of Famers, World Champions and up-and-comers talk about the mind games they play when sitting in the chair ówaiting, watching and hoping for another shot at the table.
By Nicholas Leider
Pool really is a mental game. Just look at how many people have gone crazy because of it.
OK, jokes aside, players and coaches love to talk about "the mental game" as an aspect of pool is that as much a fundamental skill as a steady stroke. But for all the attention paid to thought processes when a player is standing at the table or leaning over a shot, what do you do while you're sitting on your rear end watching your opponent?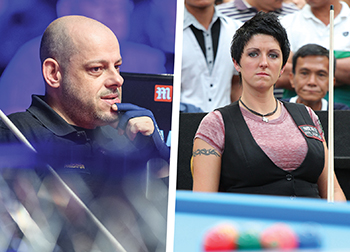 Appleton (left) and Fisher (right) like to see if they spot weaknesses in their opponents.
Imagine it. Sitting there, watching someone else control the table. Every pool player has been there, but familiarity doesn't make it any less frustrating.
We spoke to six players — including four world champions, three Hall of Famers and a pair of America's top prospects — to see what goes on in those moments. It's a static environment, but it's hardly devoid of emotion — players can look defeated or triumphant, disinterested or focused. For a game that's all about what happens at the table, here's a look at what's going on a few feet away, in the mind of the most invested spectator.
Woodward (right) says maintaining control of his nerves has always been one of his strengths.
It's pretty simple, but how intently do you watch your opponent? Do you study every move?
Darren Appleton: It depends on the situation, but in general, I focus on [my opponent] and what he is doing, how he's playing and if I can see any weakness.
Skyler Woodward: I just try to focus on waiting for my next shot—that's really all I can do. But I do like to distract myself. I don't like watching every move my opponent makes, especially if there is any luck in the game. I don't focus on anything else in particular — I just try to stay occupied.
Mika Immonen: It really depends on the format. In one-pocket, you may want to pay closer attention because any movement of balls could potentially expose a new solution. Also, if you are playing with a shot clock, you may have to be on top of it right away. Watching the opponent itself depends. Some players are more fun to watch than others. One thing, though, is that I make sure I play my own rhythm.
Billy Thorpe: I pay attention to whatever my opponent is doing. I'm always trying to learn things, so it's a way to see how someone else would play. I like to study how other people play patterns.
Kelly Fisher: I've gone through phases. Should I focus on their game? On what they're doing at the table? Should I pay attention to something completely different, like the carpet? Should I stare into space. I wouldn't say there's one solution. One player might do something that irritates me, so I don't want to focus on that. Other times, you might see something that'll give confidence. If you notice a flaw, you gain an advantage, knowing you can leave them certain shots.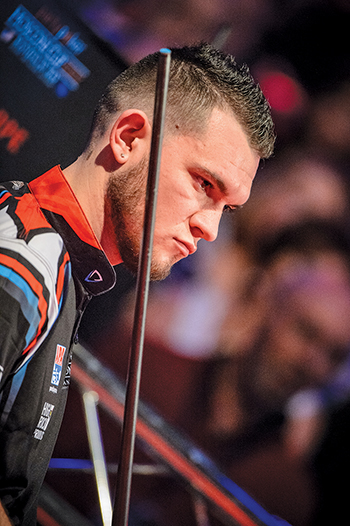 The intense young Thorpe likes to hop out of his chair after an opponent's miss to put fear into his opponent and show him that he is ready to pounce on the mistake.
Does the kind of match affect you? Do you change your mindset in a tournament versus a cash game, for example?
Thorpe: For me, there really isn't a big difference between a tournament or gambling. You have to be a professional no matter what. I try to always be as calm as I can, but tournaments can be more anxious because it's a different type of pressure – it's more demanding and immediate.
Appleton: There is much more anxiety in tournaments, because you are competing against so many players in a shorter match. You only have one or two chances. In money games, you have a longer race and only one opponent. You can prepare by focusing on your opponent's strengths and weaknesses. You have a better idea what to expect.
Fisher: I don't feel there's much difference. The one thing: In a tournament, the pressure is completely on you monetarily. But in a money game, when you have other people betting on you, you feel a little bit responsible if you are playing poorly or you made some silly errors. If you're just getting beat and you're playing well, there's nothing to think about. But if you're playing terribly, which has only happened to me once, I remember a sense of guilt coming over me about other people — and that shouldn't really be a part of your mentality.
Woodward: I am always anxious to shoot – so my mindset is always on getting another chance to get up and shoot.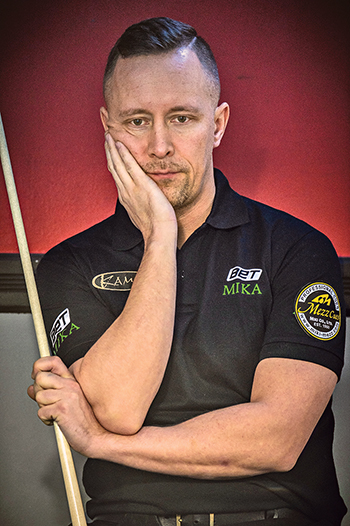 Immonen says it always helps to believe in "Jedi mind tricks" when seated.
How has your mental approach while sitting in the chair changed over the years? What's different now versus when you were 12 years old?
Fisher: When you're a kid, there's no fear — more so in the buildup to tournaments and the after match. If you lose or make a mistake, you're mad or annoyed. But as an adult, you've got responsibilities. It's tough to realize what you could've won. It's sad to say, but a lot of it comes to money. We don't earn fortunes like golf and tennis players, so as an adult, the financial aspect comes into it, which is sad to say, really. When you're a kid, you have no worries. Now, as an experienced player, I can handle pressure, but I wish I could pull back that carefree attitude with nothing to think about but the game.
Thorpe: I'm much different now than when I was a kid. When I was 10 or 12, I was so hyper and ready to shoot I probably didn't even sit down!
But now that I'm older, I am more patient — I know I just have to wait for my shot and be ready to take full advantage.
Immonen: I'm sure my knowledge has increased over the years, so I feel like I'm more creative regardless of the situation.
Appleton: When your young, every experience is new, so you're eager and feel more invincible. When you do lose, it hurts more because you don't understand how that could happen. Being older, you know pool can be cruel and it still hurts when it doesn't work out. But you understand you can lose play ing well or win playing poorly.
If you're in the chair and your opponent misses an easy shot, what's your first thought?
Thorpe: It's a normal reaction to look at the other player when he misses. I will hop out of my chair, almost as a way to put fear into an opponent, that he knows I'm ready. I'll make sure to take a few deep breaths to settle down.
Appleton: First, you think, "Right, let's punish him!" You don't want to let him of the hook. You know if you can take advantage of something like that, you are probably going to win the match. But you can't get lazy and figure the game's over.
Immonen: If it's someone who rarely misses I look at it as a nice bonus. Depending on what the scoreline is, I may even take a time out and let him dwell on his mistake a little longer. In any case, it's important to take advantage and show confidence and strength approaching the table again.
Varner likes to remind himself that hill-hill matches are the fun part of pool.
What's the mentality at hill-hill? Is it just a matter of the pressure growing throughout the match to a one-game climax?
Fisher: If you were up, say, 8-3, and now it's hill-hill, you might be kicking yourself for letting the other player come back. Something must have happened in one of those racks. When you're pulling it back from down, 8-3, there's no better feeling to be so close. You've done all that work to get back, don't let it slip at this point. But really, every player is just saying, "Gimme a chance." It takes a lot to stay calm and take advantage. I tell my students that there is not magic bullet.
Appleton: Really, you're just praying for an opportunity — it's as simple as that. The worst thing that can happen is to lose without getting a shot. That's killer. Even if it's a safety or you're hooked, you just want one shot.
Nick Varner: I try to treat it as any other situation. I just tell myself to relax and remember that this is the fun part. This is your opportunity to win.
As far as difficult or unique experiences, can you remember a particular match or one situation unlike any other?
Varner: In 1990, I traveled to Manila to play Efren Reyes in a long challenge match. It was a race-to-60 in 9-ball. There must have been 2,000 fans crammed into the room – and it was intimidating because they were all rooting for Efren. Being in a place like that, playing someone like that on his home turf, it was a huge mental challenge. After I won, not one person clapped. It was so strange to be in a place like that when it was so quiet. I asked the promoter why nobody clapped when I won. He said they were stunned because they'd never seen Efren lose!
Appleton: The 2012 World Championship when it was 12-12, the 2013 World Games when it was 10-10, the World 9-Ball Championship when it was 9-9, the World 10-Ball when it was 12-11, and the World 8-Ball Championship when it was 20-19. Those are massive events. It's extremely hard to stay calm. Really, I don't know how I managed to keep my focus. I'm blessed it's worked out so many times when every bit of your body is shaking.
Woodward: I loved playing at the Mosconi Cup. It's unreal pressure, but I always feel like I'm relaxed, honestly. I think that's one of my strengths, being able to control my nerves and keep calm. Good mechanics help.
Varner: I'll never forget when I was down, 9-2, to Mike Sigel at the 1990 U.S. Open [in what was a race-to-11]. I was corner hooked. When Mike got to his seat, he turned to my wife and said, "Nick is going to kick this ball in and go on to win this match." And that is exactly what happened! I came all the way back to win, 11-10. True story! I'm sure Pat Fleming [at Accu-Stats] has sold a few copies of that match.
Do you ever mentally try to jinx your opponent when he's shooting?
Immonen: I wouldn't say I've done that, but I feel like I can sometimes predict a mistake. Sometimes you just have to believe in Jedi mind tricks!
PLAYER PROFILES:
Darren Appleton earned his nickname, "Dynamite," for his explosive skills and fiery competitive nature. Appleton has won world titles in 8-ball, 9-ball and 10-ball, along with back-to-back U.S. Open Championships. A BCA Hall of Famer after just a decade in pool, Dynamite still brings a street-fighter's mentality to every match.
Kelly Fisher dominated the snooker world before turning her attention to pool around the turn of the century. A powerful player with a healthy track record of success, she has collected nine WPBA titles and a pair of world championships (in 9-ball and 10-ball) – often with a determined, stoic approach to the table and her chair.
Billy Thorpe, at just 21 years old, is a seasoned veteran when it comes to big action against major talents. But the sturdy kid from Ohio just recently hit the big time on the tournament scene, winning the 2017 Derby City Classic one-pocket division and earning a spot on the Mosconi Cup's Team USA later that year. Thorpe often carries an intimidating scowl to the table.
Nick Varner first made noise in pool with back-to-back collegiate titles in 1969-1970. Since then, the Kentucky Colonel grew into arguably the best all-around players of his generation. He's won titles in 8-ball, 9-ball and 14.1 – along with back-to-back U.S. Open crowns. Varner's soft-spoken, cerebral approach to the game belies a competitive spirit that landed him in the BCA Hall of Fame.
Skyler Woodward hit the bigtime at the 2015 Mosconi Cup as a wild-card selection by then-captain Mark Wilson. A promising talent at the time, he was a bit of a newbie on such a stage. But the calm kid from Paducah, Ky., held his own and has climbed the ranks of America's best.
Mika immonen has maintained a world class level of play for nearly 20 years — winning a pair of world titles, back-to-back U.S. Open 9-Ball Championships and a dozen pro titles in the U.S. — by adding a strict regimen of strength training, both physical and mental, to his practice routine. The BCA Hall of Famer maintains a stoic demeanor at the table, but can still bring the fire when needed.