Current Issue
Unfinished Run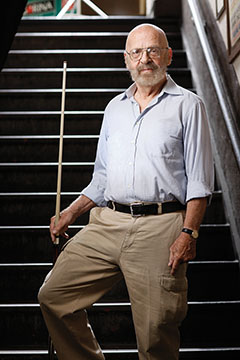 George Fels
"Nothing beats playing pool in your underwear at 2 o'clock in the morning."

Anyone who ever met George Fels, or read his "Tips & Shafts" columns in Billiards Digest, has a favorite Fels quote. That was mine.

Interestingly, the quote didn't come from one of George's columns, nor did he ever actually say those words directly to me. The quote was in a Chicago magazine. I don't remember the magazine. I don't even recall what the story was about, or why it included George. Doesn't matter. It struck me and never left.

That's the way it was with George. Virtually everything he said or wrote was memorable. When he readied to speak you leaned in closer, because you knew it was going to be brief, but you also knew it was going to be worth leaning in to hear. And when Billiards Digest arrived in the mail, you went directly to the last page, but not before checking your immediate surroundings to make sure you could read without distraction.

There were too many clever quotes and unforgettable stories still left in George Fels when he passed away on New Years Eve, four days after suffering a heart attack at his apartment on Chicago's near north side. We'll have to be thankful and appreciative of the ones he distributed like gold coins while he was here.

George was a special man with an extraordinary heart and an incredible talent. Like pool players know a great pool player when they see one, writers know great writing when they read it. Billiards Digest has always been blessed with the most talented writers the game has known, from the late Tom Fox (when Billiards Digest was Bowlers Journal and Billiard Revue) to BD founder Mort Luby Jr., Robert Byrne, Mike Shamos, Jake Dyer, Mike Geffner and John Stravinsky. For my money, George was the most talented writer to ever write about pool.

What's more, George was one of the most talented writers I've ever read…period. Fortunately for us, he loved pool above all other interests. In fact, he revered the game. When he wrote about the game, he always referred to it as "her." He never placed a room or player above "her." At best, they could only do "her" justice.

"I enjoy writing about the people," he told me. "But the game is the real fascination for me."

And his style? Ask any writer and they'll tell you that the most difficult form of writing is short and funny. To add a degree of difficulty, try writing short and funny on a regular basis. George never missed an issue in 33-plus years, and never produced a lemon.

In speaking and in writing, George never used a word that didn't have a specific purpose. And he was so precise with his choice of words that his columns were frustratingly uneditable. George said more in a single page than most people could in a book.

Not surprisingly, George was more than simply a teller of pool tales. He was born and raised in Chicago, and graduated from the University of Wisconsin in Madison, in 1959, having majored in English and Speech. He used those skills in the creative departments of advertising agencies for more than 40 years, winning numerous awards for his work at mega-agencies like Leo Burnett and Ogilvy & Mather in Chicago.

What few people know is that, in addition to pool, George was a workout fiend and wrote several best-selling books in the '70s on bodybuilding with champion bodybuilder Franco Columbu. And he always stayed in great physical shape.

But pool was his true love, and in 1977 he authored "Mastering Pool," a marvelous treatise on 8-ball, 9-ball and his favorite discipline, straight pool. "Mastering Pool" remains required reading for students of the game. A year later he wrote a study for beginners, "Pool Simplified â€" Somewhat."

Shortly thereafter, George contacted Mr. Luby, who had just launched Billiards Digest, and offered to write a column. Ironically, George and I started our Billiards Digest careers at the very same time, September 1980. George's first contribution was a short instructional column. His first editorial, "The Eye and Us," about pool on television, appeared in the following issue. He took over the back page with his Tips & Shafts column in January 1981.

George was well known in Chicago poolroom circles, and played in various leagues (mostly straight pool) around the city. From the early '80s, when he famously played pool in his 42nd-story Lincoln Park apartment in his underwear, George made certain his living quarters always had room for his 9-foot Brunswick Alexandria table. George's other love, his wife Dale, whom he met in fourth grade (proving that he, indeed, stuck with the things he loved), died in 1996. His sons, Adam and Sam, are equally talented writers and possess all of George's likable traits.

George was an eccentric, every bit as interesting, funny and memorable as the characters about whom he wrote. He was, at times, odd, and could create socially uneasy moments. He could also be brutally honest, and didn't pass around undeserved praise. Two of my proudest moments at BD were when George proofread an article I'd written on Buddy Hall in 1982 and wrote, "Ah! Now you've arrived as a writer!" at the end of the piece, and more recently when he posted a comment on a billiard forum. Ironically, his comment, which I stumbled across quite by accident, was in reference to a piece I'd written about a mutual friend who had just passed away. "Mike Panozzo's tribute to [former BD salesman Bob Inserra] is easily one of the finest editorials he's ever written." It felt like being told by Willie Mosconi that I played a great game of pool.

George Fels was on a run of 295 columns when he died. Turns out it was an unfinished run. At the time of his death, George had nine columns stored up, which we will run in their rightful spot on the last page of each issue. That will bring his total installments to 304. He would have been happy with a run like that.

I never read one of George's columns without thinking, "I wish there was more," when I reached the end.

And so it is with George's life.

I wish there was more.
MORE VIDEO...