Current Issue
Eight Is Enough
After six months of commitment and focus, underdog Team USA shocked everyone (but themselves) by winning the 25th Mosconi Cup in London.

Story by Mike Panozzo
Photos by JP Parmentier
Like he had for most of the previous 12 days, Team USA vice-captain Jeremy Jones rolled into the kitchen of the team's Crompton Courts apartment in London's Wood Green district around 8:30 a.m. on the final day of the 2018 Mosconi Cup to start cooking breakfast for his charges. A couple dozen eggs, a pound or so of bacon and toast would be required to get the squad prepared for what he hoped would be the biggest day for American pool in nearly a decade. Team USA, with Dutch coaching legend Johan Ruysink at the helm, held a 9-6 lead over vaunted Team Europe and needed just two match wins to earn its first cup in nine years and 13th in the 25-year history of the event.
As was customary, America's ace, Shane Van Boening, was first to the breakfast table, followed by Corey Deuel and Tyler Styer. Skyler Woodward and Billy Thorpe, as was their M.O., were the last to shuffle into the kitchen. The players, chomping at the bit to find out how Ruysink and Jones set the final-day lineup, pestered the coaches for information.
"We decided to use our best two players to anchor the five single matches," said Ruysink, using eventual Most Valuable Player Woodward first and Van Boening fifth, with Styer, Deuel and Thorpe filling the middle three spots.
Ruysink instructed the players to finish eating, and that further discussion on the lineup would take place later in the practice room at nearby Alexandra Palace, where 2,500 seats in the main arena patiently waited to be filled for the final five, or perhaps six, matches.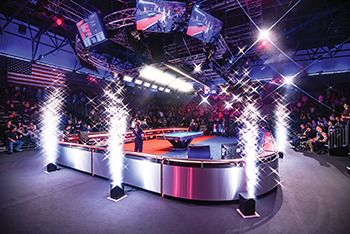 Mosconi Cup XXV
"The last morning we all talked and we had a lot of confidence because we'd already beaten Team Europe on each of the first three days," said Thorpe. "We talked about focus and taking one ball at a time. We told each other to make sure to win the lag because as good as we were playing, winning the lag would make you a 60-70 percent favorite to win the match."
The players also shared their unquestioned belief in one another to get the job done.
"Knowing that everyone believes in you gives you a ton of confidence," said Woodward.
This was clearly a different Team USA from the previous eight incarnations. Isolated from family and friends in the week leading up to and during the Mosconi Cup, the American five spent their entire days practicing and bonding. They watched movies and British TV ("Naked Attraction" anyone?), tossed lighthearted barbs at their Dutch coach and played pranks on one another (with Woodward and Van Boening moving Thorpe's bed into the kitchen). The team had its own personal driver, who was the only person allowed to chauffeur them to and from the apartment. The Mercedes van was equipped with a television, on which a Matchroom-produced highlight reel of Team USA shots from previous Cups played continuously.
"The seclusion at the apartment was the easy part," insisted Jones. "We all knew going in that this was part of the program, so by the time we got together we were ready to be together. The guys realized this was important."
The apartment and the isolation were just a few of the strategic chess moves in a brilliantly planned and precisely executed six-month journey that transformed Team USA from a group of five to a team of one. And while the players sometimes questioned the demands and shackles placed on them in preparation for the 2018 Mosconi Cup, to a man they professed understanding and appreciation for "the process" on the heels of their stunning 11-9 victory, marking the first time in a dozen years that Team USA won the Cup on foreign soil.
The U.S. practice room, off limits to others, allowed America's band of brothers to seal their bond.
"The process worked," said Woodward, who won points for Team USA in five of the seven matches in which he was involved, including three singles matches. "Traveling as a team was great because it brought us all closer together and made us a real team."
"We did everything together," Jones added. "No one was going off on their own. I mean, this is a bunch of pool players, so we had a lot of fun together."
"These are my boys," said Van Boening, whose leadership, missing in previous years, was abundantly evident in 2018. "We worked hard as a team and I wanted to win this for my boys."
Poetically, it was Van Boening, with just one Cup win in 11 previous appearances, who pocketed the final ball at Alexandra Palace on a nerve-testing, long 1-9 combination.
The journey to Team USA's improbable London victory was anything but smooth sailing at the start, beginning with Ruysink's announcement early in the year that the selection process of Team USA would begin with a list of 14 invited players, with mandatory tournaments and training sessions ("boot camps," as Ruysink refers to them) that would allow him to trim the roster from 14 to seven and finally to five.
"I will select players with an understanding of the need for a different and more professional approach [than was the case in 2017]," and more inspired and intense preparation." Ruysink said in February.
Ruysink, who was so frustrated with the lack of commitment shown by players in 2017, his first year as Team USA captain, he considered not accepting the 2018 position. But the sting of 2017 compelled him to try again. "I am convinced there is progress to be expected from last year," he said after agreeing to the captaincy in February.
To his credit, Ruysink sought help to improve his connection to the U.S. players in the form of former Mosconi Cup player Jones. Long considered one of the smartest and most respected players in the U.S., Jones proved to be the perfect link between the Dutch coach and the American players.
"Johan and I actually think a lot alike," said Jones. "I have more technical knowledge on the table. But I believe in his approach. And the thing I kept stressing to the players was that he really cares."
Still, the program's demands rankled some players, including Van Boening, who announced in June that his hectic personal schedule would prevent him from taking part in Ruysink's program. Ruysink's initial invitation list did not include Van Boening, but in July, the two met and agreed to work together on a solution that would allow America's best player to rejoin the team.
Team USA suffered another potential setback in August after the team had been trimmed to eight players. Dennis Hatch, a member of the 2017 squad, pulled out for personal reasons and was replaced by veteran star Corey Deuel.
By the Fall, however, Team USA was starting to gel. The entire squad embarked on a European tour, which included participation in the Kremlin Cup in Moscow, followed by a Mosconi-type matchup against Team Russia. The team then participated in a EuroTour event in Holland. While the team members had only a modicum of success in the Kremlin Cup, Team USA rebounded to win the Dream Challenge against Russia. In Holland, five Team USA hopefuls placed in the top eight, with Van Boening becoming the first American to win a EuroTour title.
The feistiness and togetherness of the squad signaled a turning point for Ruysink and Jones.
"They were a long way from home and there wasn't a lot of prize money there," noted Jones. "We were down 8-5 and the guys could have let that one go. But they stayed together and fought back to win."
In the final six weeks leading up to the Mosconi Cup, Ruysink made personal visits to spend time with each player. He also attended Pat Fleming's International 9-Ball Open in Norfolk to assess the players one more time before making his final five-player team selection. U.S. players acquitted themselves well in head-to-head battles with European heavyweights in Norfolk, with Woodward finishing third and Van Boening fourth.
"All the players played well in the International Open," said Ruysink. "I felt then that we were in a good place."
Ruysink immediately turned in his final roster, surprising no one with Van Boening, Woodward, Thorpe and Deuel. The surprise addition, however, was 23-year-old Styer, whose claim to fame was winning the Upper Midwest Amateur 10-Ball title in 2017.
In Styer, Ruysink saw a young player eager to learn and eager to commit to the process. Styer worked tirelessly with Ruysink to improve his physical and mental game, even flying to Holland two weeks early to practice ahead of the Mosconi.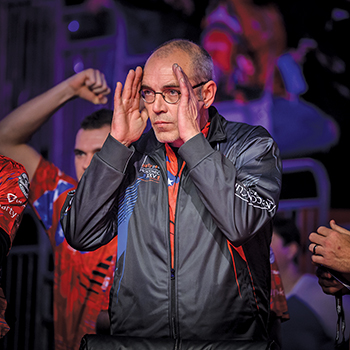 Johan Ruysink proved a master at getting his players to maintain focus in a hostile setting.


"For starters," Ruysink said, "Tyler has great fundamentals, and good fundamentals hold up under pressure. I was never worried about him."
"There are always going to be critics," said Styer, referring to remarks on social media questioning his inclusion ahead of more established players. "That didn't bother me at all."
In a lead-up to the Mosconi Cup, Team USA arrived in London almost a week early to practice, bond as a team and participate in a one-day Mosconi Cup-style matchup against a sextet of British Mosconi Cup veterans. Facing Darren Appleton, Chris Melling, Imran Majid, Mark Gray, Daryl Peach and Karl Boyes, Team USA once again found itself three games down and on the brink of defeat but rebounded to win the match.
"Again, no money at stake," noted Jones, "but they just refused to lose."
Here We Go Again?
All of the commitment, preparation and brotherly love, however, would have been pointless had Team USA laid its annual first-day egg at the 2018 Cup. Not since 2012 had the U.S. posted a winning record over a five-match session. And in 2012, their 3-2 record came on the final day of an 11-9 loss. Recent years have seen the U.S. post 1-4 and 0-5 records on Day One, effectively making Team Europe's trophy acceptance a mere formality.
Team Europe once again came in as a heavy favorite, with newly minted World No. 1 Klenti Kaci making his Mosconi debut alongside Scot hero Jayson Shaw, four-time Mosconi MVP Niels Feijen of Holland, former world 9-ball champ Albin Ouschan of Austria and Greek Alex Kazakis. Kazakis, also a Mosconi rookie, was a last-minute replacement for Austrian Mario He, top point-getter on the EuroTour. A failed drug test caused He to remove himself from the team just weeks before the opening break.
Naturally, with 2,500 fans (2,400 pro-Europe) singing down from the sparkling new in-the-round arena, Team Europe jumped out to a 2-0 lead. Team USA had its chance in the five-player team match, but a Woodward miss late in a rack allowed Team Europe to escape with a 5-4 win. Shaw and Ouschan proved a precise and merciless pairing in the first doubles match, racing past Thorpe and Woodward, 5-1.
Enter Styer, the young Wisconsin native. With his only opponent in the team competition breaking and running out, Styer had yet to hit a ball as he entered the arena for the day's third match against Feijen, whose Mosconi record in singles matches over the last eight editions was almost perfect.
"Yeah, it would have been nice to even play a safe in that first match," Styer said with a laugh. "My heart was beating pretty good, but I took Johan's advice. I used breathing techniques and embraced the noise instead of trying to shut it out."
Styer's performance against Feijen will long be looked at as a tide-turning match in the U.S. victory. Despite Feijen's break and run in the opening rack, Styer battled for every ball in the ensuing games and took command with an impressive jump shot combination on the 1-6 to take a 3-1 lead. He maintained his steady play with two solid outs to win the match, 5-3, getting Team USA its first point.
"You have to be aggressive in a race to five," Styer said later. "I pushed out to the jump combo. I may have caught him off guard with that. I made the shot and that set the tone for the rest of the match."
Styer's win ignited Team USA. As is his habit, Ruysink scheduled the following doubles and singles matches affording a player two consecutive opportunities. In this case it was Van Boening, first teaming with Deuel and then closing the opening day in singles against Shaw, as had been the matchup in the past two years.
In the first surprise of the event, European captain Marcus Chamat opted to team his two rookies, Kaci and Kazakis, on the opening day. As expected, the newcomers showed jitters and uncertainty while veterans Van Boening and Deuel calmly rolled through rack after rack in an easy 5-1 victory.
Shaw entered the arena for the first day's final match - a match that would send one team home with momentum and the lead - to thunderous applause and encouragement from the predominantly British crowd. With the house DJ blasting Neil Diamond's "Sweet Caroline," the crowd ushered Shaw into the arena on a wave of "Whoa, whoa, whoa," and "So good, so good, so good" serenades, while the psyched-up Scot flapped his arms to encourage even more volume. Four matches into peak beer sales, the crowd ate up Shaw's antics.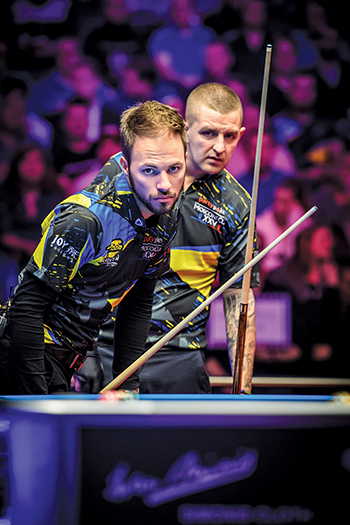 Jayson Shaw (right) and Albin Ouschan (left) were Fire and Ice for Team Europe, with Ouschan putting on a brilliant performance.


Only marginally amused by the entrance, Van Boening commanded the match from the start. In his defense, Shaw saw almost nothing to shoot at, scratching on a kick and a break, breaking dry and watching Van Boening run out from the break twice. Van Boening, posting a 1.000 Total Perfomance Average, coasted to a crowd-quieting 5-0 win, polishing off a 15-4 Team USA run to close out the first day with their first winning session and first overall lead in seven years.
The normally stoic Van Boening's emotion-charge yell and fist pump following the whitewash sent a clear message to his European brethren that this was a different player from Mosconi's past.
Overall, Team USA shot .939 for the day, missing only three balls. In contrast, Team USA missed 15 balls on Day One in 2017.
"The boys played good, but we can play better," said Ruysink, trying to temper the enthusiasm of the team's performance. "We know how good we are. We have to keep supporting each other and helping each other out."
"You Don't Stand In The King's Chair"
As important as it was for Team USA to step up on Day One, Ruysink intimated early that Day Two would go a long way to determining if his underdog squad did, indeed, have a chance to not just compete but to win the 2018 Mosconi Cup.
"I know a lot of people wouldn't have thought this possible before we started," Ruysink said, appearing to convince others of what he'd thought all along, "but if we won the first two days, we would actually have a chance to win."
In an effort to spark fan interest and participation, Matchroom inserted a "Fan's Choice" singles match as the opening contest on Day Two. The match, voted on the Mosconi Cup Facebook page, would not count against the captains' limited usage of players (all players must play in singles and doubles play before a player can play a second match), but would certainly impact the overall score. Not surprisingly, the overwhelming top vote-getters were Shaw and Van Boening, who faced off again just 16 hours after finishing Day One proceedings.
Once again, the arena shook with support of its native son, and Shaw obliged by encouraging higher decibel levels and holding his arms out after every winning rack. After trading the first four racks, Shaw held his break for a 3-2 lead and won a safety battle on Van Boening's break to reach the hill. With a solid break and open rack, Shaw danced around the table, holding his arms out and screaming with three balls still remaining. Upon completion of his victory, Shaw raced through the post-match handshake and promptly leaped onto Van Boening's chair to beat his chest in front of the small U.S. contingent.
Team Europe had tied the match at 4-4, but Shaw's antics did not go unnoticed.
"Shane is the king, and Jayson went and stood in his chair," Styer said later. "You don't stand in the king's chair."
Again, Ruysink went double-duty, putting Van Boening in the next match with Woodward, clearly Team USA's strongest doubles team. And the pair responded against Feijen and Kazakis, battling back from a 3-1 deficit with four consecutive rack wins (capped by Woodward's clever 3-9 combination in the final rack) and a 5-3 verdict, restoring Team USA's overall lead, 4-3.
Europe once again fought back, with the almost painfully calm and precise Ouschan putting on a run-out clinic against Deuel, 5-3. After two days, Ouschan was playing at a .961 clip, and Team Europe had forged a 4-4 tie.
Still stinging from Shaw's slight against his teammate, Styer responded by showing both leadership and poise in teaming with Thorpe against Shaw and Kaci. The young Americans stared down the intimidating Shaw and Kaci, still tentative and unsure in the boisterous setting, cruising to a 5-2 win.
"We knew we had to respond against Shaw and Kaci, and we did," said Styer. "We've got each other's backs."
The win gave the U.S. the lead at 5-4, a lead it would not relinquish.
Thorpe, back at the table following his doubles win, took on young Albanian Kaci in a match of attrition. Both players battled nerves from the start, with numerous racks offering cat and mouse safety battles. Kaci, however, seemed particularly shaky, missing several key shots and once approaching the table after Thorpe's break, unaware that a ball had been pocketed. In the end, it was the hyper-intense Ohio bank pool expert that battled through a difficult final rack to again give the U.S. a session win and overall 6-4 lead.
"That was the greatest match of my life," Thorpe gushed later, certainly focusing on the intensity and pressure over the quality of play. "I get chills just talking about it."
"I like playing the guys back-to-back when I can," Ruysink said of his lineup strategy. "I never try to figure out the other team's lineup. They have five great players, so there is no point spending time guessing. I base our lineup on our own pairings. The main thing is that we finished strong, which is always good."
Going With The Three Wood
Holding a two-match edge in the race to 11, Ruysink and Jones penciled in their lineup for Day Three with their hopes resting largely on a single player - Woodward. Sticking to his penchant for back-to-back matches, Woodward would join Styer in the session-opening doubles match, after which the young Kentuckian would play singles. Two matches later, Woodward would return for another singles match.
In other years, the workload and pressure may have been too much to ask of the 25-year-old. After encouraging performances in his first two Mosconi Cups, much was expected of Woodward in Las Vegas in 2017. Instead, he played as if in a trance and went winless in the 11-4 trouncing.
"I wasn't prepared last year," he admitted. "It was my own fault. So, this year I quit drinking and committed myself to serious practice. Combine that commitment with Johan's bootcamps, and I feel so much better playing pool and life in general.
"On Thursday," he continued, "they were depending on me for a lot. For the whole Cup, really. I knew if I win my matches, we can't lose the day. There is pressure on you every day, but I knew everyone believed in me."
As it turned out, it was the day that Skyler Woodward reached legend status.
First, Woodward and Styer engaged in a tense battle against Feijen and Ouschan. It was obvious that tension was mounting for both sides and the table was beginning to tighten up. A series of missed shots, flukes and fortuitous rolls kept the teams close throughout. At 4-4, however, the American duo ran out from the break for a 5-4 win.
"The table changed for sure," noted Jones. "There is more 'pool' being played now. It's not a break-and-run show. This puts more pressure on the players, and certainly more pressure on the Euros."
Among the casualties of increased pressure was Kazakis. The 27-year-old Greek missed several shots, including a 9 ball, in a tense, safety-driven match with Woodward, who also missed several pockets. But, leaving openings in both of the last two racks proved Kazakis' undoing, as Woodward escaped with a 5-3 win, pushing the Americans to an 8-4 advantage.
Europe fought back. Feijen and Kaci frittered away a 4-1 lead against Deuel and
Styer but ran the case rack to keep the Americans within reach.
It also set up one of the event's wildest matches.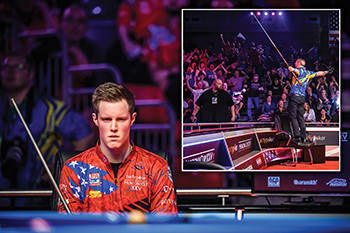 Unproven debutante Tyler Styer stewed after Shaw stood "in the king's chair" (inset), and responded by grabbing a pair of critical wins in Team USA's victory.
Woodward vs Shaw had the 175-year-old multi-purpose venue on emotional tilt, with the adrenaline-fueled Shaw orchestrating cheers seemingly after each shot. With the crowd at fever pitch, Woodward and Shaw battled to 3-3. With a chance to reach the hill, however, Woodward ran long for position on the 9. He jarred the winner, allowing Shaw an easy one-rail kick. The Palace exploded while Shaw hopped around the arena with his arms spread wide, as if offering a 2,500-person group hug.
Shaw returned the favor with a dry break, after which Woodward played into a cluster of balls that included the 2, 9 and 8. Like finding a dead ball in a straight pool rack, Woodward went rail-first into the 2, which nudged the 9 into the 8 with a natural angle directly into corner pocket.
The emotional rollercoaster of a match reached another level in the case game, a rack that saw Shaw miss one shot and foul on two others. Incredibly, it took each one of those mistakes to get Woodward to the finish line. After losing position with ball in hand, Woodward left Shaw a long jump shot on the 4 ball. Incredibly, Shaw fouled, striking an impeding ball on the fly. This time, Woodward negotiated the final balls, pausing before the final 9 to put his hand to his ear and imploring the crowd to continue its cheering as it had for Shaw.
Woodward, a triple winner on the day, was immediately mobbed by his teammates who, at 9-5, could smell victory.
"Sky needed to show up on the third day, and he certainly did that," said Ruysink.
But with a chance to drain every last bit of spirit from its opponents, Team USA allowed Europe a glimmer of hope. It was clear from the start that the American duo of Van Boening and Thorpe were still riding Woodward's high in the final match of the evening. Clear favorites against Ouschan and Kazakis, Van Boening and Thorpe looked listless in a mistake-plagued 5-1 loss, closing the session with a 9-6 lead.
"I should have made them stay in the practice room," said Ruysink later. "I knew right away their focus was shot. I knew they were going to lose."
Anchors Aweigh
While Ruysink claimed to pay no attention to Team Europe's lineup, most fans knew how Chamat's final-day list would shape up. Desperately needing wins, Europe would have to front-load the final day in hopes of putting pressure on the Americans. Ruysink, needing just two wins from six potential matches, decided to bookend the day's five set matches (at 10-10, the deciding match would be a captain's pick). He opened with his hottest player, Woodward, and put Van Boening in the fifth spot.
"I wanted an anchor in the front and an anchor in the back," Ruysink said. "Anything else would be a bonus."
The Team USA practice room, off limits to all but the players and coaches, buzzed with anticipation, songs like "Everybody Hates Me" offering motivation.
Sending Woodward out first appeared a risky move when Chamat countered with Ouschan. The unflappable Austrian had been the best player on either team for three days, and when he won the lag for opening break the move to start with Woodward looked questionable.
True to form, Ouschan calmly broke and ran his first four attempts. Woodward kept pace, winning his four breaks to set up a deciding rack. For Woodward to steal the win, something would have to give.
It did on Ouschan's break, which yielded a pocketed ball but no clear shot at the 1. Ouschan played a kick-safe on the 1, but left it straight into the corner pocket, with the 7 ball between the cue ball and the 1. Woodward lined up for the jump shot and hit it perfectly, pocketing the 1 and stopping the cue ball for position on the 2. From there he carefully worked his way through the remaining balls, pushing the U.S. to the hill, 10-6, while leaving Ouschan a loser despite shooting 1.000 for the match.
"Put on your country boots!" sang Thorpe as he raced back to the practice room.
Not surprisingly, Team Europe refused to fold. Rolling out Shaw, Feijen and Kaci in the next three matches, the Europeans manhandled the middle of the U.S. lineup. Having played exceptional pool through the first three days, Styer (.939), Deuel (.913) and Thorpe (.926) stumbled to lopsided defeats (5-3, 5-1, 5-2, respectively).
Suddenly, the score was 10-9, and the faithfuls in Alexandra Palace began to believe that the 25th edition of the Mosconi Cup might come down to a single, captain's choice match.
Van Boening had other ideas.
The risk with front-loading the final day, of course, is leaving your least-experienced player for the end, should you get there. Europe's Chamat had no choice, however, and it was obvious at the start of the Van Boening-Kazakis tilt that the moment might prove too big for the Greek player.
Van Boening motored to a 2-0 lead but, at 2-1, Kazakis had a golden opportunity to regain a tie. With straight-in position on the 4 ball, however, Kazakis drove the object ball into the bottom rail, several inches from the corner pocket. A loose safe by the Greek a minute later allowed Van Boening to stretch the lead to 3-1, then 4-1 after his ensuing break and run.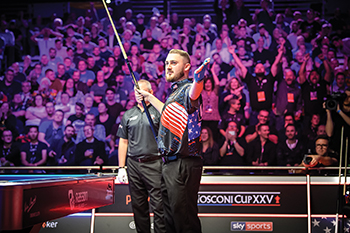 MVP Skyler Woodward stole the show and quieted the crowd with three match wins on the critical third day.
But what seemed to be a death knell for Team Europe suddenly turned into a reprieve. Breaking for the win, Van Boening shifted the placement of his cue ball at the last second and followed with a dry break. Kazakis ran the open rack and followed with a break and run of his own to bring the match to 4-3, with the Greek breaking.
With a ball down, Kazakis was forced to play safe on the 1 ball. Van Boening responded with a two-way, table-length bank, leaving the 1 exposed along the long rail. Kazakis went for broke, attempting to force the 1 into the corner. He missed and the resulting position left Van Boening with a long, off-angle 1-9 combination. Kazakis slumped back in his chair, staring straight up at the ceiling. Never hesitating, the American star took a deep breath, bent over the shot and slow-rolled the 1 perfectly into the 9.
The 9 settled neatly into the corner pocket, and with it went eight years of American frustration. Van Boening, who for years has had to listen to criticism of his commitment and results in Mosconi Cup play, clenched his fists and let out a scream. Styer was the first teammate over the arena wall, followed by Thorpe and Deuel. Woodward, who was in the practice room preparing in the event of a deciding match, made his dash to the arena in record time. Ruysink and Jones were the last in, having to convince arena security that they were allowed to join in the celebration.
Meanwhile, Kazakis shed tears, apologizing to his teammates for letting them down.
The Americans tested the strength of the Rasson table, climbing onto it, forming a circle and clasping their hands one last time before shouting, "U.S.A.!"
"I've never felt pressure like I did on that last shot," Van Boening said. "That is the shot I will most remember for the rest of my career.
"It means so much to me," he continued, showing a side of himself rarely seen. "I wanted to win for the team. I wanted my boys to win. We worked so hard this year."
For a change it was Team USA waiting to receive the Mosconi Cup trophy from Matchroom founder Barry Hearn. They appeared to be in disbelief as they circled around the physical cup. Van Boening, so used to seeing silver around his neck, stared at the gold medal in his hand.
"This is the greatest feeling in the world," said Thorpe. "We worked so hard and we deserved this win. The crowd was unbelievable and it's tough to hold your composure, but I think we did a pretty good job of it."
"This is a sweet one," added Deuel, a member of four previous Cup-winning teams. "Johan had us traveling the world to get ready for this. And I told the guys, this might be the best team I've been on. Everyone on this team was playing the best pool of their life. I'm proud of these guys."
"This has been such hard work getting here," said Ruysink. "Going from 15 to eight and then five, playing international events, it was a journey. But I'm so proud of these guys. I'm glad Shane got the chance to end it and I'm so happy for Skyler. He changed things in his life and became more committed. He was happy and practicing so hard. And it is a joy to watch him play. He is such a huge talent. He plays simple, uncomplicated pool."
Ruysink also lauded Jones as an invaluable asset.
"He was so important," said Ruysink. "He has such knowledge. And he's one of the few people who understands me. When I needed to focus on the behavior of the players, body language and things like that, he was focusing on the table and sweet strokes. It made us a great team."
Alex Kazakis (right) grimmaced at his leave in the final game, allowing Shane Van Boening to exorcise his Mosconi Cup demons with the clinching combination shot.
To a man, the players credited Ruysink with improving their play and their mental approach to the game, none more so than Van Boening.
"I've learned a lot this past year," he admitted. "This process and playing with these guys made me feel like I could get better. I learned to approach the table better, put less pressure on myself to run out and learn to enjoy playing and traveling.
"Johan and I talked a lot about leadership," Van Boening said. "I made a commitment to him that I would change and become a better player - change my attitude, focus and demeanor. It made a big difference throughout the year. I was playing well and winning. The Mosconi Cup was the culmination."
"I've had people tell me about sweet strokes for years, but I never really understood what they meant," said Woodward. "This year I started to feel it and my game has gotten better and better. He's the key to me getting to where I'm at."
While Team USA celebrated, Team Europe tried to assess what was different in 2018. For some, the answer was obvious.
"Team USA played like a team," said Ouschan, who led all players with a .955 TPA for the event. "If Shane stays strong, the team stays strong. In the past we've seen him give up and the whole team gives up."
"All the U.S. players did well all year," said Chamat. "The younger players have really grown. There is a new generation there. They worked hard as a team and they played as a team.
"This week, they kept extending the lead and in the end it was too much to overcome. But we fought to the end and I'm proud of my guys."
For newcomers Kaci and Kazakis, the Mosconi Cup proved once again to be the one event in pool that you simply can't prepare for until you've been in it.
"The very first thing you feel is pressure," said Kaci. "It is like the best thing there is. It was a pressure I never felt before and, to be honest, I really enjoyed it. I learned from it and I will work harder in the future."
"You can't really describe it," added Kazakis. "It is the most amazing tournament to play in. Until you go in and play, you can't understand the feeling. It is pressure, excitement, happiness and sadness all at one time. When you go into that arena, you are not playing pool. You're in something bigger and you have to defeat it.
"I felt like I would do it in the last match," he added. "But the pressure got to me."
"I'm proud to be part of the Mosconi Cup," Chamat said. "I'm happy for all of the players.
"This week, the sport won."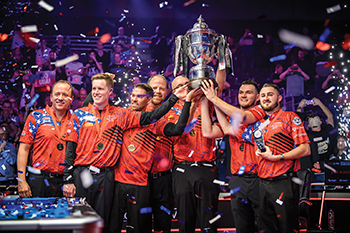 The Cup was an uplifting experience for Team USA's (l-r) Van Boening, Styer, Deuel, Thorpe and Woodward.
DAY ONE STATS
USA-EUR
Match Wins: 3 - 2
Games Won: 20 - 14
Balls Made: 169 - 127
Misses: 3 - 2
Scr. Break: 2 - 2
Miss Kick: 0 - 2
Bad Safety: 1 - 3
Bad Pos: 4 - 2
TPA: .939 - .914

DAY TWO STATS
USA-EUR
Match Wins: 3 - 2
Games Won: 20 - 18
Balls Made: 156 - 169
Misses: 0 - 6
Scr. Break: 0 - 0
Miss Kick: 0 - 0
Bad Safety: 9 - 4
Bad Pos: 4 - 7
TPA: .923 - .899

PLAYER TPA's AFTER 2 DAYS
USA
Styer: .951
Thorpe: 944
Van Boening: 939
Deuel: .917
Woodward: .860

EUR
Ouschan: .961
Kazakhs: .931
Shaw: .926
Feijen: .902
Kaci: .813

DAY THREE STATS
USA-EUR
Match Wins: 3 - 2
Games Won: 20 - 21
Balls Made: 164 - 181
Misses: 10 - 6
Scr. Break: 1 - 0
Miss Kick: 3 - 7
Bad Safety: 2 - 1
Bad Pos: 5 - 8
TPA: .872 - .887

PLAYER TPA's AFTER 3 DAYS
USA
Styer: .939
Thorpe: 926
Van Boening: 917
Deuel: .913
Woodward: .877

EUR
Ouschan: .941
Kazakis: .929
Shaw: .900
Feijen: .890
Kaci: .847

DAY FOUR STATS
USA-EUR
Match Wins: 2 - 3
Games Won: 16 - 22
Balls Made: 152 - 176
Misses: 7 - 6
Scr. Break: 1 - 0
Miss Kick: 2 - 2
Bad Safety: 3 - 1
Bad Pos: 3 - 4
TPA: .889 - .926

TEAMS STATS AFTER 4 DAYS
USA - EUR
Match Wins: 11 - 9
Games Won: 76 - 75
Balls Made: 642 - 653
Misses: 20 - 20
Scratch on Break: 4 - 2
Missed Kicks: 5 - 11
Bad Safety: 15 - 9
Bad Position: 16 - 21
TPA: .907 - .907

PLAYER TPA's AFTER 4 DAYS
USA
Van Boening: .925
Woodward: .904
Styer: .904
Thorpe: .901
Deuel: .883

EUR
Ouschan: .955
Feijen: .905
Kazakis: .904
Shaw: .898
Kaci: .879