Current Issue
Minor Major

Estonia's Denis Grabe earned his first international title at the lightly attended but talent-laden World Pool Series in New York.

By Keith Paradise
Photos By JP Parmentier
Heading into the third day of the four-day World Pool Series Aramith 9-Ball Players Championship in New York City, Estonia's Denis Grabe was just happy to still be playing.

Teetering on elimination after losing his second-round match against Filipino Lee Vann Corteza, Grabe found himself engaged in a tight but error-filled battle against Russia's Ruslan Chinahov, who had won the inaugural WPS event in 2017. Trailing, 9-8, in the race to 11 elimination match, the 28-year-old finally seized control of the match, pouncing on a pair of Chinahov misses to win, 11-9, and advance to the quarterfinals.

"I was lucky to win against Ruslan," Grabe admitted. "The match was not pretty."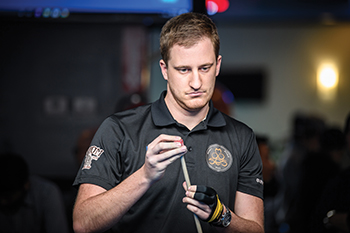 Grabe kept his focus, even after scuffling to a critical win.

More relieved than satisfied following the Friday evening match, Grabe returned to action on Saturday rested and relieved. From there, Grabe used a pinpoint break and some stellar safety play through the weekend to win the year's first WPS title, easily defeating Alex Kazakis of Greece, 17-7, in the final at Astoria's Steinway Billiards. The victory is Grabe's first since winning the 2014 Slovenia Open, and his win over Kazakis avenged a loss a week earlier at the Dynamic Billiard Ballazzo Open.

"I wanted to win because last week we played in a Eurotour event and he beat me," said Grabe. "So, this was a sweet revenge."

Grabe opened the first installment of the four-tournament series by defeating Alex Pagulayan, 11-10. In the next round, Grabe lost to Corteza, 11-9. He would go on to win three straight matches on Friday — defeating Ronnie Alcano, 11-6, Joey Korsiak, 11-3, and Chinahov.

Playing in the first quarterfinal match of the day, Grabe used a powerful and accurate break to run six straight racks in the winner-break format and cruised to a 13-3 victory over Petri Makkonen of Finland.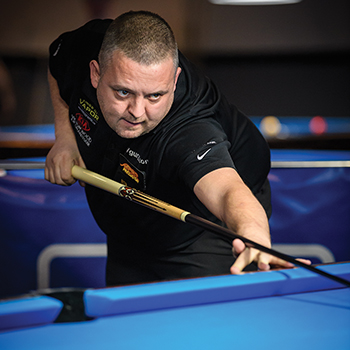 Melling played with typical flourish in finishing third.

"I've been playing quite well the past month so my confidence was quite high and my break was working really well, and that helps a lot in 9-ball," Grabe said. "I was playing near perfect, so I can't ask for more."

With the semifinals and championship match scheduled for the event's final day, Grabe was able to take in some sightseeing and grab some more rest. Sunday morning he faced Dennis Orcullo, who barely escaped the previous round with a sudden death shootout victory against John Morra. Orcullo jumped out to an early lead but gave up the table when he missed a jump shot on the 3 ball in the fifth game. Grabe took advantage of the error, winning six of the next seven games. Orcullo fought back, tying the match at 7-7, but missed again in the following game. Once again, Grabe capitalized on the miss by firing his way through the next five games.

"The last two days I didn't play good," Orcollo surmised. "I was missing the ball many times. It's okay. A lot of times in tournaments you start by playing great and finish playing not-so-great."

"Dennis missed a couple of shots and that gave me the chance to play my game, which I successfully did," Grabe said.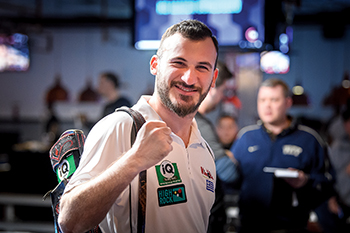 Kazakis punched his ticket to the title match.

Even Grabe's misfortune turned out to be fortunate. Facing a tough angle on the 3 ball in the 18th game, he attempted to play safe but the ball instead fell into the side pocket. Grabe ran out the rack.

Grabe and Kazakis played even in the early stages of the championship match, with Grabe taking an early 4-2 lead, then watching as Kazakis rattled off three straight wins. The Greek had an opportunity to increase his lead to 6-4, but missed a 4-9 combination.

"The turning point of the match was [the missed combination shot]," said Kazakis. "After that, it was only in favor of Denis all of the time. I didn't really have a chance to be at the table. I only had tough shots to make and I missed all of the tough shots."

Grabe went on to use a pair of break-and-runs and suffocating safety play to win the next six games, taking an 11-5 lead into a 15-minute intermission. Following the break, Kazakis continued to be stifled by safeties and missed shots. Grabe capitalized to win six of the final eight games to close out the match.

"I had a couple of matches where I managed to win when I could have lost, but in the final I was dominant," Grabe said. "The score line says it all."

While Grabe's performance was, indeed, dominant, it featured more tactical than run-out play. Facing few open opportunities after the break, Grabe showcased his safety ability and left Kazakis frustrated with difficult leaves throughout the match.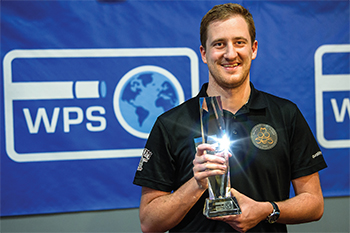 Despite the smallish field, Grabe defeated world-class talent en route to the title.

"When you're breaking and you always have the first shot, you always have the advantage," Kazakis said.

It was a disappointing loss for Kazakis, who entered the championship match undefeated and spoke about his desire to win an event at the Greek family-owned pool room. As he advanced through the tournament Steinway's staff began taking notice and cheered him on, with a handful waiving Greek flags.

"I'm disappointed that I failed them," he said later. "But it's okay. One day I will win this event."

England's Chris Melling rebounded from a rare two-and-out performance at the Super Billiards Expo professional 10-ball event the previous week with a third-place finish. After defeating American Tommy Tokoph, 11-6, and Radoslaw Babica of Poland, 11-9, Melling was sidetracked by Kazakis, 11-6. He worked his way through the loser's bracket, besting two-time WPS winner Klenti Kaci of Albania, 11-9, and Russia's young Fedor Gorst, 13-7, in the quarterfinals to qualify for Sunday's competition.

Melling and Kazakis played even throughout most of their semifinals match, but Melling's break failed him down the stretch, breaking dry twice and being left without a shot on those occasions in which he did manage to pocket a ball.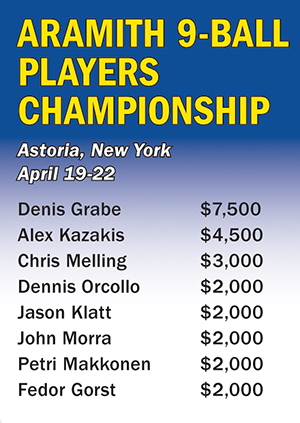 "It's very hard to win when you're not getting a ball on the break or no shot when you do make one, and that was the difference in the match," Melling said. "I guarantee if I had made the balls on the break that he did I would not have lost."

The Aramith Players Championship was the first event of the four-tournament 2018 WPS, created by Darren Appleton in 2017. Appleton made a few changes to the Series for 2018, most notably switching from an all-8-ball format to using multiple disciplines — 9-ball, 10-ball and 8-ball. Despite a purse which paid five-figures for first prize in 2017, the event saw a steep decrease in competitors — with 32 players entering the tournament compared to 82 at last year's event.

Appleton intentionally scheduled the tournament a few days after the nearby Super Billiard Expo to make travel easier for competitors. Even though the event was scheduled at a time when players were already in the Northeast, only eight players who competed at the Expo played at the Aramith Championship. Additionally, of the 32 players competing, only nine were from the United States. More frustrating for Appleton was seeing a handful of American players travel to North Dakota for the 4 Bears Classic 8-ball tournament instead.

"We were disappointed to only get 32 players," Appleton admitted. "We wanted to at least get 64. And to have the Americans not playing, that's a bit of a kick in the gut really."

Although the turnout wasn't large, the competitors who did enter were some of the world's best, with international stars like Melling, Kaci, Pagulayan, Jayson Shaw, Ralf Souquet and Joshua Filler making the trek to New York for the weekend. Both Filler and Pagulayan were eliminated on the tournament's first day, with Filler losing to Shaw, 11-7, and Souquet, 11-4, and Pagulayan defeated by Grabe, 11-10, and then upset on the one-loss side by former Billiard Education Foundation champion Chris Robinson, 11-8.

"To me, it was like a miniature world championship with the quality of the field," Appleton said.

Appleton does have some encouraging news as he prepares for the second event — the Rasson 10-Ball Masters Championship in June. Predator Cues announced last month that it was renewing its Series sponsorship, as well as remaining the title sponsor for the year-end Predator Grand Finale. Additionally, Appleton said that Shane Van Boening, who has yet to compete in a WPS event, has committed to play in June. Finally, the entry fee has been reduced, from $650 to $450, in the hope that the reduced cost will result in an increase in competitors – especially American players.

"The reality is if [the American players] want to get to the top level internationally, they need to compete against these guys on a regular basis," Appleton said.