Current Issue

Previous Page Page 2



Mailing It In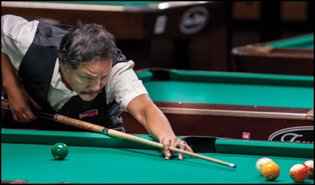 Reyes ousted Appleton in the semifinal before falling to Schmidt.
Single-elimination play reduced the field to 16, with few surprises except possibly for all-time 9-ball great Earl Strickland, appearing in his first known straight-pool meet ever. But he has been seen practicing it now and then in his trade-show appearances, and knowing observers have confirmed that he takes an elegant, finesse-driven approach featuring highly sophisticated patterns. He claims a long run of 420; he's one of the greatest shot-makers who ever lived; who would doubt him? Strickland would eventually fall to Archer, but impressed many not only with his play but his demeanor.

Schmidt first got even with Eberle, 200-64. Next he took out Hohmann in a not overly well-played affair, gaining a measure of revenge for being forced to sit through Hohmann's 174-ball run a few years back, still an all-time record. Hohmann had a very good chance to win, but doomed himself with a suicidal try at a three-ball combination late in the match. Reyes ended Immonen's suffering. The heroic See fell to America's Corey Deuel. Archer bowed to Germany's ultra-classy player/teacher/author/video producer Ralph Eckert, and Appleton sidelined Cohen.

The semifinals matched Schmidt against Eckert, and Appleton against Reyes. Everyone expected Schmidt to advance, which he did handily, opening up with a 98-ball run and never looking back. But greatness was expected of the second match, pairing the best of today with (arguably) the best ever. The actual competition was considerably less. Appleton is just beginning to learn this game, but that is not to be minimized as he is also just beginning to learn one-pocket, and came within one open bank shot of winning America's championship at that to go with all his short-game titles. He was England's 8-ball champion; he has not lost a match in two years at America's biggest 9-ball meet by far, the U. S. Open; he's the world 10-ball champion too. But 14.1 is still far more complex than all those games, and even while still undefeated, with a long run of 99, Appleton could be seen figuring out his patterns a few balls at a time. In one rack, the two men did present a rare spectacle in 14.1, a safety battle that sent all 14 object balls up-table of the cue ball in the manner of one-pocket. Appleton never really found his rhythm against Reyes, but there's no reason not to expect him to be the same force in this game that he is in all others.

Thus the finals paired two giant names in pool, but given Schmidt's 14.1 background, especially recently, few expected a match quite as good as the one they got. Schmidt opened up with, ho-hum, another hundred-ball run, and appeared on the verge of yet another runaway. But 200-point encounters are capable of lulling any player into the doldrums, even if briefly; Schmidt butchered two break shots and made but misplayed a third, leaving himself a long straight-in shot which he jawed. Clawing his way back to his familiar playing rhythm - three practice strokes, pause, a fourth practice stroke plus shot in the same motion - Reyes authored a heroic 112-ball run of his own, ending only when a break shot that contacted the corner ball suffered a double-kiss down to the foot rail without company, and actually took a slight lead with the score in the 160s. The run seemed to deplete his reserves, however, and while the race to the finish line was no sprint, with both men goofing up multiple times, Schmidt had more left in the tank.

Very few 14.1 finals have ever offered both contestants running a hundred balls, although Schmidt seemed destined to win here from the tournament's opening day. This particular incarnation of the World Tournament of 14.1 will not stand as the brightest feather in tournament producer Dragon Promotions' cap; there was a considerable void in the dissemination of information on results and scores, hard to understand given the wealth of announcements they customarily issue. The pool world desperately needs this tournament, though. And it could also use more talents like Efren Reyes and John Schmidt.

Previous Page Page 2


Top
MORE VIDEO...