Current Issue
Next Page >
Mailing It In
John Schmidt delivers the goods at the World Tournament of 14.1, still the most prestigious event in straight pool despite a few notable absences.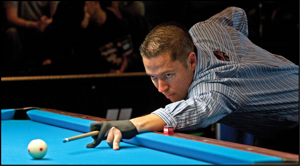 Long considered America's top 14.1 talent, Schmidt fulfilled a dream with his biggest straight-pool title to date. (Photos by Joe Ratke)
ROUGHLY 20 years ago, future ace pool commentator Bill Incardona and the late Grady Mathews had a generally friendly feud as to which man provided the finer pool handbook for tournaments. The two men serviced 9-ball meets with longer races, say, to 11, which were not uncommon then. "Bet Player B don't nine," was a common, if ungrammatical, refrain back then for a wager predicting Player A would win by at least 11-8, and Incardona later added a 9/9+˝ nuance similar to pro hockey's brutal puck/puck-and-a-half. But the few straight-pool tournaments that existed in that era defied such handicapping, and there were hardly any bettors interested in the first place.

All of which would have suited this summer's annual Predator World Tournament of 14.1 just dandy. For one thing, the competition was notable for the names missing as well as those present. From America, all-timers Mike Sigel, Nick Varner and Allen Hopkins all took a pass. So did Germans Oliver Ortmann and Ralf Souquet, both previous champions; Pinoys Dennis Orcollo and Alex Pagulayan also declined. Various factors behind those defections were speculated to be a near-20-percent cut in the prize fund from '11, burnout from the just-finished multi-discipline Southern Classic in Tunica, Miss., the potential expense involved with two extended tournaments back-to-back, and the lack of enthusiasm for the tournament's being played, for the first time, in a poolroom instead of a hotel.

Thus the field was limited to just 48 this year. And no bookmaker with any rationality left would have installed a betting line that included America's John ("Mr. 400") Schmidt, he of the just-released DVD in which he fashions a piddling 366. Even had his missing elders been present, he is still most likely America's finest straight-pool player today. The field he faced was far from weak. But it's not easy to imagine favoring anybody over a guy who knocks off 26 racks-plus and it's still not his best. If Schmidt played to his practice speed, it almost seemed as if the tourney results could be mailed in before the fact.

Schmidt did not disappoint in the tournament's opening round-robin phase (this is still pool's only meet to combine round-robin play with double-elimination and single-elimination competition, and the only one to send its final 16 competitors to 200 points), going undefeated and basically unchallenged. But there was plenty of drama elsewhere in the eight-flight, six-player action, starting with the unexpected early dismissal of last year's finalist, Maryland's brilliant 9-baller Mike Davis.

Fans were treated to two consecutive games in which a player ran 80 or balls only to have his opponent respond with 100-and-out. Former champion Stefan Cohen of France sprinted out of the blocks with an 80-ball run on Maine's Mike Dechaine, one of the tournament's youngest competitors and, along with Schmidt, probably its best pure shot-maker. But the unflappable Dechaine, one of the few players left who actually watches his cue tip while he chalks it, closed the door in a single inning, troubled only by two phenomenal jacked-up long shots, which he predictably drilled. Dechaine has played this event once or twice before, but his reputation resides wholly in the rotation games, sufficiently so that he represents his country in the Mosconi Cup. He's one to watch at 14.1; if the game has any future here, so does he.

But even Dechaine could not upstage the performance of the Netherlands' Huidji [wee-gee] See. The great Johnny Archer, arguably the second-best American player here after Schmidt, went 14/84 back-to-back to take a modest 98-0 lead on See. No. 99 combined a break shot at least a diamond above the rack with a thin cut angle. Needing to cheat the pocket slightly to ensure cue-ball contact with the stack, Archer overcut his shot by a quark, leaving that hanger and one other open ball. From those humble beginnings, See ran his hundred points to leave Archer in the two-hole. His run was nearly effortless but for a shot seldom seen in any form of pool, a full 90-degree massé off a frozen ball that bent the cue ball from the foot spot all the way back to the head rail and halfway back down the table again. Technically, there was nothing riding on the game; both men already had notched records that would clearly take them into the next round. But See's accomplishment still has to rank among straight pool's finest moments ever.

Double-elimination play offered few of the same fireworks, although defending champion Thorsten Hohmann of Germany did provide the meet's long run of 141. His match with Mika Immonen, for example, should have been a great matchup; Hohmann has won here twice, while Immonen has twice been runner-up and should have won at least one of those finals. But the encounter proved to be little more than a textbook example of negotiable results vs. optimal ones. Inning after inning, sometimes multiple times in the same rack, Immonen attained or was left shots with angles that simply would not allow him to do all he wanted in the way of object-ball scatter or cue-ball travel. Hohmann also played somewhat soggily by his impeccable standards, but the score was still not close.

Schmidt took his only loss of the meet in the round, to countryman Max Eberle, whose third-place finish in the tournament's inaugural represented America's best finish until Davis' performance last year. Also beaten for the first time were Dechaine, the world's current No. 1 ranked player Darren Appleton, and all-timer Efren Reyes, playing in only his third known 14.1 competition. Reyes' last straight-pool appearance was also in New York, in 2000, where he finished third (Souquet won); he beat a strong field to win a New England meet in the mid-'90s. For semi-obvious reasons, the game is never played in his native Philippines (or anywhere in Asia, for that matter), so he never practices it either. Yet his long run (or is it part of his myth?) is 323, or one ball over 23 racks, achieved when he was road partners with Philadelphia's great Mike LeBron. After breaking open rack No. 24, Reyes allegedly laid his cue down and declared he was ready for dinner. LeBron was never known for turning down such imprecations, thus the run ended there. So Reyes' appearance and success here were surprising to some, but not to anyone who has followed his remarkable career more closely.
MORE VIDEO...