Headstring News
Hohmann's Big Run Lands Lucasi Hybrid 14.1 Title
Aug 2, 2008, 3:13 PM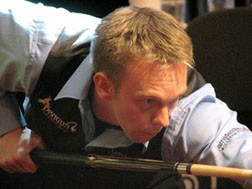 Hohmann flattened an impressive field.
Thorsten "Hitman" Hohmann went undefeated through a field of all-star players at the inaugural Lucasi Hybrid Invitational Classic 14.1 Championship on Friday at Bankshot Billiards in Jacksonville, Fla.

Hohmann handily defeated his last four opponents — including Steve Moore, 150-85; then 14.1 hotshot John "Mr. 400" Schmidt, 150-51; and then dark horse Dave Grossman, 150-26.

Straight-pool devotee Mika Immonen was blazing his own trail to the final with a 99-and-out run against Charlie Williams, 150-42. He then manhandled Johnny Archer, 150-63, and destroyed Dennis Orcollo, 150-49.

The final with Hohmann was a barnburner with Immonen coming out with a 100-plus run to lead 112-3. Then Hohmann turned up the heat with an amazing 169-ball run to turn the tide, 172-112. Then both players showed some nerves under the intense pressure with a few misses. Suddenly, it was anyone's ballgame with only a few racks required for victory.

Immonen, who already had posted three runs in the event over 100, only needed 44 balls and took a swing at a dead ball in the stack. It missed. Hohmann needed only 8 balls for the win, and he sank the octet for the 200-156 final score.