Headstring News
U.S. Open: Mighty Mika Upset
Oct 20, 2009, 12:10 PM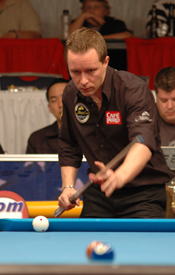 Immonen (above) couldn't overcome an early deficit against Chris Bartram.
With 212 of the world's best players jumbled up in the U.S. Open bracket, nothing comes easy. And as Mika Immonen found out in his second-round match, things can be especially difficult with a bulls-eye on your back.

Immonen, the 2008 champion, will have some work to do after his repeat campaign hit an obstacle in Chris Bartram. A veteran action man, Bartram made some noise in September by winning the Texas Open. But few could argue he was anything but a hefty underdog against Immonen.

But Bartram came out firing, taking four of the first five racks against the 2008 Player of the Year. Immonen kept close and knotted the match at 8-8, but Bartram was too much. He took three of the next four for a shocking 11-9 victory.

While second-round play continues at the Chesapeake (Va.) Conference Center, upsets are popping up in the bracket. Former champs John Schmidt and Gabe Owen were both sent left, while European studs Thorsten Hohmann and Niels Feijen joined them on the one-loss side.

American favorites Johnny Archer and Shane Van Boening remain unbeaten, along with Corey Deuel, Rodney Morris and Charlie Williams.

The Filipino contingent, even without headliners Efren Reyes and Francisco Bustamante, will be major players as the bracket dwindles. Lee Vann Corteza, Warren Kiamco, Marlon Manalo and Roberto Gomez remain unbeated, but last year's runner-up Ronnie Alcano was upset by Japan's Tomoo Takano.