Headstring News
Mosconi Cup Vote: Choose USA's No. 5
Nov 2, 2009, 3:22 PM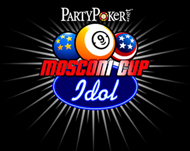 With four of its five spots filled, the American squad for this year's Mosconi Cup will be open to public opinion. Matchroom Sport, the producers and promoters of the transatlantic team competition, have kicked off an online vote dubbed, "Mosconi Cup Idol."

Eight Americans — Charlie Bryant, Kim Davenport, Dennis Hatch, Stevie Moore, Rodney Morris, Shawn Putnam, John Schmidt and Charlie Williams — will be a part of the election at www.matchroompool.com, which will run through Sunday, Nov. 15.

Team USA will enter this year's competition on a two-year skid for the first time in the 16-year history of the Mosconi Cup. Johnny Archer, eight-time winner of the event, will undoubtedly be the leader of the American team, while Corey Deuel (six appearances) and Shane Van Boening (two appearances) have some experience with the unique environment. Oscar Dominguez, who gained entry by finishing with the most BCA ranking points of any American, will be making his first appearance.