Headstring News
Trudeau Sentenced to 30 Days
Feb 17, 2010, 2:18 PM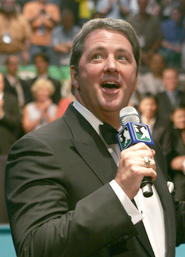 Trudeau (above) was sentenced to 30 days in jail for asking fans to e-mail a federal judge. (Photo by Jerry Forsyth)
Kevin Trudeau appears to be headed to jail, after a federal judge sentenced the infomercial king to 30 days for contempt of court.

U.S. District Judge Robert Gettleman called Trudeau — founder of the International Pool Tour — into last week to answer why he asked fans to contact the judge directly. Gettleman is the judge presiding over a case brought against Trudeau by the Federal Trade Commission. Gettleman had previously ruled Trudeau in contempt in that case and ordered him to pay a fine of $37 million.

On Wednesday afternoon, in the Dirksen U.S. Courthouse in Chicago, Gettleman ordered that Trudeau to 30 days in jail and forfeit a $50,000 bond he posted last week.