Headstring News
Van Boening Tops U.S. Open 10-Ball
May 23, 2011, 12:00 PM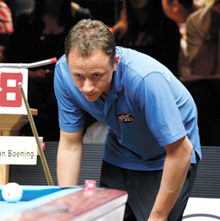 Van Boening had victory in his sight at the U.S. Open 10-Ball Championship. (Photo courtesy Dale Shank-shankshotmedia.com)
Rarely challenged on his way to the hot-seat of the U.S. Open 10-Ball Championship, Shane Van Boening had his work cut out for him in the single-set race to 11. Facing David Alcaide, the American found himself on the wrong side of a 5-1 score line.

But a dry break from the Spaniard provided Van Boening with his chance to settle into his surroundings. And once Van Boening cleared the next two racks, the 27-year-old was well on his way to conquering U.S. Open 10-Ball, which was promoted by CueSports International and held alongside the BCA Pool League National 8-Ball Championships at the Riviera in Las Vegas. Van Boening took seven consecutive racks to run his advantage to 8-5, before Alcaide could stop the bleeding. He dropped a tricky billiard to close within two games, but Van Boening responded as he had previously. On the hill, he forced Alcaide into a foul, then cleared the open table to claim the title.

On his way to his second major victory of the year (after winning the all-around crown at January's Derby City Classic), Van Boening had little difficulty navigating the 96-player fiend. He trounced a host of Americans, including a pair of 8-0 whitewashes over Scott Frost and Brandon Shuff and an 8-5 triumph over Corey Deuel in the hot-seat match.

Alcaide, meanwhile, went about his business on the left side of the bracket after falling to Frost in just the fourth round. He responded with seven wins on the one-loss side, including hill-hill victories over Efren Reyes and Danny Harriman. He also ousted Ralf Souquet and took revenge on Frost by the same 7-4 score. He then booked a spot in the final with an 8-6 win over Deuel in the left-side final.

But while Alcaide's hot shooting continued into the final, Van Boening would not be denied. His overwhelming comeback netted the American $15,000, while Alcaide settled for $8,500. Deuel collected $6,500 for his third-place performance.