Headstring News
U.S. Comeback Stymied
Dec 9, 2006, 4:40 PM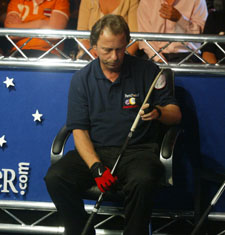 Strickland blew up, but gave Engert the shaft.
An eventful Saturday night at the Cruise Terminal in Rotterdam, Holland, finished with Team Europe holding a three-game advantage over Team USA heading into the final day of the PartyPoker.com Mosconi Cup.

Trailing 8-4 entering Saturday night's trio of singles matches, Team USA posted its two best performers in the opening matches. Rodney Morris, fighting a cold and shaky cue-ball control, played his best match of the tournament in toppling Europe's Mika Immonen, 7-5. Morris led throughout, but Immonen stayed within a game until missing a tough long shot on the 2 ball when trailing just 5-4. The two-game edge was enough of a cushion for Morris.

"I'm still not playing my best," Morris admitted later. "I'm jabbing at balls because the table's playing so fast and I'm worried about the cue ball. But now I'm losing shape because I'm punching the cue ball."

That brought the volatile Strickland into the arena to face German Thomas Engert. Strickland, having one of his most contentious events battling the crowd, was somber and focused at the start of the match, blistering a shaky Engert en route to a 6-2 advantage. After Engert ran out from the break, Strickland appeared poised to close out the match. Instead, he jarred an easy 7 ball and took out his frustrations on his Cuetec cue, shattering the shaft into three pieces by whacking it onto the arena carpet.

"There's a lot of pressure out there," explained Strickland. "I was so mad when I missed I didn't know what to do. I wanted to kill myself, so I just shattered the shaft."

Engert cleared the remaining balls, but missed an equally easy 8 ball in the next rack to hand Strickland the win, 7-4.

Afterward, the crowed booed incessantly while Sky Sports commentator Andy Goldstein attempted to interview the winner. Strickland promptly walked out on the interview.

Team USA's chance of pulling out a three-game sweep and trimming the Euro's lead to a single match evaporated when Davis failed to match hometown hero van den Berg in the evening's final match. The Dutchman used a pair of runouts and a few Davis blunders to turn a 2-2 tie into a 6-3 lead. Davis cut the margin to 6-4, but failed on a jump shot in the final game, allowing van den Berg to close out the match, 7-4.

Sunday's final session will begin with a full team six-man Scotch event, followed by a pair of three-player team matches, then a potential six singles matches.