Headstring News
Giving Thanks: Taiwanese sweep All Japan Open
Nov 26, 2007, 12:09 PM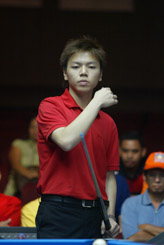 Wu dominated the later rounds, with his closest match being 11-6.
Wu Chia-Ching spoiled the party for the partisan crowd at the 2007 All Japan Open. Hayato Hijikata was sent packing in the semifinal, with Wu posting a dominant 11-1 victory. In the final, the upset-minded Toru Kuribayashi could not keep up with Wu, dropping the final, 11-6.

Wu, the 18-year-old wunderkind who won the 8- and 9-ball world championships in 2005, first tussled with the top Filipino competitors. In the round-of-16, Wu coasted to an easy 11-6 victory over Lee Van Corteza, who won the event last year. He then knocked out Efren Reyes, the last remaining hope for a Pinoy champion.

Toru and Hayato, the two Japanese semifinalists, rode the support of the hometown crowd at the Hotel New Archaic Hall in Hyogo to a number of upset victories. Hayato beat Chang Pei-Wei of Taiwan before losing to Wu, while Toru posted impressive victories over Yang Ching-Shun, 11-10, and Germany's Ralf Souquet, 11-9.

In the women's event, Chang Shu-Han completed the Taiwanese sweep of the event by defeating Japan's Akio Otani in the final, 9-5.

On her way to the final, Chang beat reigning world champion Xiaoting Pan, 9-7, then topped China's Han Yu, 9-6, in the semifinal.