Headstring News
BCA Lends a Hand at NBA All-Star Weekend
Feb 12, 2008, 3:44 PM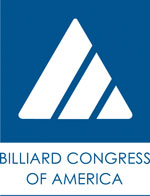 The Billiard Congress of America (BCA) has announced that it will be actively involved in two events during the NBA's All-Star Weekend, Feb. 14-17.

The Boost Mobile Zo and Magic's 8-Ball Challenge Celebrity Pool Tournament is scheduled for Feb. 14 at the Sugar Mill in New Orleans. The next evening, the Shaquille O'Neal and Reggie Bush "Welcome to New Orleans" Big Easy Billiards Bash will kick off at the Hilton New Orleans Riverside.

The BCA, in cooperation with Diamond, Iwan Simonis Cloth, the BCA Pool Leagues and the American Poolplayers Association, will provide the tables, cloth and referees for both events. The BCA will also unveil its new consumer-directed Web site, GenerationPool.com.

"The BCA's involvement with these unique, high-visibility pool events is an excellent opportunity to promote the game," BCA president Ivan Lee said.

Both pool-related events are expected to have A-list celebrities in attendance, including past and present NBA stars, actors and musicians. All proceeds from the two events will be donated to various charities.

The 8-Ball Challenge will air on BET on Saturday, Feb. 16, at 5 p.m. EST.