Current Issue

Previous Page Page 3 Next Page >



Untold Stories: From Riches to Rags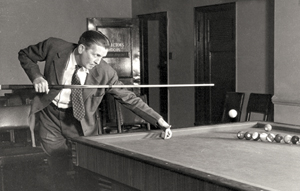 Houle crossed paths with Greenleaf a few years after this picture was taken in 1944.
This was not the first time that Houle had encountered the great champion. When Houle was 10 years old, his father took him to an exhibition in Boston. Houle couldn't recall the name of the poolroom, but he said Greenleaf was the main attraction.

Houle's father, a giant fan of the world champion, prodded the boy to shuffle up and speak to Greenleaf, to ask a question.

"So we go there and this is the first time I run into Greenleaf," recalled Houle. "My father said, 'Why don't you go over there and talk to him?' Remember, I was just 10 years old and I was scared to death. But I went over there and I tugged on his coat."

Now consider the scene. Greenleaf then was the greatest player that America had yet produced. He was about 34. He was surrounded by fans. He was like a god. Houle, by contrast, was 10 years old, just a boy. But he had mustered up his courage to approach the great champion.

"And I remember Greenleaf turned around and he said to me, in his nastiest voice, he said, 'Who the f*** are you?'

"I went back to my father, and my father asked me if I asked him a question. I said yes. I lied. I didn't ask a thing. I was too scared."


Previous Page Page 3 Next Page >

Top
MORE VIDEO...