Current Issue

Previous Page Page 4 Next Page >



Pressure Gauge: Jones, Pan Handle It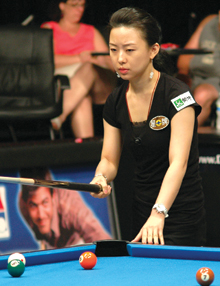 Imperious Pan showed superior focus during a five-game run.
Xiaoting Pan traces her career to her father, who owned a poolroom in China and tempted her to the game with a beautiful cue. Eager to earn the right to play with the cue, she practiced daily as a child and studied video of Allison Fisher provided by her father.

Now 26 and a regular on the Classic Tour, Pan is among the strongest threats to Fisher's longtime grip on the No. 1 spot. But she most often is compared to her nearest contemporary, 25-year-old Ga Young Kim from Korea.

They make an excellent study in contrasts. Pan is a pint-sized, refined version of Fisher - deliberate, elegant and in utter control of the cue ball. Kim, whose Korean nickname translates as "Little Devil Girl," is more the wild child - a go-for-it daredevil raised on the acrobatics of three-cushion billiards. Pan always seems to be holding her breath; Kim can blow through a match like a summer storm.

The pair split the first two Classic Tour events of 2007 between them, with Kim striking first against Pan at the Carolina Classic in February. In the final, Pan erred twice with a 6-4 lead to let Kim back in the match. At 6-6, Kim sank a gutsy kick on the 4 and ran out for the title.

The crushing defeat would weigh on Pan even in Charlotte this year, and especially after Kim knocked her to the losers side in the fourth round, 9-6. Subsequent wins over Melissa Herndon, 9-6, and Kelly Fisher, 9-7, earned Pan a spot in the semis.

Headlined by Kim and Pan, the final four in the women's division looked like a potential preview of the WPBA's top four in 2010. The quartet was rounded out by Austria's 22-year-old Jasmin Ouschan, winner of the BCA Open in 2006 and a semifinalist in 2007, and rapidly improving 20-year-old Anna Kostanian of Albuquerque, N.M.

Kostanian opened the most eyes, as she defeated Jeanette Lee, 9-4, and Fisher, 9-6, relegating the tour's top player to a rare fifth-place finish.

"I just told myself that I could do it, and I did," Kostanian said matter-of-factly. "I didn't play my best against Allison. She didn't play her best either. I happened to play a little better."

In her first major semifinal, Kostanian gamely kept pace with Pan through eight racks, tying the match at 4-4. But she handed the ninth frame to her opponent when she failed to beat the shot clock after calling for a pushout. Pan capitalized on a couple more errors in the final two games to capture the match, 7-4.


Previous Page Page 4 Next Page >

Top