Current Issue

Previous Page Page 2 Next Page >



A Legend is Born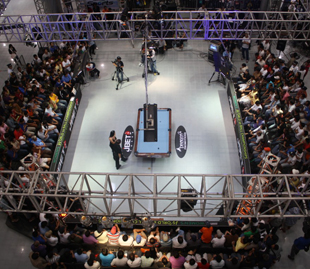 Heavy crowds at Manila's SM Megamall swarmed the TV table in the late rounds. (Photo by Ted Lerner)
HER FIRST dream was realized in 2005, soon after she quit her job as a call-center agent and devoted herself to pool full-time. She made the Philippine team for the 2005 Southeast Asian Games and took gold in both 8-ball and 9-ball. Amit nearly achieved her second dream two years later at the 2007 Amway Cup in Taipei, where she placed second, losing to China's Xiaoting Pan in the final.

Lately, she's been playing in a few local men's pro tournaments, although she hasn't done particularly well. Mostly, Amit has kept up a rigorous daily training regime with a handful of other women, including Iris Ranola, a recent arrival to the WPBA Classic Tour.

"The women play and practice together everyday for about six hours," said friend and semi-pro player John Berrille. "Rubilen has a great game. She's always very consistent and she keeps it simple."

It was that time honored recipe, along with a dose of some good old hometown magic, which made Amit the surprise entry into the winner's circle.

If Amit was the unlikely champion, it was perhaps only fitting, as this was an unlikely world championship. Simply put, 10-ball's a game the professional women are not very familiar with. When asked if she'd been practicing 10-ball before the World Championship, Ireland's Julie Kelly just laughed.

"No, because we never play it," she said. "We just don't get a chance." That's bound to change as 10-ball tournaments seem to be popping up everywhere these days, especially in Asia, and in the Philippines in particular, where many of the women had played in Raya Sport's Philippine (10-Ball) Open the week before.

In Asia, the discipline received a boost in the last year by a sudden absence of marquee 9-ball events, like the Guinness 9-Ball Tour and the World Pool Championship. Without any original pool programming, regional broadcast giant ESPN-Star Sports has instead turned to the big 10-ball events to fill the gap in the biggest pool television market in the world.

The first ever Women's World 10-Ball Championship was the brainchild of Charlie Williams' Dragon Promotions and offered $75,000 in prize money, with $20,000 going to the winner. With 20 hours over five days beamed live around Asia, Dragon billed it as the most widely watched women's pool event in history.

Despite the gaudy credentials of the event, though, Dragon found that things do not always go smoothly in Manila, especially for first-timers. For one, they had some trouble filling the field of 48. Only eight players showed up at the qualifiers to fill six available spots. Williams then clashed with WPA officials over such matters as the draw and on-site handling of the event.

When the tournament started, some players were heard grumbling about the old AMF tables, claiming they had curvy rails and untrue pockets that made shooting unpredictable. There was also a shortage of referees, to the point that a journalist was summoned to oversee several matches, including one on the TV table.

The biggest complaints, though, arose from Dragon's apparent emphasis on promoting glamor and sex appeal over the athletic nature of the tournament. The event posters boasted, "sexy, stylish, sporty ... it's billiards." Press releases to the local media emphasized style over substance, always with pictures of a select group of competitors, no matter if some of them seemed light on credentials for a world championship event.

Of course, Jeanette Lee was a media headliner, and rightly so. But there were several wild-card entries who raised some eyebrows. American-Filipina Zarah del Rosario, who could be described as a regional tour-caliber player, was pictured laying on a bed in a provocative pose while holding a cue stick. Shanelle Loraine, a buxom brunette originally from Guam now residing in Orlando, and who could also best be described as a regional-type player, was featured prominently at the press conference, alongside - and even in front of - former world champions.

Indeed, in the first few days of group play, both Loraine and del Rosario were given TV table slots beamed live around Asia. For some of the women, it was all too much to keep inside.

"I didn't know that we signed up for a beauty pageant rather than a world championship pool tournament," wrote Sarah Rousey on her blog, which caused a surge of support to erupt online. "I hate the feeling that most of us 'pool players' have to feel about ourselves and the situation."

Rousey never made it out of the group stage, so some suggested she was just upset at not playing well. Williams chastised the sniping, saying those who complained didn't understand the business of pool.

"The decision to put players on TV had to do with TV networks and sponsors," he said. "They request for certain players to be on TV. We don't promote Shanelle as a professional. But the fans love her, the sponsors love her. We have to take advantage of TV. Pool is not in a state where players can dictate how the event is run. The sport is not at a point where the players are only appreciated for their skill. We have to go through this process. To be educated, the fans have to first be interested. I know how it feels to be on top and others get more notoriety. There's a balance. Pool needs all the help it can get."

Loraine kept her chin up and replied stoically.

"It adds pressure," she said. "I'm trying to become better. What player wouldn't take up an opportunity like this? I'm not going to say no. I do feel heat from other players. But I want to help pool. Anything I can do to help pool, count me in. I love pool. I know my place. I'm not trying to tell the world I'm number one. But I'm here to play." To her credit, she won her last game in the group stages, finishing with a record of 1-3.

Previous Page Page 2 Next Page >

Top