Next Page >
BD Web Awards
Take a look at the gods and goddesses of this year's Billiards Digest Web Awards, which celebrates the best billiard sites of 2011.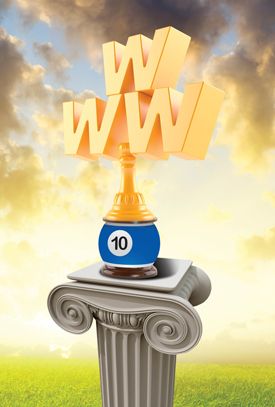 MOUNT OLUMPUS calls us together to hold court to find billiard websites worthy of high praise and crowning glory. Zeus declares that winning websites shall deliver content fit for the gods and, of course, the audience. Welcome to the 10th annual BD Web Awards.

The winning sites have impressed the Twelve Olympians and us with excellence in design, navigation, content and usability. We thank the Olympians for joining us in praising the winners for honoring our industry and for becoming the patron god to each winner.

Winners from 2009 and 2010 shall not be eligible for the awards, as the rules say they cannot be crowned again within two years of previous glory. However, they must strive to keep protecting their sites from mythological creatures that attempt to knock them off their game.

We are but mere mortals without eyes everywhere on the Internet to ensure we catch every divine website. We could use your heroic help in spotting potential epic sites to descend upon next year. With that said, Zeus proclaims the BD Web games open. Let the games begin!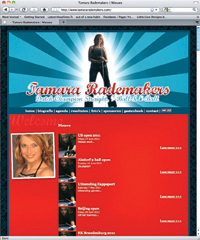 Best Player Site
Tamara Rademakers
www.tamararademakers.com

Tamara Rademakers' bold site has it all: personality, simple navigation, plenty of content and updated information. While the red background tends to hurt a site, the Dutch player's site tones it down by using blue and black around the red. Hera, the goddess of marriage and family, takes a liking to Rademakers' photos from her childhood, and highlights of her recent tourneys offer a personal touch.

Some sites commit sins with needless Flash and animation, freak out visitors by playing music upon landing, and use poor quality graphics. Not this one. To ensure the content isn't Greek to visitors, her site comes in Dutch and English. One click is all it takes to switch between the two.

Although Rademakers has a Twitter account, she makes a wise decision not to link to it from her site because she doesn't use Twitter. And that's OK. Websites need to have a purpose, and so does social networking. When a person or business cannot commit to a social network, it is better to leave it. Diving into social networking for its own sake wastes everyone's time.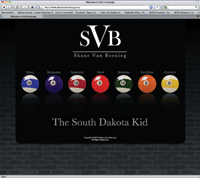 Runner-up Player Site
Shane Van Boening
www.shanevanboening.com

The South Dakota Kid never had a chance to go down a different career path, with an impressive lineage of family members who have won national championships and a grandfather who was a trick-shot artist. The brick-wall background combined with classy logo match Van Boening's nickname, signifying a down-to-earth style.

Zeus steps in as the patron god to Van Boening's site because of the champion's thunderous discipline and community involvement, all the qualities found in a strong leader.

If Van Boening's site had skipped the billiard ball landing page, it would have placed first. The landing page adds an unnecessary step to reach the heart of the content. Besides that, billiard balls appear on so many player sites that they've become trite.

Some of the content needs updating, especially the copyright year, a frequent problem for many websites. Also, his impressive list of achievements should begin with the most recent and work down to the older ones.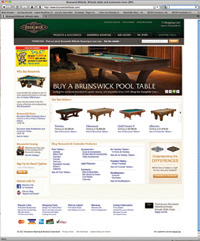 Best Vendor Site/Manufacturer or Distributor
Brunswick Billiards
www.brunswickbilliards.com

Despite manufacturers and distributors selling directly to retailers and dealers, end-users still visit their sites to help decide what to buy. Brunswick Billiards succeeds in delivering a design that upholds its brand and provides all the content expected from a manufacturer website.

Many of the competitors in this category turn their large product catalog into a labyrinth that goes in all directions. They also struggle to arrange all of the photos and content effectively. Brunswick shines in presenting a catalog that's easy to navigate without creating a long journey like Odysseus' 10-year trip.

In addition to discovering Brunswick's fascinating beginnings, visitors also get scholarly advice on designing a game room, determining the table size for a room and learning billiard terms. Furthermore, its updated Facebook page and blog engage customers and fans.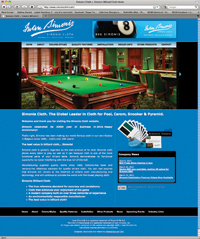 Runner-up Vendor Site/Manufacturer or Distributor
Simonis Cloth
www.simoniscloth.com

Considering Simonis' specialty, it's no surprise the website's design looks spic with its effective navigation and layout. Consumers receive tips for cloth care and maintenance, while dealers can request information and material.

As a master blacksmith and craftsman of the gods, Hephaestus can tell this company has a passion for its cloth-making craft.

Despite the choice of a flattering shade of blue, using it as a backdrop to the content doesn't please Aphrodite, the goddess of love and beauty. Simonis Cloth could have won the heavenly crown by posting the content in black on a white background with the blue on the outer edges of the website.