Previous Page Page 3

BD Web Awards
Best Storefront Retail Site
Robbies Billiards
www.robbiesbilliards.com

The deadly sins of anger, gluttony and pride turn up often on websites in this category due to excessive navigation, outdated design techniques and other Hades-like messes. Considering storefront sites represent brick-and-mortar stores, people expect to see the location's address, hours and contact information. At the same time, the website must compel them to visit the store. Robbies Billiards succeeds in satisfying all the requirements.

Even though Ares is the god of war and violence, he admires Robbies' peaceful, warm and inviting approach with the gentle green color. However, the background and its pattern needs to be replaced because such a practice makes the site look outdated. Furthermore, the product pages have content that require needless scrolling to see the rest.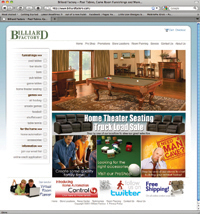 Runner-up Storefront Retail Site
The Billiard Factory
www.billiardfactory.com

The Billiard Factory engaged us with its "About Us" page and personable photo. Also, the god of commerce, Hermes, admires the company's expansion. The company shares its story from the founding of one store in Houston in 1975 to present day, with 15 stores and over 100 employees. The site offers room planning tips, details about pool-table cloth, and an explanation of quality elements in a table.

Whether you want to look at tables, plan a room or find a store, everything is accessible within a click in a navigation that requires no effort to figure out. A site requiring as much work as Heracles' 12 labors in getting around exposes serious flaws in information architecture and user-experience design practices. The Billiard Factory's catalog feels crisp and intuitive to use.

Even heroes can have an Achilles' heel. The site's content needs a little more boldness; the light-colored text can be a strain to read. Stuck in a time warp since 2009, the news and testimonials pages need a serious update or removing.




Best Blog
Angle of Reflection
angleofreflection.wordpress.com

Blogs must meet the Twelve Olympians' strict requirements with an offering of captivating content, consistent postings and comfortable navigation. Design plays a smaller role in blogs than in websites. However, the design still needs to be presentable and readable.

Michael Reddick, behind the Angle of Reflection, does more than share stories and thoughts. He also posts his training plan and drills that visitors can use to improve their games. As goddess of wisdom and strategic warfare, Athena values Reddick's teaching style and sharing of strategies. The tidy design contains all the elements of an effective blog while still putting the spotlight on the content.

The top navigation gives fast access to all the educational material and his "About" page. You can't help but like the guy after reading his bio. "I've been playing pool on and off for about 20 years, but never too seriously. That changed last year when I read Daniel Coyle's great book, 'The Talent Code.' Now I'm on a mission to transform myself: medical device industry professional by day, professional pool player by night."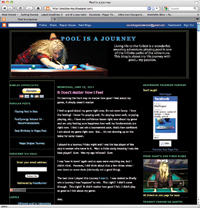 Runner-up Blog
Pool is a Journey
pooljourney.blogspot.com

AkaTrigger (aka Texas' Melinda Bailey) tells captivating and funny stories in her Pool Is a Journey blog. She also frequently adds new entries, where many others fall short. She also keeps a video blog "so you don't have to sift through 'words' and unnecessary links if you just wanna listen and not read." She posts all video entries in one page for easy access.

Bailey has been blogging consistently since 2006, a feat in itself that would amaze Greek messenger Pheidippides, who ran 26 miles from the Battle of Marathon to Athens. Demeter holds AkaTrigger in high esteem for her honesty and openness.

The blog falls short of top honors by using no fewer than five colors, which make it look like a clash of the titans took place. Both winning blogs need to break up the long pages and let navigation help people get around instead of the mouse or scroll button.

Previous Page Page 3
Top