Current Issue
Next Page >
Final Verdict: Immonen Can Win It
Finnish star redeems 2001 U.S. Open shutout with a hot stroke and cool head.
Story and photos by Mason King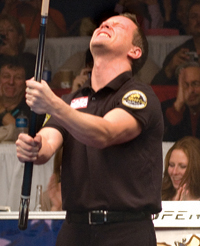 Happy return: Immonen's victory erased bitter memories of the 2001 final.
The last time Mika Immonen played in the final of the U.S. Open 9-Ball Championship, he barely played at all. In 2001, exhausted from three tough matches in the losers bracket, he spent most of the final slouching and stewing in his chair. His opponent, Corey Deuel, kept the table in his greedy grip with sharp pattern play and his soon-to-be-infamous soft break. Even when Immonen did get the odd shot, he floundered and grew frustrated.

The final score: 11-0. It remains the only shutout in a U.S. Open final. Not just a loss - an answer to a trivia question.

"It was really embarrassing; I was miserable," said Immonen, who had won the 2001 World Pool Championship just two months earlier.

The svelte, sharp-shooting star from Finland had too much talent not to get another chance. And imagine his relief upon reaching the final of the 2008 U.S. Open, thwarting a loose safety from opponent Ronnie Alcano in the first rack, and notching his first game win in two final matches.

"I was thinking about that - just to get that rack," he said. "I was like, 'Yes! There is no curse! Whatever the score, it's not going to happen again.'"

Vaulting that burden and leading, 1-0, Immonen sprinted to victory. The match followed a script that was by then familiar to spectators at the Open, held Oct. 19-25 at the Chesapeake Conference Center in Chesapeake, Va. Immonen jumped to a quick lead, demoralizing his foe. And when the rolls didn't go his way for a five-game stretch, he kept his emotions in check and his focus on the table.

"I was just chilling in my seat," said Immonen, who sometimes lets his frustration get the better of him. "Ronnie played incredible to get back in the game. But I knew, 'Just let me see the ball. Let me get control of the table, and I'll get back in there.'"

When the final 9 ball dropped into history, it took with it Immonen's bitter memories of that 2001 final.

"I felt that this was my opportunity to fix what happened, the injustice in 2001," said Immonen, after the 13-7 victory and a stream of fist-pumps and shouts to the rafters. "So now, it's totally erased."