Current Issue

Previous Page Page 4 Next Page >



Final Verdict: Immonen Can Win It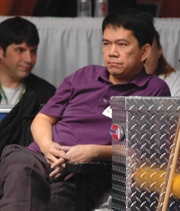 Kiamco couldn't be consoled after a miss on the 2 that meant the match.
Immonen lost the match, and it was probably the best thing that could have happened to him.

Alcano, who arrived 80 minutes before the match to begin practicing, was the sharper player. He nailed a cross-side bank on the 9 ball to tie the match at 3-3, and then won the next five racks as Immonen coughed up nearly every shot given to him. The rash of misses and miscalibrated safeties began to weigh on him, and his body language devolved into a medley of slouches, grimaces, and flailing arms.

"I didn't feel right," Immonen said after the 11-6 defeat. "Something was wrong. He got off to a good start and was hitting everything good. I couldn't get going. I didn't get a lot of shots where I could really let my stroke go."

The question was: Would Immonen bring the defeat with him into the losers-bracket final with Kiamco? Chamat sought him out in hopes of clearing his mind.

"I told him after he lost to Alcano, 'You're playing good, man. You just lost that set,'" Chamat said. "He was actually not too upset. He was like, 'Let's get on with the next match.'"

Immonen regained his swagger against Kiamco. The flourish to his stroke returned, and he fell back into his brisk rhythm. The match also allowed him to determine the correct speed and angle for sinking balls on the break - which had eluded him in the prior match.

Kiamco tied the match at 9-9. But then he inadvertently left himself a straight-in shot on the 2 ball along the foot rail, when he needed a little angle in order to reach the 3 uptable. Kiamco tried a power stroke, and the 2 bounded out of the pocket jaws. Immonen ran that rack and the following game for an 11-9 victory and a rematch with Alcano.

Rodney Morris, one of Immonen's friendly sparring partners, believed the Finn would have the upper hand.

"Going into this morning, Mika didn't have to deal with adversity," Morris said. "So the best thing that could have happened for him was to lose the hot-seat match, and then come back. You know that if this adversity comes again, you know how to deal with it."

Indeed, Immonen's attitude had shifted to full-throttle optimism for the final: "I felt very comfortable and energetic. I was really pumped."

Immonen knew that an early lead was crucial, and Alcano gave him the opportunity. The Filipino flubbed a safety on the 1 ball in the first rack, and Immonen speared the table-length shot, leading to a 1-0 advantage. He was forced to push out after the subsequent break, and Alcano declined the option. That set the stage for perhaps the most important shot of the match.

Immonen designed a safety on the 2 ball with an offensive component, banking it downtable so it would clip the 9. The 9 ball dropped into the side pocket, prompting a shout from Immonen, as well as a bit of psychological warfare.

"It was a perfect shot," Immonen said. "That really pumped my confidence. When you visualize it, and it happens exactly the way you visualize it, you feel in tune with your instincts. And I let him know that I was pumped."

From that point, Immonen couldn't miss and Alcano's game fell apart. Two failed safeties from Alcano allowed Immonen to build a 6-0 lead. When Alcano finally got on the board, he struggled with his break and safety escapes. Immonen capitalized, taking a 10-2 lead.

"He was on a mission this time," said Novenario, Immonen's girlfriend. "In the final, I knew he had it. There was some fire in his eyes."


Previous Page Page 4 Next Page >

Top
MORE VIDEO...