Matchroom Pool tsarina Emily Frazer won't rest until she makes good on her pledge to pro pool.
By Mike Panozzo

With the start of the six— day, 256— player U.S. Open Pool Championships less than 24 hours away, Emily Frazer is in full stalking mode, pacing the Wildwood Ballroom of Harrah's Atlantic City Waterfront Conference Center and assessing the chaos that customarily precedes a Matchroom Pool production.

The 50,000— square— foot space looks more war zone than arena, with rows of shipping crates filled with graphics boards, lighting, monitors, and thousands of feet of cable strewn about the room. Twenty hours earlier, the status of those crates, which had been packed into a container and loaded onto a ship in the U.K., was very much in question. Hurricane Ian moving up the eastern seaboard had forced the ship to be rerouted to Canada. It was stuck for another day in New York.

Having learned from a previous shipping mishap, Frazer has contingencies in place. Some supplies, including ball sets, are on their way to New Jersey in the event the container fails to make it to Harrah's before the scheduled start to the event. Even without the arena's full studio and television set in place, the matches could still start on time. The concern is averted when the container arrives in time.

Meanwhile, more than two dozen Diamond pool tables — 18 for match action and eight reserved for practice — have been strategically installed, allowing for a sectioned— off practice area, smaller clusters of match tables, a pair of preliminary round television tables and a single table in the primary television arena which will not see action until the Sky Sports production commences later in the week with the final 16.

For now, however, it is the lights rigged over those 26 tables that have Frazer's attention.






Known as a tough boss and negotiator, Frazer says she expects no more than she herself is willing to give.



"The lights over the streaming tables are casting terrible shadows," she points out. "I've contracted the lights locally, and they're not up to standard. So, we've moved over some lights that are supposed to be used for the studio. We're testing for shadows. We've had to lower them to get the right coverage, which forced us to scrap the scoring setup for those tables. I'm not sure what we'll do come Thursday when the studio needs to be set up, but we'll have it sorted by then.

"In any event, I'm not leaving tonight until we have this issue corrected."

A powder blue track jumper and black Nike training shoes seem appropriate garb for the constantly moving Matchroom Multi Sport COO. On this particular day, Frazer's step counter will record 14,000 steps. The day will conclude with her tacking on another 5,000 on the treadmill "because I was going to punch someone!"

An oversized floor blueprint under her arm, a cup of hot water with lemon and honey in her hand ("I always get sick at the events!") and several members of her "team" in lock step on either side of her, Frazer circles the ballroom several more times. Along the way, she'll stop by a practice table to drop off a peppermint tea for Bosnia— Herzegovina's Sanjin Pehlivanovic, who had been complaining of an upset stomach.

Later that evening, Frazer is in the Matchroom war room, a conference room adjacent to the ballroom/arena. Her seat at the center of the 22— seat boardroom table is well marked — a bottle of DayQuill, some roll— on deodorant, a hair bush and an invaluable notebook that contains schedules, details, memos and random thoughts. "That book is with me everywhere!" she says. "And I mean everywhere. I am never without it."

A dozen referees are in the meeting, with head referee Marcel Eckardt of Germany reviewing rules and procedures with the group. With one ear on the conversation and her eyes on her notebook as she scribbles down notes on any number of tasks that lay ahead, Frazer barely looks up, interjecting with a quick and simple directive: "Let's move on. Long night ahead." A minute later, Harrah's staffers pop in for direction on TV placement in the arena.

And so it goes.
---
Event production is what Emily Frazer loves. She's loved it since latching on at Matchroom in 2010. And over the past seven years, Frazer has established herself as the face of Matchroom Pool and has undeniably become one of the most powerful people in the competitive side of pool. She has expanded Matchroom's pool portfolio with a string of large— money open tournaments, including the purchased World Pool Championship and U.S. Open, as well as the European Open and U.K. Open.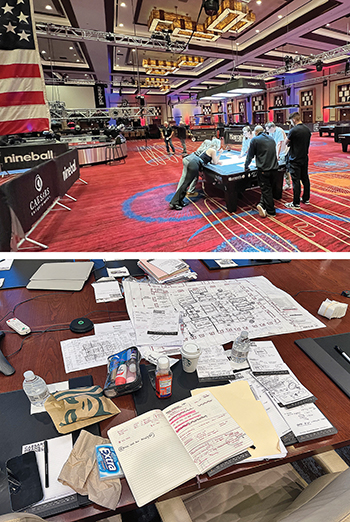 During events, Frazer rarely leaves the arena (top), making a conference room her home (above) and conferring with the team.
She is also one of the game's most polarizing figures — a tough negotiator and task master who backs up her persona with a relentless work ethic and a drive to build professional pool into a sport that rivals her employer's more successful and high— profile snooker and darts portfolios.
"I've found what I love," she says. "It's what gets me out of bed in the morning. It's what drives me. It's not about money. I just love it."
It's rare enough that someone finds a vocation that drives them to work harder than they ever imagined they were capable of. It's even more rare to be surrounded by like— minded people in that vocation, but that is what Frazer sees in pool.
"Pool players love what they do, and they work incredibly hard at it," she notes. "They're relentless. Over the years I've gotten to see how tough it is for some of these players. How tough it is to get to events. How tough it is for them to get sponsors. I want them to make life— changing money."
The current incarnation of Emily Frazer is likely far different from the middle of three girls raised in Croydon, a large town in South London, to Ian and Chrissie Frazer. She was, by nature, precocious and independent. But there were lessons learned even then that have stayed with her through the years. Ian was a painter and decorator, and Chrissie was in sales. When the couple launched their own business restoring and refurbishing pubs in the bustling town, Emily got to see firsthand both the work and reward that comes with running your own business.
"In the back of my mind," she recalls, "I'd always told myself I didn't know what I wanted to do, but I knew I wanted to be in charge and run my own business."
With a large age gap between the sisters — Amie six years older and Charlotte 10 years younger — Emily spent a fair amount of time fending for herself.
"My parents were always working," she says. "I never got dropped off or picked up at school. I had to figure out how to get there and back. Often, one of the workers would drop me off at a friend's house. I'd stay for dinner until my parents got home. I think that started my independence. I was always aware of their dedication to work."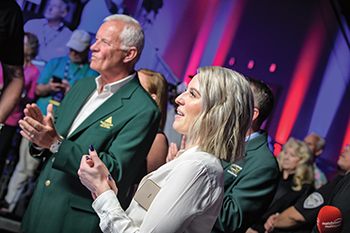 Hearn (left) sees a lot of himself in his Multi Sport chief.
And while her parents built a good business, Emily also saw difficult times, like during the recession of the mid— 2000s.
"Some years they'd say, 'No Christmas presents this year,' and we'd have to understand," she says, matter— of— factly.
"Subconsciously, I grew up knowing that what you do for your work directs so much of your life. I'm not money driven any longer. I'm more driven by wanting to do well in my life because I've found that's what makes me happy."
DAY ONE
It's 6:30 a.m., and with the first balls scheduled to be struck in three— and— a— half hours, Frazer is in the ballroom checking details. Clutching a handful of vitamins, Frazer is in pre— tournament working wear — her hair pulled tightly back into a ponytail, black rimmed glasses, and a red and white Gucci sweatshirt. She's accompanied by her staging manager, Will Cope of Trans— Sport TV, and her de facto right hand, Phoebe Milham.

"She's the nice one," Frazer says of the diminutive Milham.

"That's usually true," Milham jokes. "But yesterday I had to yell at people, and I thought, 'I'm like Emily now!'"

The ballroom is receiving its finishing touches. Frazer can't help herself, making the tiniest of corrections to some of the chairs surrounding the match table areas like Carson from Downton Abbey inspecting place settings.

A rap playlist is pulsing through the ballroom.

"[Event support company] Encore wanted to charge $1,800 a day for someone to sit here and play music," Frazer says with a laugh. "I told them to hook up and iPad for me. [Matchroom Media Manager] Matt [Lynch] is going to select the music."

"We're setting up a test stream with Vietnam," mentions Matchroom veteran Jake Asby, who is in charge of digital content and social media.

Frazer runs through her pre— opening check list: Call times, referee assembly, security. By this point, everyone is expected to know what they need to do.

A hotel executive inquires whether Emily is available for lunch. She tells him he's welcome to come into the arena where they might have a short chat. There is no chance she's leaving the room during the tournament.

"I'm surprisingly calm," Frazer admits, with a pinch of hesitancy. "Is that good?"

At 10 a.m., defending champion Carlo Biado slams the cue ball into the opening rack of the tournament.

Is there a sense of relief?

"Not really," says Frazer, having changed into a gold off— shoulder top and tight black leather pants, clutching her phone in one hand. "Now, I immediately see everything that's a little off. Little things, like a typo on a streaming graphic." A fan interrupts for a selfie, which Frazer happily obliges.
---
School and Emily Frazer never really did get along. By her own admission, whenever there was trouble at St. Bede's School, Emily was likely to be in the middle of it. She scraped through her early years of high school and was encouraged to continue her education through Sixth Form, which essentially the final two years of high school, used in the U.K. as the prep for A— level exams for those hoping to attend university.
After completing Sixth Form, 18— year— old Emily planned on going to university, mostly for the fun and parties. Her parents, however, informed her they had no intention of funding her frivolity and told her she needed to figure out what she wanted to do with her life.
Frazer poked around, working for several months at an English hotel in Alpe d'Huez in southeast France. "You had to do everything in the hotel that needed to be done," she recalls. "You might clean bedrooms and bathrooms, or open breakfast service after you'd been out until 4 a.m. Some of the work was disgusting. You had to live off a budget. At the same time, if you had a morning off you could go across the street and ski for the day."
Frazer vividly recalls the day she started working for Matchroom. She remembers it because her first event was scheduled to be a Premier League Poker tournament in Las Vegas, but she couldn't go along with the crew because she was only 20.
"My dad's business was doing well, and he started playing poker," she says. "He won one of the Matchroom tournaments and told us it was taped and was going to be on the tele in one— hour shows."
Her interest piqued, she asked her father if she could go with him to watch.
"That's where I met Barry and Eddie [Hearn]. And my father told Eddie, 'This girl's a grafter [Brit term for a hard worker]. Let her make coffee and bring sandwiches. She needs experience.' Eddie agreed and I became a runner at the events. They'd pay my expenses for two weeks and I did whatever people told me to do. If I had to rummage through the boot of a player's car to get him a new shirt, I did that."
Frazer's immediate boss was Hearn's daughter Katie, who was the producer/director of Matchroom's poker programming.
"I showed up as soon as Katie wanted me," she says. "And I would be the last one to leave with her. I loved it because it was an event."
Still, needing a paying job, Emily dabbled briefly as a real estate agent.
"It was horrible," she concedes, her face scrunching up at the mere mention. "I hated it."
Several months later, Frazer received a call from Matchroom. Someone had called in sick, and they needed a floor manager for a women's poker event. It was a two— week job.
"I went into the estate office and quit, straight away," she laughs.
At one point, Eddie Hearn pulled Emily aside. "Katie needs a right— hand man in the television department," he said. He offered Emily the full— time gig.
"The event finished up and I turned up that Monday at 7 a.m., sitting in my car waiting for everyone to get there," Frazer says, smiling.
DAY THREE
The U.S. Open is in full swing, with few noticeable glitches. The focus for Frazer and her team is keeping the wheels on the rails.

"When you look around the arena on Day One and I see the spark and excitement on the players' faces, and you see the fans queuing up to get in, that's what gives me a buzz."

And while Frazer works tirelessly to ensure a smooth— running event, she also thrives on problem— solving under duress.

"It's like the container issue," she offers. "Will came up to me and said he's really concerned. And I tell him, 'Will, this is where we thrive. This is where we come up with the new ideas. Something out of our control is happening. I love the intensity of situations like that. I'll always choose the hard route because I like challenges.

"I love creating things and seeing them come alive," Frazer says, peering around the room. "I come in here and I'm so excited. Every hour I walk around the venue. I literally can't sit down because I'm so excited. It's being part of creating something that makes other people happy."

Of course, a weeklong event is certain to have peaks and valleys. And at the close of this day, the crew will start breaking down parts of the arena in preparation of the cut to 16 players for single elimination play and the switch to live coverage with Matchroom's broadcasts partners, primarily longtime partner Sky Sports in the U.K. and streaming sports service DAZN in the U.S. and elsewhere.

"Sometimes you get stuck in the event once it starts," Frazer points out. "All of a sudden, TV production comes in. Then it's just chaos. You can never plan enough for that."

The matches have concluded for the day, but the work is just beginning. Some tables will be removed, and some seating erected, but the addition of the Shane Van Boening Junior Championship adds another wrinkle to the logistics. The crew will start cabling for the cameras. It's going to be another long night.
---
Frazer is the first to admit that her early years running Matchroom's pool portfolio were less than auspicious. She was young, a woman and had her share of ego. She was hellbent on putting her personal stamp on the Multi Sport division and, more specifically, pool.
"I worked for Katie for four years," Frazer recalls. "I learned so much from the television side. I was organizing poker events and started crossing over to the events side of pool."
Frazer worked closely with Matchroom pool event director Sharon Tokley. At the end of 2015, Tokely decided to retire and move to New Zealand and Katie Hearn put Emily's name forward to her father as the replacement. Hearn, who has a penchant for promoting from within, agreed.
("For the first four years she worked at Matchroom, I called her 'Emma,'" Barry Hearn admits, with a laugh.)
"I will admit now that I was absolutely overwhelmed in that first year of responsibility," she confesses. "I was 24, and I was in control of the budgets and the cost of the events. I was in charge of the creative design for these events, too. I was basically just throwing money at the events. I came in all guns blazing, but my inexperience showed. I was more concerned with putting my mark on things."
At least part of that ego— driven approach, she says, was based on being a female in a male— dominated sports business.
"Early on," she starts, "people's idea of a business meeting was to take me out to dinner and try to charm me, thinking they could gain a business advantage because I was a woman. People talked down to me and have said so many things that have made me bite my tongue. This was from industry people and players. I would smile, but inside I was thinking, 'I don't deserve this.' It made me defensive.
"Looking back, I'm glad it was that way because it helped shape me into who I am today."
While no one ever questioned Frazer's work ethic or drive, her management and negotiating styles have not been without criticism. Players, industry partners and employees have all, at times, questioned her approach.
"It's something I've heard over the years," she admits. "The way I see it, I'm a hard driver and will expect everyone to give 100 percent. If you can't keep up, you get left behind. It's a brutal way to operate, but that's the events business.
"It's not me driving people away. I'm relentless, and I know that. I like a team that supports one another, in front of people and behind closed doors. That wasn't always the case in the past. And maybe I did drive people away. But I will also bring the best out of you if you want to work. If you're just along for the ride, you're not the right fit for my team."
There is a scene in the 1993 American crime drama "A Bronx Tale" in which the local mob boss tells a young boy tempted by mob life, "It's better to be feared than loved." At first, Frazer dismisses the notion, but then backtracks.
"Six years ago, I probably felt that way," she admits. "I was a young girl. I was excited about the job and was willing to listen to everyone. And I think people just thought, 'We'll get whatever we want here.' I would go to meetings at venues and the people would shake my security guy's hand, and then they'd start the meeting. And he'd have to tell them, 'No, sir. Emily is in charge.'
"A lot of women go through that. I'm not looking for a violin, but that sort of thing makes you defensive and makes you put up a tougher front. I never got respect. You go in having to worry about what you're wearing or how much makeup you have on.
"So, I toughened up and thought, 'If everyone is afraid of me, that's okay.' As I've matured, I've worked more on simple respect. Of course, I'd much rather have people know the nice side of me than the horrible side. I want the players to respect me, not fear me. But that comes with how you treat them, how you conduct yourself and whether you're willing to listen to them. I want them to know that if they're in a match and have an unresolvable problem, they say, 'We need Emily here.' And I'll assess the situation and make a decision. And good or bad, the players will respect the decision knowing that I'm doing what I think is best for the sport and the event."
In the end, making decisions, Frazer says, is what she's paid to do.
"I've grown into this position over time," she qualifies. "It's at a level now that the responsibility falls on my head. Even when I first started in special events, if a decision was made that wasn't my decision but I allowed it, I was the one in the firing line. A few years ago, I was allowing too much outside information into my decisions. One time I was second— guessing myself and Jake stopped me and said, 'Emily, you don't question yourself.'
"I like being in the position of having to make a tough decision immediately. And I'm more comfortable and confident in my decisions now than I was in the past."
Not all decisions work out, however, and not all events run smoothly. And, at times, the pressure and magnitude of an event can break down that tough persona.
"I can't even count the number of times I've wanted to sit down and cry my eyes out," Frazer admits. "So many times, I've had to say to myself, 'Don't cry. Don't cry. Don't cry,' because your natural instinct when you're upset and overwhelmed is to have a cry. It happened last year on day one at the U.S. Open when everything went to shit. I had to turn around and face the wall because I started to cry. I literally went to the ladies room and looked at myself in the mirror and said, 'Emily, sort yourself out!'"
As for her "team," Frazer is convinced that her current group is built for her ambitious vision.
"I think this team is the best we've had," she says. "We have a bunch of individuals willing to go above and beyond for pool events. And no one on this team is a pool player."
"These events can be extremely hectic and tiring," admits Milham, who joined Frazer's team in 2020. "We live out of suitcases for half of the year. But our team dynamic is brilliant, and I couldn't ask for a better bunch of people to work with."
Still, is it fair for Frazer to expect everyone to work as hard as she does?
"That's funny because Barry was clear with me some time ago," she replies. "He said, 'Emily, you can't expect everyone to do what you do.' I was frustrated. My feeling then was if I'm working this hard and putting in all these hours, everyone else should. And he said, 'No. That's what makes you different and why you're in charge.' That's something I've learned along the way."
In many ways, Frazer seems cut from the same cloth as her boss and mentor.
"Emily represents what Matchroom is about," says the 74— year— old Matchroom founder. "She's passionate and has a relentless work ethic. She's tough on her people, but over time you build a team that will take a bullet for you. We need commitment. We don't have time or the money to not do it any other way.
"Not everybody wants this job," Hearn continues. "It's not a 9 to 5 job. It's not easy. There are no weekends when there is an event."
Offering perhaps the highest praise, Hearn adds, "I admire her attitude. She reminds me of me."
The feeling, says Frazer, is mutual.
"Barry has shaped my maturity and who I am today," she insists.
"And, honestly, I like the person I've grown into. What Barry has helped shape is how I juggle all these situations and deal with them, and when to not take things too much to heart."
Her business relationship with her silver— haired mentor has also evolved and matured.
"At the start, I reported to him," she says. "And he'd ask all the questions. 'What's the cost for this?' And, 'What's this?' And he would bash everything I'd done and tell me what I should have done. It toughened me up.
"Now, when I go to him it's more of a sit down and we talk. There's more trust. And he's always said to me, 'Emily, you know where I am if you need me.' If I'm unsure of something, he is the first person I'll call for advice."
Hearn's undisputed motivational skills have also left their mark.
"When I leave his office after a chat," Frazer says, her excitement visibly growing, "I'm always ready to do whatever it takes for our event. I'm ready to go to war. It's so motivating. And I try to instill that attitude into the team."
DAYS FIVE AND SIX
It's broadcast TV time at the U.S. Open, and Emily Frazer is approaching next— level pins and needles. She and her crew were up until 2 a.m. fixing a camera above the main set that was rigged improperly. She refused to sign off on the rigging until she was 100 percent satisfied.

The locally hired floor manager for the television is admittedly clueless on pool protocol. As Eklent Kaci is preparing to break, she is frantically waving her arms to get him to stop, as the television feed isn't ready.

"This isn't our usual crew," Frazer admits. "And situations like this annoy me. This just feels way more challenging than normal. I mean, it's the U.S. Open. How can this happen?

"The last couple of days, I'm in a totally different mindset," she adds. "The pressure is relentless. This is when we're going to the millions. We're constantly juggling, going from three tables to one. And constantly looking to improve. I think of where we're going to be in three years. It's terrifying and exciting."

On these days, Frazer won't leave the arena for even five minutes. It's what she calls "the fear factor," that something might happen in her absence, and she won't be there to fix it or make a decision. It is added pressure that she puts on herself. "This is where we have to deliver," she says. "This is where we have to be exceptional."

The final day produces incredible drama, with both semifinal matches coming down to a single rack for a spot in the championship match. The championship match will prove to be another nailbiter, with Spain's Francisco Sanchez— Ruiz emerging the victor.

"You see how incredible the final matches are and how important this was for Francisco," Frazer gushes. "It was fantastic. And that's what we want. We always want to deliver the best. I don't want anyone to get up and go to the toilet. I want them to be riveted to the TV."
---
If one thing is clear in Emily Frazer 2022 vs. Emily Frazer 2015, it is that pool itself is the driving force in her maturation.
"When I first started in pool," she recalls, "I was still partying quite a bit. I could work off three hours sleep and still operate pretty well. But over time, I started to fall in love with pool. I loved the crowds and the players. The fan engagement was really satisfying. You could see the impact of making decisions that made the events more enjoyable for the fans and players. And I could see the demand for more. I felt like I could do a lot with pool."
Suddenly, Frazer could feel herself growing up. She focused on working more and partying less.
"I sat back and watched," she says. "I could see what we were spending our money on and what we were getting back. I started thinking, 'I think we can do this better if we do this or that.'"
By self— admission, Frazer is not a pool player and has no urge to become one.
"But pool runs through my veins now," she gushes. "I'm in love with it. I see the potential. I see the players. You go on social media today and you see selfies of players at the airport headed to America to play, and that lights a fire in my belly.
"And you see the passion that the fans have. My job is to get the main sponsors and main broadcast partners passionate about it too. The events are great, but I step back and look again and say, 'Hang on a second. Yes, this U.S. Open is great, but are we on LADbible or The Sporting News? Why aren't we in Sports Illustrated?
"It frustrates me," she continues, "that we have all these players, and they aren't celebrities. Sky Sports won't promo Mosconi Cup on Sky Sports News and I'm wondering why not. Why aren't our viewership figures the same as darts and snooker? What I try to communicate to the team now is that we all love pool, but we get too wrapped up in the pool world. We need to take our heads out of the sand and realize that in the grand scheme of things maybe we're not as great as we think we are. I tell that to myself every day and that's what drives me."
Her reward today, she says, is knowing that every year, every event is making the sport and the players better and wealthier.
"When players come up to me at an event and say, 'This European Open is the best tournament yet,' that's the stuff I love. That just makes me so happy. And I can look and say, 'Yeah, the team did a great job here.' It's become more of a journey. The ego part has definitely changed over the years."
These days, Frazer's ego is fed by friendly rivalry.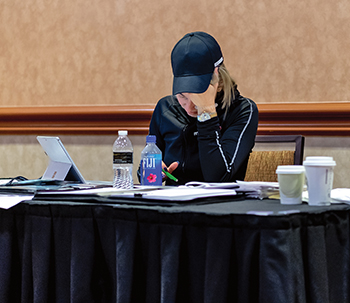 Frazer's main goal is building pool events to be on par with snooker and darts.
"I love that the pool division shares an office with the darts and snooker," she says, with a wry smile. "You see the challenges that they are now coming across in their tours. It gives you an idea of what challenges we'll face as we continue to build pool.
"The only ego that I still hold is that I want to make pool bigger than darts and snooker in Matchroom!"
POST EVENT
The Wildwood Ballroom is void of people, save for the workers tearing down the sets, lights, and tables. Frazer walks the ballroom, thanking the workers. She finds her way to the ladies' room, where she has a brief cry.

"The exhale after the event is over overwhelms me," she admits without a hint of regret.

She then retreats to Matchroom's headquarters conference room and kicks off her heels. For several minutes she just sits, staring blankly into space.

After a short conversation with Milham, Frazer grabs a few members of the security team and heads out to buy several large pizzas and brings them back to the office.

The team convenes, rifling down pieces of the pie and joking about the week past.

Later that evening, Matchroom hosts an after party for sponsors, players and VIPs. A decade earlier, Frazer would likely be at the center of the party, drinking and joking with the attendees. On this night, however, Frazer will grab a glass of champagne and sit quietly in a corner with Phoebe. She'll leave the party early.
---
Frazer laughs when asked what 20— year— old Emily would think of 32— year— old Emily.
"Oh, my god," she shrieks. "That Emily wouldn't recognize this Emily. I was going out five nights a week. I'd get in a 3 a.m. and pretty much go straight to work. Now, mere thought of that gives me anxiety. And looking back on it, I really didn't enjoy who I was."
These days, Frazer gets up and heads straight to the gym. Enroute to work, she'll listen to podcasts like "The Look and Sound of Leadership," or Steven Bartlett's "Diary of a CEO." Her guilty pleasures are crime podcasts.
After work, Frazer goes home (often with "take away" sushi) and unwinds with a swim.
"I need that," she insists. "It chills my mind down. I used to go to bed and just lay there thinking of ways to make the sport and the events better. I'd wake up in the middle of the night to write down notes. I wasn't sleeping well. The swim really helps me."
She admits that she "never switches off," and that switching off doesn't even appeal to her. For a time, she worried about that and how she'd developed into such a solitary life.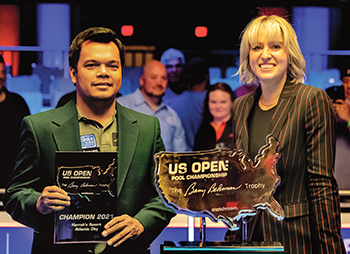 Frazer won't be satisfied until stars like Carlo Biado (left) reach the "next level. "
"I try to self— care more," she says. "I've learned when I need a break. Sometimes, if things are more under control at the office, I might take time to myself to get my eyebrows done or something. Being a little more relaxed and feeling better about myself is going to be better for everyone at work.
"I look at the week and say, 'Where am I going to get the best out of me and my team?' I might be a little stressed one day and it's better that I don't inflict that on the team, so I work from home or go to the gym first before going into the office."
Not even the weekends are safe from Frazer's almost maniacal drive. A normal Saturday will start with a spin class or pilates, followed by avocado and eggs on toast at Ole and Steen in Canary Wharf, where she'll sit for four or five hours working on her laptop.
"It's not that I have so much work that I need to work on the weekends," she qualifies carefully. "I just enjoy that on the weekends. I come out of the spin class so motivated and with these great ideas. None of that is ego driven. It's what I like to do. I want to see pool succeed on a quicker timeline. I like to compete with my own goals. You want to speed it up.
"This job has become a huge part of my life, and I'm okay with that," she adds. "I see this as a responsibility now. I've made a pledge to the players that I will help get pool to be the next darts. And I don't ever want to be accused of making an empty promise."
EPILOGUE
The 2022 U.S. Open Pool Championship has been crated up and shipped back to the U.K. And after more than a week of brutally long workdays, the Matchroom team is spending a few days in Philadelphia, shopping and sight— seeing.

"They've earned it," Frazer says, adding, "and, besides, otherwise I'd have just gone home and been depressed."

As an added treat, on Sunday afternoon the group heads to Lincoln Financial Field to watch some American football, with the hometown Philadelphia Eagles taking on the rival Dallas Cowboys. The Matchroom crew settles in with beer and hotdogs.

Suddenly, Frazer is standing up, phone in hand, taking video of the oversized digital screens, action on the field, and capturing the sounds and energy of the event.

"We can do this for the walk— ins at Mosconi!" she exclaims, unable to contain her excitement. "And we can do this and that…"

And so it goes.