Current Issue

Previous Page Page 4



Second to None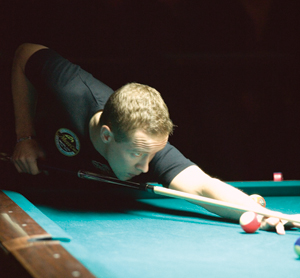 "It's nice to be in the habit of winning again, where your body becomes used to the pressure." (Photo courtesy the IPT)
The next month, in Osaka, Japan, Immonen shook off another "monkey," the All Japan Championship, where he'd been to the finals four previous times and lost every time - to Souquet, Deuel, Francisco Bustamante and Takeshi Okumura.

"It reached the point where I could almost laugh at it," Immomen said. "It was like, 'Here we are again.' At least I'm consistent. I was feeling like they should just put me in the finals and hand me the check for second place even before the tournament began."

He stormed through the event, and on the final day defeated, in order, Japan's No. 1 player, Satoshi Kawabata, 11-9, Japan's No. 3 Naoyuki Oi, 11-3, and, finally, his U.S. Open final victim, Alcano, 11-2.

"I knew that I was on a roll," he said. "I could feel it. I was so comfortable in my skin."

That euphoria carried over to December, when he exorcised the last of his demons, at the Mosconi Cup, where in 2006, in the clinching match for Team Europe, he not only blew a 4-1 lead against Mike Davis but in the final game lost position from the 8 ball to the 9 and sold out by missing a bank on the 9. "The most disappointing loss of my career," he conceded. "I became the bad guy. I was very, very depressed after that. I've never been that depressed in my life."

On top of that, making matters worse, he endured a vicious rumor afterward that accused him of dumping the match to cash in on a bet against himself. "That really bothered me a lot, and I had to confront some people about it," he said. "I still feel the need to set the record straight. I would never do something like that. I would rather die than ever do something like that."

This time around, he couldn't have redeemed himself in a bigger way, winning all four of his singles matches (as well as his doubles match), sinking the final 9 ball to claim the Mosconi Cup trophy, and being named the Most Valuable Player.

"A golden dream," is how he described it in his blog.

And now, with nothing weighing him down, with all the monkeys gone, he's ready to pick up 2009, if not every year from here on, where 2008 left off.

"It's nice to be in the habit of winning again, where your body becomes used to the pressure and feels perfectly at home every time you reach the end of a tournament," he said.

"I know one thing for sure: I'm a better player than I was in 2001 when I won the World Championship. I don't think I have any major weaknesses, no real eyesores, and I have more of an arsenal now. I mean, my shotmaking was always great, but now I can make tough shots with extreme English consistently and with confidence. That's huge.

"I know it's a cliche, but what doesn't kill you makes you stronger. I think my game is there now. It's just a matter of tweaking what I already have."

And, suddenly, with his Iceman persona thawing into a weird but discernible grin, he said quite seriously, without a doubt in the world: "I'm not sure. Is it too late to be the Player of the Decade?"


Previous Page Page 4

Top
MORE VIDEO...