Current Issue

Previous Page Page 3 Next Page >



No Dry Eyes: Webb Wins At Last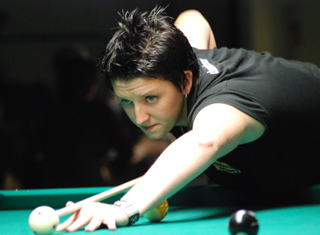 Fisher locked up top spot in the rankings with a 7-0 win over Helena Thornfeldt.
Early in the event, Fisher appeared to be a sure thing for not only locking down the No. 1 spot but also collecting her third title of the season. She mowed through Candi Rego in the first round, 9-0, and then handled consistent threat Tiffany Nelson, 9-5. New tour starlet Yu Ram Cha of Korea had few chances in their 9-3 match, and Fisher took care of Melissa Herndon, 9-6, to reach the quarterfinals and a significant milestone.

Fisher learned that she could cement her No. 1 ranking by beating Thornfeldt in their quarterfinal match. Her solution was to drub her opponent, 7-0.

"I like to know what I need to do," Fisher said. "I don't know if that gives me a little bit more determination. It helps."

Webb's trek to the semifinals was equally impressive and against even tougher opposition. She began the tournament with twin 9-4 wins over Val Finnie and Hall-of-Famer Ewa Laurance. Webb then faced a rogue's gallery of highly ranked foes, first knocking No. 7 Jeanette Lee to the losers side, 9-7. She ran out the hill-hill case game against No. 8 Anna Kostanian for a 9-8 victory. And her quarterfinal foe was No. 2 Karen Corr, who had an outside shot at retaking the No. 1 ranking she last relinquished in 2004. Webb responded with 7-4 victory that set her on a collision course with No. 6 Villarreal in the semis.

The dreaded semis. That's where Webb traditionally performed her swan song, in front of the bright lights and ESPN cameras. With some hindsight, Webb diagnosed the problem.

"I would get to the TV rounds and come up short," she said. "Once I would get in contention, I would start playing way too careful, and that is not my game. I was playing not to lose, instead of to win."

Thornfeldt concurred: "She hasn't been comfortable in the TV rounds. You go out there and everything has changed. No music. All these lights. You go out there and try to be perfect or something. And I think she's been making easy errors and stuff like that."

Villarreal's semifinal appearance at the event was something of a revelation, since she traditionally fared poorly while playing in front of her sponsors, the Seminole Tribe of Florida, which hosted the Championships. In addition, "The Texas Tornado" was struck by two family tragedies in 2008 when her uncle Henry and father, Willie, passed away in early May.

"It's been a rough year - it really, really has," she said. "And it's part of life that we always have to go through. I guess the hardest part is when it's unexpected. I played with a lot of sadness and hurt."

Remembering her father's advice to "always go out and have fun" when she plays, Villarreal put together some impressive finishes despite her sadness. Those included second place at the Pacific Coast Classic. "Like my dad said, I was always strong, and that I have so much fight that I can beat anybody," she said.

But no amount of fight could overcome her rotten luck on the break against Webb. She came up dry on her first three attempts in the alternating-break format, leading to a 5-1 advantage for Webb. Villarreal was able to claw her way back to a 6-5 deficit, but a missed 4-9 carom in the case game left Webb with a makeable cut shot and pathway to a 7-5 victory.


Previous Page Page 3 Next Page >

Top