Current Issue

Previous Page Page 3 Next Page

Home Sweet Home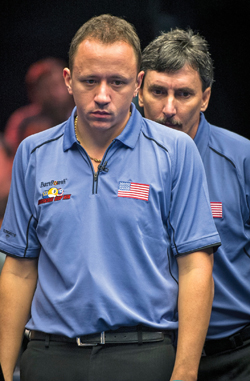 The U.S. relied heavily on Archer, who finished with a record of 6-0, and Van Boening (left).
THE MOMENTUM gathered the previous night continued to push Team Europe on Day Three. With the two teams square after 10 matches, four of which went hill-hill, the home team made a statement on the penultimate day.

Van den Berg and Ekonomopoulos started things with a 5-4 win over Dechaine and Shuff. While a super-focused Archer, showing his best form in years, topped Van den Berg, 5-4, that would be Team USA's only point of the day. Feijen and Ekonomopoulos edged Hatch and Dechaine for a 7-6 lead. Chris Melling then took his second straight singles point after opening with two hill-hill losses in doubles play with a 5-2 thumping of Shuff. Assured of a lead going into the final day, Team Europe then sent Appleton against Van Boening in what was rightfully the headlining show of the evening.

While Van Boening is unquestionably the top player in the U.S. today, the lanky 29-year-old entered the 2012 Mosconi Cup with just a combined record of 13-15 in singles play. And he continued to struggle opposite Appleton. With a few early errors, Van Boening watched as Appleton strung points together, eventually whitewashing the American for an emphatic 5-0 win that put Europe within two points of victory, 9-6.

Previous Page Page 3 Next Page
Top
MORE VIDEO...