Current Issue
Salud, Stefano
Trick shot legend Pelinga enters Italian American Sports Hall of Fame.
Story by Keith Loria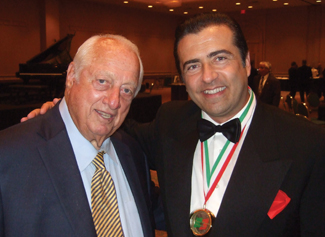 Pelinga (right) celebrated with baseball's Tommy Lasorda.
SITTING AMONG some of the greatest Italian-American athletes of the last 50 years-guys like perennial MLB All-Star Mike Piazza, Stanley Cup champion Tony Esposito and World Boxing Middleweight Champion Vito Antuofermo-Stefano Pelinga was honored to be considered in their class.

Here he was, about to be inducted into the National Italian American Sports Hall of Fame, and he was in awe of his surroundings.

"The president of the organization called me about a year ago and told me I was being considered. I asked him, 'Are you sure you have the right number?'" Pelinga said. "He told me that they had looked at my accomplishments and all I had done to give exposure to Italians and they were happy to induct me into their Hall."

The class of 2012 also included Antuofermo, John Smoltz, NHL star Mark Recchi, Olympic Medalist Alicia Sacramone, New Jersey Devils CEO and GM Lou Lamoriello, GM of the Los Angeles Dodgers Ned Colletti, President of Comcast SportsNet Chicago Jim Corno and the Venturini Family (Venturini Motorsports).

"The thing that was really special was the reaction of the people who watched what I did on the screens. They showed guys make great plays in baseball and hockey, and the people clapped, but the reaction people had to seeing the magic I could do on the pool table - it was just mind blowing," Pelinga says. "I was deeply humbled by their applause."

The legendary trick shot artist has a multitude of awards to his credit and those in attendance at the HOF ceremony experienced his great wit and lovable personality first-hand.

Pelinga began his acceptance speech claiming to have forgotten his glasses so he offered to play the trombone instead. He then talked about how he originally wanted to be a boxer, but "that hurt too much so I needed to find another sport." Turning serious, Pelinga thanked his parents (Paolo and Costanza, both still living in Italy) and explained how his idol Dean Martin had led to his interest in pool.

He is only the second pool player to be inducted into the Italian American Sports Hall of Fame, joining the late great Willie Mosconi.

"It was such a great honor," Pelinga says. "I feel it gives a little acknowledgement towards the sport, not just me. If I do something important I know the whole industry will benefit from it. This is an example of us as pool players being recognized outside of the industry."

That's something that Pelinga is concentrating a lot of his time on these days. Last year, he retired from his job as a police officer in Italy after 27 years on the job and moved to Las Vegas to try to bring trick shots back in the limelight.

"I left Rome to come here because I only had pool left, and what better way to take care of my game than to be here in the States where there is more activity?" he said. "People are finding out I am living here so I am more available and more affordable, because you don't have to fly me in from Italy. The problem is, there aren't many tournaments left in trick shots."

The man known as "Il Maestro" is not seeing the amount of play he would like and hopes that pool will follow bowling's recent resurgence and find a way to be more mainstream and dominate ESPN like it once did.

"I'll keep doing exhibitions and promoting the sport and hopefully, something like my [Hall of Fame] induction, can open the door a little," Pelinga says. "Pool is a great sport and I'll do whatever I can do help more people see that."