Current Issue
Broken Record

Despite high expectations, Team USA was once again routed by Team Europe for a record-setting eighth straight Mosconi Cup loss.
Story By Keith Paradise
Photos by JP Parmentier
Shortly after last month's Mosconi Cup ended, Team USA captain Johan Ruijsink wasn't mincing words — about his team or the state of pool in the United States as a whole.

The passionate Dutchman was brought in by Mosconi Cup promoters Matchroom Multi Sport to turn the franchise around shortly after the Americans were defeated for a seventh consecutive year in 2016. He went to work, setting up a boot camp for players that included hours of drills. Four of the team's players traveled to Moscow to play a tune- up match against a Russian team. Ruijsink worked on establishing knowledge, processes and lifelines that players can rely on in pressure situations, while also trying to develop competitors who were more comfortable being out of their comfort zones.

Despite his best teaching, coaching and motivational tactics, the Americans struggled to handle the pressure when they arrived at a sold-out, 1,500-seat arena at Mandalay Bay Hotel and Casino in Las Vegas in early December. Any time it seemed the American team had an opportunity to gain control of a match, more often than not someone missed a shot or made a tactical mistake.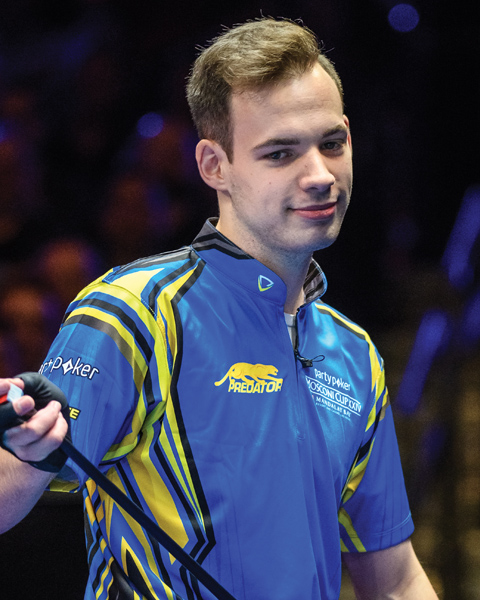 Filler, whose play earned him MVP honors, made few friends in the pro-U.S. crowd with his sly smirk and in-your-face celebrations.

"Obviously, they were ready to play but not ready for the event," said Ruijsink. "Because the balls that were missed — everybody saw them — are not balls that are missed by top players. Something must be different here than other tournaments and that caught up with them. That was completely unexpected."

The missed balls and failure to capitalize on opportunities continued a recent trend with American Mosconi Cup performances, as the Europeans jumped out to an early lead that was never relinquished, cruising to an 11-4 victory in the 24th edition of the transatlantic matchup. Many of the matches fit a familiar pattern, with U.S. players either jumping out to an early lead or battling to a draw, only to make a crucial unforced error. The European team almost always capitalized, winning the first two days 4-1 to take an imposing 8-2 into the final stages of the event. Despite the deficit, the American team came out with fire and intensity on the third day, taking the first two matches of the session and looked like they would at least be making the event competitive. However, a plethora of unforced errors — including a pair of improbable misses by America's best, Shane Van Boening — allowed Europe to capture the final three matches to solidify the Cup.

"When you play the Mosconi Cup the biggest factor is the pressure," said Van Boening. "Usually when I play other tournaments I don't feel much pressure. Just play my normal game. But when you have the crowds and TV and your family, it's a totally different atmosphere."

"Coming here, it seemed that not everything stuck," Ruijsink added. "Every time we could apply pressure, we did something and messed up. If you don't apply pressure on good players they will not break."

The only part of the event that risked breaking was the Rasson table in the arena when all five European players and captain Marcus Chamat jumped on its bed in celebration of its team's eight-year winning streak. Not only have the Europeans won eight straight Cups, the Americans have failed to win a single day's worth of matches for five consecutive years.



Youngster Thorpe, being hoisted by teammate Hatch, more than acquitted himself in his Mosconi Cup debut.

More disheartening and concerning for American players and fans is the fact that this year's European squad handled the U.S. with ease despite missing some familiar firepower.

Four-time Cup Most Valuable Player Neils Feijen was not selected after missing eight weeks in August and September with an elbow injury. Also sitting in the stands this year was England's Darren Appleton, who cut his tournament schedule exponentially while operating the World Pool Series, as well as defending World 9-Ball Champion Albin Ouschan of Austria. Instead, it was 49-year-old Ralf Souquet of Germany, who made his record 18th appearance in the event, and first since 2013, and Dutchman Nick van den Berg, who won the Portugal Open and earned top-10 finishes at the World Cup of Pool and Kremlin Cup, who earned spots along with U.S. Open 9-Ball Champion Jayson Shaw, 20-year-old German sensation Joshua Filler and Spaniard David Alcaide.

"It was a different looking team but I was still confident," said Chamat. "I just make sure that I get them together and believe themselves and believe in the team." While Filler was making his Mosconi Cup debut for Team Europe, 21-year-old Billy Thorpe was making his first start for Team USA. Thorpe burst onto the scene with a top-10 finish at the U.S. Open as well as a win at the Derby City Classic banks event.

"This is probably the best feeling I've ever had in my life," Thorpe gushed. "I've dreamed about this since I was a little boy. It's just the best feeling ever." Thorpe was joined on Team USA by Mosconi Cup veterans Van Boening, Dennis Hatch, Skyler Woodward and Oscar Dominguez.

But if anyone had questions about how the 20-year-old's games would hold up in front of a live audience of 1,500 and millions of television viewers throughout the world, those questions were quickly answered. Thorpe accounted for half of the American's points, defeating van den Berg in singles play and teaming up with Hatch to defeat van den Berg and Alcaide in doubles. Filler, meanwhile, posted an undefeated record and a Cup-high Accu-Stats Total Percentage Average of .908. Yet Filler, who despite his China Open win had an up and down year, wasn't sure if he'd even qualify for the event.

"When I won the China Open and I saw I was first in the rankings I was very happy," he said. "But then I put too much pressure on myself and messed up many, many tournaments and I got very sad and saw myself not on the team. I wanted to play and just have fun and the feeling now is amazing."

As a team, the Europeans shot a prolific .845 in Total Percentage Average compared to America's .782, held a 58-35 advantage in games won and pocketed 525 balls compared to 435 for the U.S. The Europeans went 5-2 in both singles and doubles. More importantly, the Europeans won every match in which they won the lag, a statistic which was not lost on Ruijsink.

"If you don't win the lag, which to be honest isn't even our fault, you are at a disadvantage," said Ruijsink. "We come within an inch of the rail and they just stick." Despite his struggles on the third day, Van Boening led Team USA in Total Percentage Average with .819. Hatch was second best on the team with a .818. One of the biggest surprises of the event was the lackluster performance of Woodward, who missed numerous balls throughout the four-day event and accumulated a Total Percentage Average of .671 – lowest for any player.

Following the event, Woodward said that fatigue from playing numerous events leading up to the Mosconi Cup may have contributed to his showing in Las Vegas. "I think I finally played too much I guess," said Woodward, who had been Team USA's most consistent player in the previous two years. "Because when it came time to be serious I was missing balls. Even in the practice room I wasn't playing my best. I felt perfect, but just didn't play well. You can't play good in every Mosconi Cup. I was probably due to have a bad one."

What the latest installment of the Mosconi Cup lacked in competitiveness it attempted to make up for in drama and controversy. On the first day there was a handshake disagreement, the second day had Hatch announcing his intentions to retire from pool after the event, and on the third day Dominguez's words made British tabloid headlines.



DAY ONE

Donning stars and stripes facemasks and holding each other's shoulders in Conga line fashion, the American team entered the arena to a raucous, packed arena.

The event begins with the traditional five-on-five race to five opening match and then consists of seven scotch doubles matches with the remaining play consisting of singles competition. The Europeans used a pair of American scratches and a missed 3-9 combination shot by Van Boening to take a 4-0 lead in the opening match. The U.S. team fought back to 4-3 and looked poised to tie the match, but Van Boening missed a difficult cut shot on the 7 ball, which drifted into the corner pocket's shelf and stopped.

Shaw and Alcaide defeated Woodward and Thorpe, 5-3, in the second match and Filler made his Mosconi Cup debut in a fireworks-filled set against veteran Hatch. The two battled to a 3-3 tie with a combination of run outs and safety play. Hatch had an opportunity to reach the hill first but scratched on the 7 ball.

"It was a game-changer," Hatch admitted. It most likely cost me the match."

Hatch would break and run out to knot the set again, but Filler closed out the match with a break and run of his own. After methodically working his way through the rack, Filler paused and took an extension to sit for a water break, a move that infuriated both Hatch and the pro-U.S. crowd. The animated young German then celebrated the victory with his customary screaming and fist-pumping while Hatch waited to shake hands. When Filler continued to celebrate, Hatch simply exited the arena, causing many spectators to boo Filler.

"I felt disrespected," Hatch said later. "I was wrong for not shaking his hand. I can admit that."

After Dominguez and Van Boening were defeated 5-3 by Souquet and van den Berg, the Americans entered the day's final match between Shaw and Van Boening facing the grim possibility of being shut out. The native South Dakotan quickly put those fears to rest, using a break and run and two unforced errors by Shaw to take a 3-0 lead and cruise to a 5-1 victory. The win was not only a sigh of relief for the team but also for a player who has traditionally struggled in the event.

"Playing my last match against Jayson Shaw is a big win for the team," Van Boening said after the win. "Hopefully that will be the momentum for tomorrow. I think this was a big win for me because I have all of my family here and my friends here."

Although his team salvaged the final match of the afternoon, Ruijsink was not happy with overall performance — especially lagging for the break and breaking itself. "We didn't come out here to get 4-0 behind," the captain said. "We did some things to own the arena and make sure we had the crowd behind us and then we gave it back immediately. I think the experience of the Mosconi Cup is so big they were a little overwhelmed by it. We know what went wrong and we know we can improve on it. We hope that it will improve tomorrow."



DAY TWO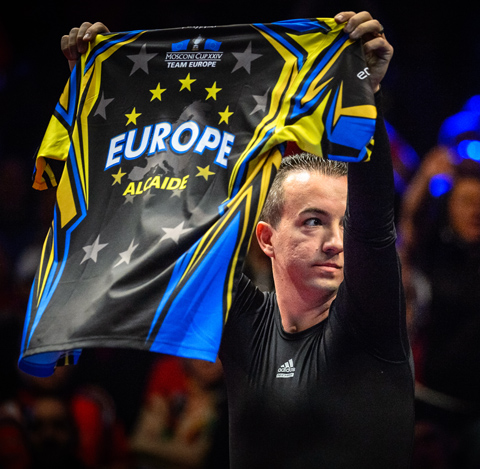 Even mild-mannered Alcaide got swept up in the emotions of the event, waving his own flag.

Thorpe and Hatch started the morning by cutting the American's deficit in half, defeating van den Berg and Alcaide 5-4. The American pairing jumped out to a 4-1 lead but struggled to put the European duo away. The Euros took advantage of a misplayed safety in the seventh game and a missed jump shot in the following game to claw back to hill-hill. After the two teams traded safeties in the final game, Thorpe executed a table-length, backwards cut on the two and rolled the cue ball into perfect position to run out the match.

"It's huge to come out and get the opening win," said Hatch. "We played great at times and we faltered and made a few mistakes at times, but we showed a lot of heart." In a live television interview after the match, the 47-year-old Hatch announced his intentions to retire from competitive pool after the Cup. If Hatch was using his announcement as a rallying cry for his team it appeared to work, as American confidence continued into the next match with Dominguez and Souquet.

The native Californian battled the Billiard Congress of America Hall of Famer to a draw through the first four games, then took the lead on a 3-9 combination shot. However, Dominguez couldn't close out the match, missing a jump shot on the 5 ball and then jumping the cue ball completely off the table in the sixth game. He took the cue ball off the table again in the following game and then rattled a relatively straight-in 8 ball in the eighth game, essentially handing Souquet a 5-3 win.

"I would have bet my life that I made it because I didn't think I did anything wrong," Dominguez said. "But it was a pressure situation and I missed it. I feel like that really set back the momentum. We had a bit of a comeback going."

The American team wouldn't be a factor for the rest of the afternoon, with the team of Shaw and Filler using three break and runs to defeat Van Boening and Woodward, 5-1. Alcaide followed that by capitalizing on a couple of uncharacteristic misses by Woodward in a 5-1 win. As the final ball dropped, the normally reserved Spaniard peeled off his jersey and waved it at the crowd. The second day's competition concluded with Filler and van den Berg whitewashing Thorpe and Van Boening, 5-0, then celebrating with a piggyback ride around the arena.

"We did break better but we missed too many balls," Ruijsink said. "We never looked confident. We never really looked like we wanted to win this one today. We looked shy."



DAY THREE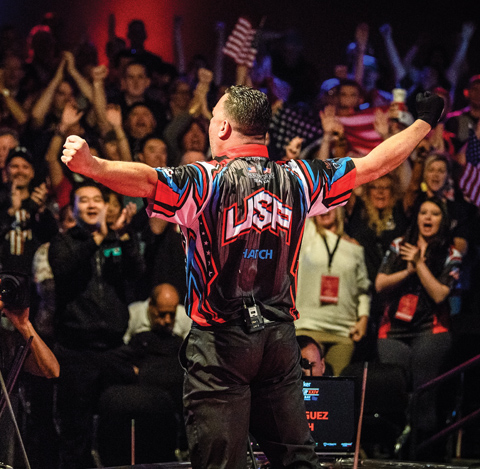 Ruijsink and Team USA circled the wagons on Day Three and, thanks in large part to Hatch (right), made a spirited charge.

Given the lopsided score after two days, Matchroom officials decided to play four matches rather than the usual five to in an attempt to ensure the tournament continued to a fourth day. Even though the U.S. squad faced almost impossible odds of crawling back into the match, their body language stated otherwise, especially in the first match featuring Hatch and Dominguez facing Shaw and Souquet.

The American duo built a 4-2 lead, but once again watched it evaporate thanks to a pair of unforced errors. Following a botched push out by Hatch, Dominguez sarcastically commented that Hatch possessed the "touch of a rapist" — a remark which was picked up by the player's microphone. While Hatch was spiking his jump cue like a football after sinking the 2 ball in the deciding game and setting up the Americans for a 5-4 victory, social media was ablaze with outrage over Dominguez' remark.

Matchroom responded with a formal warning to Dominguez, who issued an apology on Twitter.

"I pride myself in my name and my reputation," he wrote. "That's my number one thing. Obviously, it hurt that I hurt other people and I offended them and I apologize." "It was a disappointing thing that I made a mistake in that aspect," Dominguez added in an interview. "It's one of those things you say in jest but you don't even think about it. I said it and I apologized for it and I'll own up to it."

Back in the arena, Hatch had evolved into full-blown cheerleader, complete with a Stars and Stripes Apollo Creed-style boxing robe that a fan had handed him after the victory. The positive reinforcement worked as Thorpe jumped out to a 3-1 lead on van den Berg in singles and won, 5-3. With the Europeans lead now slashed to 8-4, the team and the crowd was starting to believe that the finish could be more competitive.

But just as soon as hope and confidence was returning for the Americans, the wheels came off again. Souquet and Alcaide got the Europeans on the third day scoreboard, capitalizing on three missed shots by Woodward and Dominguez to earn a 5-2 victory. If the U.S. was going to win the day, it would have to come from the cue of Van Boening as he faced Shaw in a sequel from Monday.

The two heavyweights traded victories and unforced errors throughout the match, but Van Boening mixed a break-and-run with a Shaw scratch and missed 4 ball to take a 4-2 advantage. If nerves were an issue at that moment for Van Boening, he certainly wasn't showing it. The usually reserved five-time U.S. Open champion pumped his fist and worked the crowd as he climbed to the hill.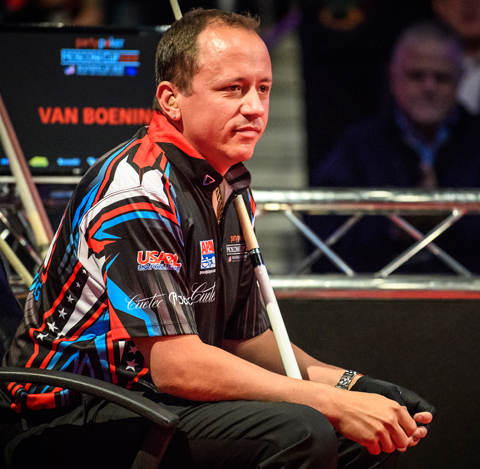 If anyone had forgotten Van Boening's less-than-stellar performance history at the Mosconi Cup, he reminded them in the final two games.

Leading 4-3, Shaw appeared to have left an out after a misplayed safety. However, Van Boening rattled the 5 ball in the corner pocket's jaws, allowing Shaw back to the table to tie the match. Shaw broke dry in the final game and left a combo shot on the 1 and 2 balls. Van Boening was able to run a couple, then initiated a safety battle which resulted in Shaw jumping the cue ball off of the table. With ball-in-hand, Van Boening had an opportunity to close out the match but looked tight as he worked his way through the rack. Again, he missed a makeable ball — attempting to make the 8 with force follow and additional spin on the cue ball and pushing the object ball wide right.

"I learned last time in a pressure situation that you don't want to put spin on a ball," Van Boening admitted the following day. "You want to put draw or straight follow and not put any other spin on the ball.

The missed opportunity allowed Shaw and Team Europe to reach the hill at 10-4.



DAY FOUR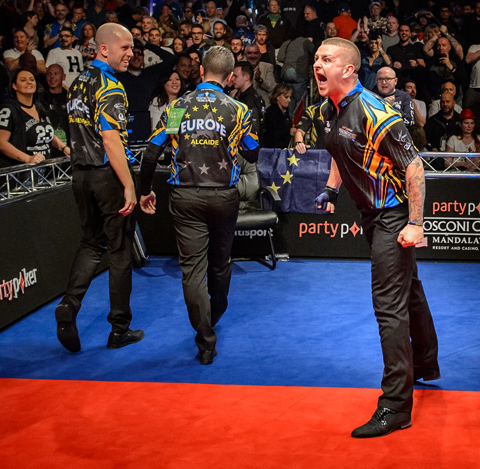 Van Boening (left), who had played brilliantly against Shaw (above) on Day One, was two balls from cutting the deficit to just four, but his missed 8 ball took the wind out of Team USA's sails and sent Shaw into a chest-thumping rage aimed at his U.S. foes.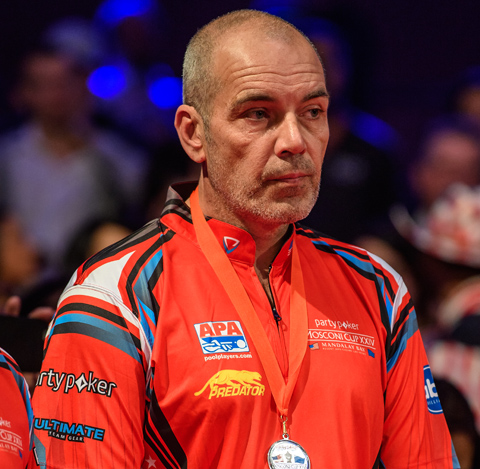 Chamat (left, with Souquet, Filler, Alcaide, van den Berg and Shaw) won his third straight Cup, while Ruijsink (right) tasted defeat for the first time in seven tries.

Entering the final day, the weight of Van Boening's miss still hung over the event and the American team. With his back up against the wall, Ruijsink started Hatch in the first match in an attempt to spark a rally. Chamat countered with Filler, who was undefeated and had proven to be the best player statistically. The final match turned out to be a microcosm of the entire week, with Hatch using Filler's scratch and missed shot to take an early 2-0 lead. After a Filler break-and-run, Hatch had an opportunity to increase his lead to 3-1 but missed the 8 ball. Filler broke and ran the fifth and seventh games to take a 4-3 lead and then closed out the match and the event when Hatch failed to pocket a ball on the break in the eighth game. The brash young German — who earned Cup Most Valuable Player honors — used a difficult cut shot on the 1 ball and fortunate roll to run out.

"He's such a talent it's unbelievable," marveled Souquet. "I don't see any other player on earth that you can compare to him. We all have to see where it goes. I was really happy with how he played. Wasn't always happy with how he acted, but he's young. He's wild. He's trying to enjoy himself. "

Standing in the conference center entrance of the Mandalay Bay while the two teams packed up, Ruijsink spoke at length of the differences between American and European pool, with the following week's tournament schedule as the apt analogy.

As many of the European players headed from the Cup for Doha to compete in the World 9-Ball Championship, American players were remaining in Vegas to compete in the United States Bar Table Championships. While the EuroTour competes on regulation-sized tables year-round, many top American players compete on bar boxes as a means to earn a living. With the increase in top players from Russia, Spain and the Netherlands, many European events feature full 164-player fields which include top players at each tournament.




"That creates quality," Ruijsink pointed out. "That creates situations where people can handle pressure. There are a lot of things that are lacking for these players to be good rotation players."

Ruijsink added that he feels top professionals should be receiving more support from the industry in order to compete globally.

Veteran Souquet, who was around when the event was created and the European team consisted mostly of converted snooker players, offered interesting perspective. Since the early days of U.S. domination, Souquet has seen his side employ and develop coaching as well as tackle language barriers to guarantee there are not any barriers to instruction. He feels the biggest variable is worldwide tournament experience between the two teams. While dozens of European players rack up frequent flier miles participating in events all over the globe, only a handful of American players have the ability or desire to compete on a global level.

"When you compare you're talking two or three players in the U.S. and about 50 players in Europe who are doing the same routine," Souquet said. "And they're all good. You could easily make four or five teams and still be competitive."

Dominguez spoke after the event about fear and pressure, moreso than ability, being the biggest opponent Americans face each year in the event.

"We're all nervous," he said. "We're terrified out there. Every single one of us is very uncomfortable. I just feel like the more we settled in, the better we played."