Current Issue
The Prize Fight

In the two decades since Earl Strickland conquered the Million Dollar Challenge, the episode has become a source of rumor to the point of becoming something of an urban legend. Here's what those involved have to say.
Story by Nick Leider
It's been 20 years since Earl Strickland ran 10 consecutive racks to win $1 million at a tournament. But, as many pool fans know, nothing about that sentence is as simple as it initially appears. Strickland's jaw-dropping achievement — he actually ran 11 racks — at the Dallas Million Dollar Challenge event, almost immediately became one of the most memorable, and misunderstood, moments in modern pool history. The insurance company behind the seven-figure prize refused to pay. Lawsuits followed. Rumors swirled. Some pointed to C.J. Wiley, a pro player and a driving force behind the Dallas tournament that was the first event for the new Professional CueSports Association (PCA).




On the first night of the first event? And we're supposed to believe this wasn't some scam to grab headlines? Still others pointed to Strickland. Earl settled for only a fraction of the money from the insurance company, so there had to be some sort of foul play, right? Some even pointed to Lisa Moss, Strickland's wife at the time who was integral to the eventual lawsuit and settlement negotiations. I heard she left him right after the settlement, and she kept the house! But now, with two decades of information and misinformation firmly placing this incident in pool's folklore, the three main players — Wiley, Strickland and Moss — are happy to set the record straight. But before going any further, if you want to know if Strickland got his money, he did. After two and half years of court dates, mediation and settlement talks, he got paid, even though he let doubts about ever seeing a cent creep into his head. "After a while, I never expected to get a dime," Strickland said. "But we reached an agreement, and it meant I made more money in one match than ever before."



Wiley and Strickland were the main attractions in the fledgling PCA.

In fact, he got more than the initial cash value of the award, which could be taken as a lump sum of $630,000 rather than in 20 annual installments of $50,000. Strickland, despite rumors that he'd settled for this amount or that amount, got more than he would have if he'd been paid that lump sum on the spot.


The Impossible Dream?
In April 1996, the PCA was getting ready to host its first professional tournament. The tour itself was a bit of an insurrection within professional pool, with Wiley and Strickland leading the charge to form a new tour that would compete directly with the Pro Billiards Tour run by controversy-laden Don Mackey. The fledgling tour had big plans, which included catching eyes with its so-called Million Dollar Challenge. Simply, any player who ran 10 consecutive racks at the event (or, the idea was, at subsequent PCA tournaments) would pocket a cool million. Wiley reached an agreement with SCA Promotions, a Dallas-based underwriter of such contests. Strickland, meanwhile, hit the road with Moss, making the drive from South Carolina to Texas for the tournament. The two rolled into town April 10, with Strickland arriving to find Nick Mannino his opening-round opponent. Strickland opened the race-to-15 set by running out from the break. He then dropped the 9 on the break. Another runout and another 9 on the break gave Strickland a four-pack. Again, he cleared a rack to put him halfway to the payday.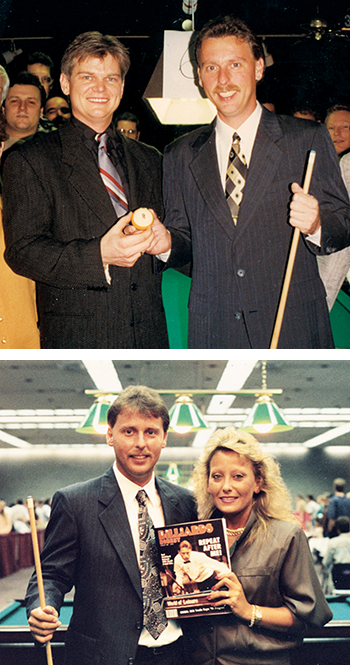 Wiley (top, left) showed foresight, while Moss (above) battled for what she believed was rightfully theirs.



As stipulated by the insurance company, who did not have any representation on site, Wiley began filming after the fifth rack. Rules allowed players to rack their own, but tournament director Jay Helfert handled those duties from the fifth rack on, as stipulated by SCA. No matter, Strickland sank the 9 on the break in the next two games. Rack eight was cleared from the break before another 9 on the snap put him a single rack from pool's most lucrative prop bet ever.

Other matches had stopped so players could watch. Tension ratcheted up with every 9 ball. Strickland drilled the 10th rack, with the cue ball heading toward the headrail, leaving a tricky angle on the 1 into the left side pocket. But Strickland saw the 9 was along the same rail, sitting a few inches from the bottom left corner.

Strickland being Strickland, he went for the tricky combination. With plenty of power, he drilled the 1 directly into the 9, which popped in the corner.

"I knew if I tried to run all nine balls, I had a greater chance of choking," Strickland said. "So I went straight for it." And after he realized he was a millionaire? "I can't even describe it," he said. "When that 9 went in, everything just exploded. It was a blur, one of the best moments in my life." Moss, meanwhile, was back at the hotel. Being mid-April, she was literally doing the couple's taxes when fellow pro player Mark Jarvis called her with the good news. Earl just won a million!

"Right away, I hung up on them," Moss said. "I told them to quit pulling my leg. Then I hung up on him again. C.J.'s wife called me and I heard everybody screaming and hollering. I couldn't believe it." A statistician for the insurance underwriters estimated the odds of the 10-rack run at one in 7.8 million. Strickland had done the impossible — or at least highly improbable. But things broke his way. In addition to the extraordinary amount of skill needed to accomplish the feat, Strickland admits he got a little lucky with the 9 balls on the break, the race-to-15 format, even the humidity in the poolroom. "Everything I had done in my life came together at that moment," he said. "The hard work, the practice, the training. That, and some lucky breaks and it happened. I knew I could do it, I just didn't expect to do it the first tournament."




A Deal's a Deal?
What should have been the PCA's coming out party turned into something far less festive. SCA Promotions raised concerns about the achievement almost immediately, even before the event was over. The skeptic pointed to the odds and Strickland's seemingly unbelievable achievement of running 10 racks in his first match. But dozens of spectators signed affidavits. The last five racks were videotaped to ensure it was authentic. Regardless, SCA Promotions balked at immediately paying the prize, which could be accepted as a lump sum of $630,000 or as a 20-year annuity with payments of $50,000. "[SCA Promotions] are pretty famous for trying to find a way not to pay," Wiley said. "If it's a half-court shot at a basketball game, they'll claim the guy was a professional because he won $100 at a 3-on-3 tournament." Moss, a practicing lawyer these days, knew of all the things that could be questioned in the matter, it certainly wasn't an issue of the actual athletic achievement.

"It was never about Earl actually completing what he was supposed to do for the million dollars," she said. "That was never in question. The marketing company [Wiley] worked with said everything was in order. The deal was signed and finalized with the insurance company." Still, Wiley, Strickland and Moss had to hire a team of three lawyers who filed suit against SCA Promotions. As the legal back-and-forth continued, Wiley went ahead and paid Strickland $50,000, or the amount of what would've been the first yearly installment. Still, the suit remained unresolved for more than two years. Finally, in 1998, Strickland had his day in court—and the judge had a direct message for SCA: "Pay the man!" he said. Even then, as the two parties entered mediation, the insurance company tried to have Strickland settle for less. Strickland, thinking this matter had dragged on long enough, often considered settling for a portion of the amount owed. "I started to question if I'd end up with nothing," he said. "I questioned our side of it, just because you never know. The lawyers eventually got our money and that was good enough for me."

Eventually, they ended up with more than the $630,000 that they would've taken as a lump sum, even after paying $200,000 in legal fees and reimbursing Wiley for his $50,000 act of good faith. (A confidentiality agreement is still in place regarding the actual amount.) "For 15 years with Earl, I handled the finances, I handled the scheduling. All Earl had to do was play pool," she said. "So when that check was overnighted to us, I deposited it in the bank right away. Earl never even saw it."




False Start
Wiley, meanwhile, says he spent some $80,000 on legal fees. But for him, the damage had been done. One of the primary players in the new PCA tour, he was hamstrung for future events because of the ongoing controversy associated with the million bucks. "We had legal issues for two years and then a confidentiality agreement once it was figured out," Wiley said. "I couldn't defend myself against a lot of the rumors. People said I was some kind of con, that this was a scam, that I didn't have it insured or anything. I had to just take it."

He also thought some people in pool didn't want Strickland to get that money. "There was a lot of jealousy and animosity about pool players making money," Wiley said. "Earl finally broke through and made an amount that was comparable to winning a golf major. And people didn't want to see it happen — I knew it and Earl knew it." The achievement, at the time, was supposed to be the perfect marketing tool for the PCA. But as questions and rumors circulated about the prize, the PCA's Million Dollar Challenge Tour quickly fizzled out. The ongoing battle between Strickland and SCA hamstrung the group, leaving Wiley and the rest of the pros who broke away from the PBT in a bit of a pickle.

"It damaged me quite a bit, my reputation and my ability to run that tour," Wiley said. "I spent $100,000 to put everything together for the PCA. When the music went off, there was no chair for me to sit in. I put myself in that position and I'd do it again, but I don't have to say I enjoyed it."

The association managed to produce a handful of events for ESPN, but Wiley sees Strickland's million dollar run as a primary factor in his decision to give up pool in the late 1990s, just as the lawsuit with SCA was being settled. "The PCA, the Million Dollar Challenge, all that got shoved under the carpet because of the stuff that happened [with the money]," Wiley said. "Pool had a chance to break through. It was a great opportunity for all the players but nothing ever happened." Meanwhile, Strickland dealt with criticism and controversy in his own way. The rumors about it being a scam didn't bother pool's most mercurial star much.

"When you're Earl, you're used to rumors," Moss said. "He believes what he needs to believe. It's not worth it to go back over it again and again."

A good conspiracy theory can take on a life of its own after enough false information, rumor and innuendo have blurred the truth beyond recognition. The record may never be set straight for Strickland's million-dollar jackpot. But for those involved, and those involved in its aftermath, the achievement stands the test of time. "It was the most excitement I've ever seen in pool," Wiley said. "It was a miracle. It was just a miracle." Even Strickland, quick to point out he got a few "cheapies" making the 9s on the break, knows what kind of accomplishment it was — even if it led to 20 years of controversy.

"All I see is that it was a great accomplishment," he said. "Everything had to fall in place perfectly — and that's what happened."