Current Issue

Previous Page Page 4



Forget Me Not!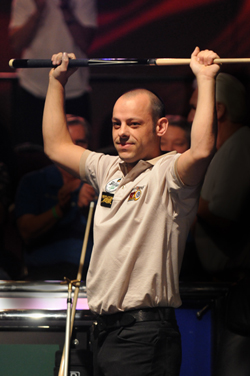 In his first appearance in a Matchroom Sport-produced event, Appleton was the last man standing.
Seemingly stunned by the suddenness and magnitude of his accomplishment, Appleton simply stood from the table and smiled. Then he dropped to his knees to finally relish the moment.

"Before the match I was thinking about the clinic Nick gave me three years ago in my first pro 9-ball tournament [a 9-1 thrashing in the final of the 2006 EuroTour Prague Open]," recalled Appleton. "I just wanted to make sure I didn't lose 8-1.

"And I actually tried to lose the lag, because I had won from behind in every match."

"I couldn't control the break in the final," said van den Berg. "That was the biggest factor. In my other matches I broke well and ran three or four racks. I couldn't string racks in the final."

For Appleton, the World Masters title reinforced what he had learned from his World 10-Ball win.

"The World 10-Ball Championship was the defining moment for me," Appleton said. "The field was so strong. To win there gave me belief in myself and raised my expectations of myself. It also earned me respect.

"The World Pool Masters was 16 of the best players in the world," he added, "and I felt like I belonged. Now I think everyone sees that I'm a player to be reckoned with."

And the pressure of finally playing in a Matchroom event?

"I loved it," Appleton said, finally allowing a smile to appear. "Some players worry about television and lights, but I thrive on it. I love being the only table going, with all eyes on you. It's a rush. I think I focus better."

And having beaten four consecutive Team Europe Mosconi Cup veterans to win the World Pool Masters, it's safe to say they'd gladly welcome him to the club.


Previous Page Page 4

Top
MORE VIDEO...