Current Issue
True TV

Pool gets its first crack at reality TV with "The Hustlers".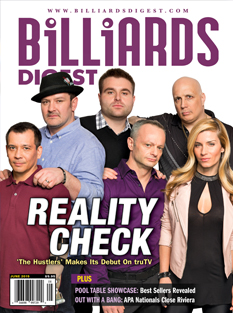 By Mike Panozzo
Pool's colorful characters and intriguing underbelly have always seemed like perfect fits for "reality" television. After all, what could be more compelling than the unscripted, real-life histrionics of a pool hall junkie?
Of course, that idea was not lost on the pool world. In the absence of the long-prayed-for next "Color of Money", pool has tried for more than a decade to wedge its way onto the rocket ship-to-stardom that is the reality television genre.
Countless concepts have been discussed and pitched, eliciting varying degrees of interest from producers and networks. Recently, pool forums buzzed with anticipation of something called "American Road Player", a web-based reality series that tried (but ultimately failed) to raise production funds through the crowdfunding site, Indiegogo. Longtime billiard event producer Jay Helfert was involved in the development of several show concepts. Some of pool's biggest stars — from Jeanette Lee to Ewa Laurance — have been part of pitches, as have some of the game's most roguish hustlers.
New York's Jennifer Barretta, whose Hollywood looks and take-no-prisoners attitude at the table make her a natural fit for television, knows all too well about the highs and lows of the process.
"I've had a lot of interest from reality shows in the past," said Barretta recently. "I've been contacted by four or five companies in the past decade. I've signed contracts and non-competes. In about 2005, I was flown out to Los Angeles and a production company made a sizzle reel [a short, fast-paced video used as a promotional tool] to pitch to networks. I got really excited, but then nothing ever came of it."
Not surprisingly, then, Barretta kept her enthusiasm in check and her expectations low after she was contacted by Pilgrim Studios about a new pool reality show in mid-2014.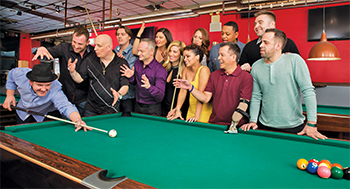 caption: "The Hustlers" are not above a little sharking. Left to right, front: Gary O'Callaghan (shooting), William Finnegan, Gregg McAndrews, Jennifer Barretta, Yomayln Feliz, Scott Simonetti and Manny Stamatakis. Left to right, back row, Jarrod Clowery, Ross Lacy, Emily Duddy, Amy Tabarovsky, Michael Farley and Mike Dechaine. PHOTO COURTESY of truTV/Jeremy Freeman
"I wasn't all that excited," Barretta admitted. "I figured it was going to be the same old thing. But I also figured I had to do it. Have to keep irons in the fire."
A little research might have led Barretta to be a shade more optimistic. Since reality TV exploded in the late 1990s and early 2000s, Pilgrim Studios has been one of the genre's most powerful and successful content developers. President and CEO, Craig Piligian, earned a Primetime Emmy Award in 2001 for his role in the production of "Survivor", and counts "American Chopper", "Dirty Jobs" and "The Ultimate Fighter" among his biggest hits. Pilgrim currently has 40 shows in production, spread across 20 networks.
In other words, having Piligian express interest in producing a reality series about pool was like…well, like having Martin Scorsese express interest in producing a full-length feature film about the game!
Sure enough, this time pool's dream became reality. Now, nearly a year later, Barretta and a cadre of pool contemporaries, can barely contain their excitement and enthusiasm. "The Hustlers" debuted May 22 on Turner Broadcasting cable network truTV, marking pool's official entrée into reality TV. (If, of course, you discount the comically unscripted drama that was International Pool Tour!) Ten episodes will air on consecutive weeks, depicting competition, game-making, trash-talking and drama among a dozen players at bustling Steinway Café & Billiards, in the Astoria neighborhood of Queens.
"Every time we finished shooting an episode," Barretta said, "I sat back and thought, 'If this doesn't make great TV, nothing does.' This has to entertain people."
"I love this show," said Piligian in a recent interview with BD. "I love the characters. They're great. I'd like to say pool players have a silent intensity, but the truth is, there is nothing silent about these people. They are the loudest, mouthiest, talkiest people I've ever met. And I love the skill of a high-level pool player. It's fascinating."
As is often the case in reality concepts, "The Hustlers" came about as more happenstance than concerted effort. While in New York researching for a series about opera, a Pilgrim producer found his way to the 28-table Steinway, home to several professional events, including the World Tournament of 14.1 and the annual George "Ginky" SanSouci Memorial.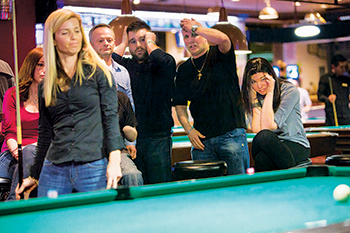 caption: Viewers love raw emotion, like this reaction to a Barretta miss. PHOTO COURTESY of truTV/Jeremy Freeman
"It's an iconic room in New York," Piligian said. "We found players who are there all the time. It worked for us. We knew right away that we wanted to do [the show] out of that particular pool hall. And we wanted to find the right cast from that hall."
The first must-use "character" the producers kept hearing about was local player, Steinway regular and longtime tournament director William Finnegan. If Barretta is the show's sex symbol, Finnegan is its antihero. Loud, brash, borderline obnoxious…Finnegan's mouth runs several balls ahead of his actual playing speed. He is also the glue that holds the show together, the ringleader of sorts. "Finn," as he is generally called, sets up most of the games and controls most of the action. He is, in fact, the perfect reality TV character.
"When the producers first came to Steinway," the 46-year-old Finnegan said, "they wanted to know who plays in tournaments, who gambles, who does this, who does that. They were trying to get an idea of who the characters were, and people kept mentioning my name."
Following a Skype interview, Finnegan was asked to play a match against friend and local player Gary O'Callaghan. Several cameras captured the action, as Finnegan and Callaghan squared off in a race-to-11, reportedly for $2,000.
"I told Gary," remembered Finnegan, "'Listen, if we're going to do this, let's put up real cash. I'm not playing for free. If it sells, it sells. If it doesn't, it doesn't.
"The director said, 'Just do what you guys do.' There were people making side bets. It was the real deal. And we had at each other. When money's on the line, you do what you've gotta do to win…barking, chirping, sharking. The normal routine."
The taped match was part of a six-minute sizzle reel produced by Pilgrim in late summer 2014. In addition to Barretta, Finnegan and O'Callaghan, New Yorkers Scott Simonetti, Emily Duddy, Ross Lacy, Michael Farley, Barretta's husband, Gregg McAndrews, Yomaylin Feliz, Manny Stamatakis and Amy Tabarovsky were cast. Boston pros Mike Dechaine and Jarrod Clowery filled out the cast as out-of-town interlopers.
Armed with a short video and a compelling story, Pilgrim's sizzle reel was shared with numerous networks. "It's all part of the pitch process," said Piligian. "We start with the premise and the people and say, 'This might make good TV.' Then we tape people to see if they pop as a character. Step three is, 'Okay, we like a certain number of characters…could be six or eight or 10. Now let's shoot a sizzle reel.' "Finally, we shoot and edit the reel, and send it out to the networks to see who is interested in doing this type of show."
While Pilgrim's reputation and track record certainly ensures that a pitch will receive serious consideration, it is still extremely rare for a show to get sold. Timing and luck play critical roles. Things looked promising in early fall, when AMC network expressed interest in the project.

"Then the network decided to cancel all of its reality programming," said Barretta. "We were all disappointed, and I thought, 'Here we go again.'"
On Dec. 10, however, Pilgrim announced that truTV, which was in the process of adding light comedy programming, had given the green light to 10 episodes of the project, originally called, "Kings of Cue."
"That's the moment I thought, 'Oh, my god! This is actually happening!'" said Barretta.
Production began in February, with the crew filming five days a week for 10 consecutive weeks. The show's basic premise: constant competition among the players in an effort to improve their ranking on a house "list".
"This kind of reality show is a docuseries," explained Piligian. "It evolves from week to week. It's a betting show, with players trying to knock the person above them off the list.
"These games are real," Piligian emphasized. "They're playing for real money. You can watch the game unfold, and there is a real winner and a real loser."
While it will take a little more than two months for the list to shake itself out, the participants already feel like winners.
"The experience was great," said Finnegan. "It was constant action. This show is nothing but fun, action, drama…great stuff. People are going to love it."
"My initial thought was that I was concerned about how I would be portrayed on the show," offered Dechaine. "I'm a professional player and have sponsors. I didn't want to come off in a way that would have my sponsors question my integrity.
"But I got to talk to [Piligian], and he assured me that I would be portrayed as how I am. At that point, I said, 'Okay. Let's do it.'"
Noted on the pro circuit for his acerbic nature, Dechaine admitted to letting his personality loose on the local New Yorkers.
"I think, because of my talent level, I probably got away with a few pretty harsh comments," he laughed. "There were arguments, but nothing over the top. In the end, there were 13 characters on the show, and I left with 12 new friends."
"Our style in unscripted television is that we try to let everything unfold as naturally as possible," said Piligian. "The players got to be themselves. All of the top six or seven main characters were great. We love them."
The success of "The Hustlers", of course, will be measured in Nielsen rating points and/or its ability to engage a particular demographic profile.
And should "The Hustlers" become a breakout hit? Cast members are well aware of the life-changing impact reality TV can have.
"Of course, it has the potential to change your life," said Barretta. "You just never know where it's going to go. But I feel like I've prepared my whole career for an opportunity like this."
"I've considered that it could be life-changing," admitted Dechaine. "That would be awesome. My biggest hope, though, is that it helps the game."
[Original episodes of "The Hustlers" will air on truTV every Friday night at 9:00 PM EST from May 22 – July 24.]