Current Issue

Previous Page Page 4 Next Page >



New Digs, Still Classic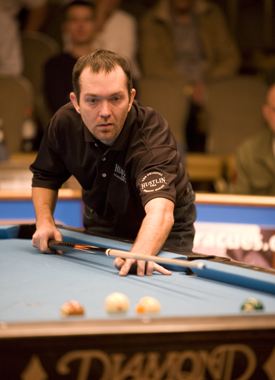 Johnathan Pinegar missed winning the all-around title by a half point. (Photo by Sam Gray)
Twenty minutes later, in front of a standing-room-only crowd in the main arena, tournament referee Scott Smith announced the final point totals: Pinegar 175, Brumback 175.5.

Winning by the smallest margin possible, Brumback was at a loss for words. Four days after claiming the banks title, he was the newest member in the fraternity of Masters of the Table.

"I've dreamed of being the all-around champion for a long time," he said. "I know I'd been close to it before, but to actually win it. ... It really hasn't sunk in yet."

Not since 2006, when Jason Miller, then a part-time player and full-time bar owner, snatched the big-money all-around title, had the sweators enjoyed such an unpredictable points race. While obviously disappointed in coming so close to the all-around title, Pinegar took some solace in his near-miss.

"That's all right, at least I know I'm right there with 'em anyway," he said.

Just like a box score can't capture the entirety of a World Series game, numbers do little to tell the story of Derby City - held Jan. 23-31. But with somewhat of a "quantity is quality" approach, the DCC is always partially judged on the amount of entries into the three main divisions.

As expected, the numbers did slide a bit. Compared to 2008, the banks division dropped to 398 from 456, one-pocket fell to 334 from 390, and the 9-ball event experienced the largest decrease to 346 from 439.

A 10- or 20-percent decrease is certainly significant, but tournament officials admitted that things could have been much worse. With the move from the Executive West to the Horseshoe, on-site hotel rooms were nearly halved. Only 300 rooms of the Horseshoe's 503 were made available to DCC participants. In previous years, nearly the entire 611-room Executive West was filled with cue cases and Hustlin' shirts.

Vacancies at the Horseshoe were nonexistent, and the 300-room block was booked solid. Not only that, but more than a few adult beverages were consumed on the hotel grounds - so many that the entire venue actually ran out of beer at one point. Horseshoe Casino, meet the Derby City Classic.

"I don't really recall that happening before," Taylor Worden, Horseshoe's sales manager, said of the insufficient libations. "However, we were under a snowstorm, so there were a lot of factors that played into that. But yeah, I guess the only thing I would say is that they like to have a good time."

That snowstorm was another contributor to the near triple-digit fall in 9-ball participants. On Monday, Jan. 26, with the banks and one-pocket tournaments chugging along, a three-day storm of freezing ice and snow left much of Louisville area a federal disaster area. More than half a million businesses and homes were left without power.

Thankfully, the Horseshoe Casino remained in full operation. And while the weather raged outside, DCC officials faced a storm of their own when the computer program that generates each round's match-ups crashed. The redraw process usually keeps players in a bit of limbo, but the malfunction only heightened the round-by-round uncertainty.

"We got a bad roll there," Sullivan said. "If you were coming for the tournaments, and you had to wait a lot of hours to know when you're going to play, that is something we need to fix."

At an event like Derby City, pool players can find ways to amuse themselves. While the action room was a bit smaller than years past, it hosted one of the most talked-about matches in recent years. Shane Van Boening, never one to shy away from an after-hours match, took on Efren Reyes in a race to 23. The game was 10-ball; the bet was $10,000 per, though some "reports" claimed it was double that.

A battle of the next great American versus the aging Filipino icon, the 55-year-old stuck with Van Boening, often holding a small lead. But youth prevailed in the end, and Van Boening pulled ahead late for a 23-18 victory.

"I've always wanted to play Efren," he said. "I was happy I got to play him before he starts to slow down."

Van Boening continued to seek out the best of the well-represented Filipino contingent, taking on Francisco Bustamante in another late-night set.

"It's not that I'm not trying to prove I'm better than anybody," Van Boening said of his recent string of matches against the Filipinos. "I just want to play, and I think it's a lot of fun playing against the best pool players in the world."


Previous Page Page 4 Next Page >


Top
MORE VIDEO...