Current Issue

Previous Page Page 2 Next Page >



Classic Derby City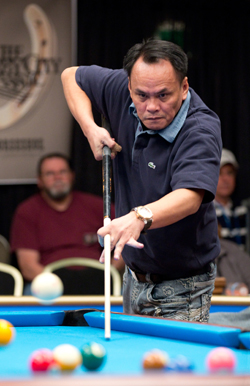 Bustamante blasted his way to the all-around title early on Friday.
Considering recent history, Shane Van Boening touched down in Louisville with entirely unrealistic expectations. Even shelving his dominant run at the U.S. Open 9-Ball Championship three months prior, the American obliterated the field at last year's Derby to where he stood one match from winning all three main events. In the event's 15-year history, nothing - not even a few sublime performances from Reyes, a five-time all-around champion - came close to his silver-gold-gold run in 2012.

When the 353-player banks event kicked off, Van Boening drew Ohio's Shannon Murphy in the first round. (Derby City runs according to a modified double-elimination format, where matchups are drawn round-by-round and players can buy back into the field after one loss.) With a few strong performances under his belt, Murphy was entirely capable of upsetting the reigning Player of the Year - and he did exactly that.

Van Boening then drew Jeremy Jones in Round 2, and a second loss put him out of the event. To win his third straight Master of the Table award - which awards points based on placement in the three main events - Van Boening would need some help.

As the field narrowed, down to just three by the 12th round, Murphy remained unbeaten, while Bustamante and Justin Hall already exercised their buy-ins. Hall - who won the all-around title at last year's at Derby's summer companion, the Southern Classic - caught a bit of fortune when he received the bye.

Bustamante then handed Murphy his first loss by turning a 2-0 deficit into a 3-2 victory. The 49-year-old Hall of Famer then drew a bye into the final, leaving the two Americans to battle for the second seat. A hot-shoot Hall then eliminated Murphy in four games for a second shot at Bustamante.

Bustamante entered the banks final still searching for his first tournament title, though he did win Master of the Table in 2008. He quickly assumed control of the final by winning the first two racks, 5-2 and 5-1. Hall grabbed the third game - but Bustamante dropped three straight balls for a 5-3 win.

"I don't play banks too much, so I am surprised with myself," he said, after clinching the $10,000 title. "We practice a little and I guess that was enough."

Banking 120 points towards the all-around title, he only improved his standing by running unbeaten through the first nine rounds of the 280-players one-pocket division, a decrease from last year's field of 311. In Round 10, with only eight players remaining, last year's runner-up Joey Gray handed Bustamante his first loss. But he bounced back with wins against Danny Harriman and back-to-back champ Van Boening to move into the final opposite Corey Deuel.

While Deuel may not be the first name that comes to mind when thinking about one-pocket, the American has a number of top 10 finishes at Derby City, including an appearance in the 2005 final where he lost to Reyes. And opposite Bustamante, Deuel brought all of his offensive weapons to the table. He shut Bustamante out, ceding just three balls en route to a 3-0 victory that netted the American the biggest one-pocket title of his career and biggest payday since finishing second at the 2012 U.S. Open.



Previous Page Page 2 Next Page >

Top
MORE VIDEO...