Spain's Francisco Sanchez-Ruiz continued his torrid streak, winning the World Pool Championship for his second world title in six months.
By Phil Yates
Photos By Taka Wu

When a jobbing Hollywood actor suddenly hits it big, the old chestnut is they have taken years to become an overnight sensation. Pool's equivalent is Francisco Sanchez-Ruiz.
By besting Mohammed Soufi, 13-10, to win the World Pool Championship in Kielce, Poland, "FSR" completed a remarkable odyssey. In a little under two years, the Spaniard has upgraded from under-achieving talent to dominant force.
During his eight-match romp to the title, and a first prize of $60,000, Sanchez-Ruiz used the word confidence more times than he won racks. Therein lies the crux of the 31-year-old's transformative purple patch.
Apart from the Mosconi Cup, where he followed a well-established trend by being nervy in his debut, Sanchez-Ruiz has oozed self-belief since the seed of his Midas touch was sown by winning two Euro Tour events in 2021, the Lasko and Antalya Opens.
The following year was the stuff of dreams. Partnering with David Alcaide, FSR provided Spain's first triumph at the World Cup. Individually, he won the Derby City Classic 9-Ball, WPA World 8-Ball Championship and, the richest gravy, the U.S. Open in Atlantic City.
Now Sanchez-Ruiz is one of a select band of players who can boast their names are engraved on both the U.S. Open and World 9-Ball trophies.
He joins the fraternity of Carlo Biado, Joshua Filler, Shane Van Boening, Darren Appleton, Mika Immonen, Alex Pagulayan, Ralf Souquet, Earl Strickland, Johnny Archer, and Efren Reyes as winners of both titles.
In winning the World Pool Championship, Sanchez-Ruiz became just the third player to hold two world titles at the same time.
Sanchez-Ruiz also matches Jiaquing Wu (2005) and Pin-Yi Ko (2015) as the only players to hold two world titles at the same time.
Throughout his twenties, Sanchez-Ruiz was regarded as a stylist lacking the steel to succeed. The Junior World 9-Ball Champion in 2010 did snap off the European 9-Ball Championship in 2016, only to spend the next half a decade treading water. Surely the most qualified person to dissect why FSR has finally broken through would be Sanchez-Ruiz himself. Yet, he professes to be at a loss to explain such a glorious promotion to the sport's top table.
"I don't know why this has happened to me, but I'm very glad it has," said the perpetually beaming Sanchez-Ruiz. "It is all about confidence. I feel so happy, maybe because it has taken so long to get here."
Pressed on where the switch was flicked, he added: "I think it was Derby City. After I won there everything changed in my mindset. When you prove to yourself you can win a tournament like that, your confidence goes through the roof."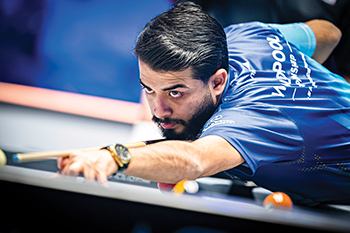 Soufi lost the final but won the hearts of the pool world with his spirited run in Poland.
Having whitewashed So Shaw, 9-0, and beaten Kun Lin Wu, 9-7, in winner's qualification, 'El Ferrari' went through the gears in single elimination, knocking out American Oscar Dominguez, 11-3, Germany's Thorsten Hohmann, 11-7, and Estonian Denis Grabe, 11-8, before turning in the performance of the week.
In overturning an early 3-0 deficit against former world champion Jung-Lin Chang of Taiwan, FSR marched into the zone. Every department of his game was at optimum efficiency. His break, potting and positional play simultaneously reached the very highest plateau in brushing aside the Taiwanese hard man, 11-4.
Tenacity played a leading role next time as, from 5-1, 7-2 and 8-4 down, Sanchez Ruiz beat an increasingly tense Mario He, 11-8, to set up a meeting with Soufi, a Syrian refugee living in Germany who stood on the threshold of being, by a country mile, the most unexpected champion in the event's 33-year history.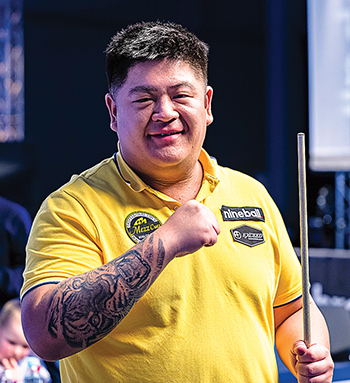 He once again flexed his muscles, but once again came unglued late.
Breaking with an open bridge, taking on shots most would ignore, sprinting around the table at breakneck speed and the owner of an unconventionally horizontal cue arm, Soufi flew under the radar until letting out a blood curdling scream of delight after pulling off his 11-10 victory over Mika Immonen in the last 32.
Often running racks in under two minutes, Soufi would silence the partisan crowd by edging Sebastian Batkowski, the last Pole standing, 11-10 in the last 16 prior to his astonishing, and astoundingly lucky, 11-8 win over Albin Ouschan, the 2016 and 2021 champion.
Ouschan was crushed, contributing to his own downfall by committing uncharacteristic errors and, even more tellingly, being victimized by three outrageous flukes in cruelly quick succession. As the last of them, a badly hit, double kissed 8-ball found its way into a corner pocket, Soufi appeared almost embarrassed. Almost.
Polish fans came out in droves in to cheer on national hopes like Zielinski.
More pixie dust was sprinkled next day as Soufi parlayed his 6-0 lead over Wu into an 11-6 win, setting up the classic David against Goliath conclusion. This storyline could hardly have been more compelling as the heartwarmingly plucky underdog attempted to defy logic by scuppering the world number one.
At 8-8 in a gripping final, the unthinkable remained possible. It was then Soufi — by now the sentimental if not bookmaker's favourite — missed a 3 ball down the side rail trying to do too much with the cue ball. Sanchez-Ruiz tidied up before breaking and running the next three racks to float on to the hill at 12-8.
With the winning post in sight, FSR's position faltered. He missed a thin 7, Soufi stepped in and, by taking 90 seconds to break and run the following rack to trail only 12-10, kept his dream, preposterous at the start of the week, alive.
Ironically, the exuberant, left-field shot selection at the core of his progress and popularity would ultimately be Soufi's undoing. When his break delivered little in the 23rd rack, the German resident recklessly flashed at a length of table bank on the 1 that did not remotely threaten.
It was all the invitation Sanchez-Ruiz required as, from a layout rendered especially challenging by circumstance, he set about piecing together a clearance that culminated with Soufi embracing him in concession before the 9 was sunk.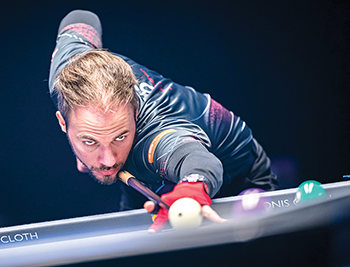 Two-time champ Ouschan's luck ran out against the mercurial Soufi.
"I feel unbelievable. This is my biggest title for sure," said Sanchez-Ruiz, who possesses a frame of reference, having hurtled away from those chasing him at the apex of the Matchroom Nineball Rankings. He left Poland a shade under 75,000 points clear of Van Boening, his closest if now distant pursuer.
Impressive victories over Masato Yoshioka and Mats Schjetne, both 9-2, followed by his relentless 11-2 drubbing of Jani Uski, strongly suggested Van Boening possessed the form and potent break to emulate Strickland as only the second player to retain the title.
Heart and nerve were introduced into the mix when bold shot-making excellence under the gun carried the South Dakotan from 9-8 adrift to defeat ever-solid Aloysius Yapp, 11-9, in the last 32.
Indeed, when Van Boening rallied from 6-3 down to lead Vietnam's Duong Quoc Hoang, 9-6, next time out there was no whiff of the abject dejection he would ultimately experience.
The pivotal moment arrived in the 17th rack. Van Boening's momentum dissipated through unluckily scratching on the break, and Hoang, who had already beaten the likes of Chris Melling, 9-8, Poland's Tomasz Kaplan, 9-6, Lo Ho Sum, 11-5, and reigning World 10-Ball Champion Wojciech Szewczyk, 11-1, grabbed his opportunity.
Hoang fought back to 9-9; Van Boening stood on the hill at 10-9 but found the decisive blow elusive as the pool gods abandoned him. Trapped in a potentially troublesome hook, Hoang benefitted from a fluke jump double, then dished for hill-hill.
A fragmentary opening to the deciding rack served up high drama if not the opening craved by Van Boening. Instead, forced into a 3-6 carom, bridging awkwardly and with few alternatives, it was the 39-year-old from Rapid City who blinked first.
Even then, there was a heart-stopping moment for Hoang as his 3-ball down the side rail tantalizingly hung on the precipice of its intended pocket prior to somehow toppling in. It was the final straw for Van Boening, whose expression of disbelief showed he feared the worst. So, it proved, as Hoang cleared to register the finest win of his career.
Although it offered no consolation, at least Van Boening was not the lone giant of the modern game to succumb before finals day.
Less than 24 hours after Punxsutawney Phil had spied his own shadow heralding six more weeks of winter, Joshua Filler suffered his own personal Groundhog Day.
The seed of Filler's unexpectedly early demise in the last 64, and acute disappointment he could not disguise, had been planted an ocean and six time zones away in southern Indiana.

Pagulayan (left) twice had the last laugh against the fancied Filler (right).
Filler had lost a consequential meeting with Alex Pagulayan in the 9-Ball division of the Derby City Classic immediately before returning to his home continent. The radical change of location would make no difference; his psychological hangover refused to abate. Pagulayan had the Killer's number.
The draw gleefully set up a Winner's Qualification rematch which a jet-lagged Filler lost, 9-7, often beaten to the punch by a tactically savvy Pagulayan, the 2004 World 9-Ball kingpin in Taiwan.
Filler temporarily rebounded, easing past Italy's Daniele Corrieri, 9-1, to reach single elimination, only for fate to cheekily intervene again. The redraw pitted the German against his new-found nemesis once more.
Twice Filler, the 2018 champion in Qatar, appeared poised to seize command, yet Pagulayan, a born fighter, refused to yield and with the crowd five deep around Table 2, finished the stronger to prevail, 11-9.
Upsets prior to the single elimination phase were decidedly thinner on the ground than the blanket of snow outside as Kielce was struck by blizzard conditions mid-tournament. Ralf Souquet, champion in Sweden 27 years ago, bowed out in loser's qualification to Dimitri Jungo, while Miesko Fortunski, one of the highest profile members of the 13-strong home contingent, fizzled out on home soil, losing his first two outings.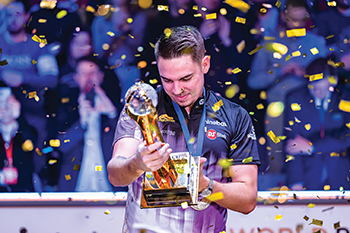 With two world titles and the U.S. Open crown in the span of four months, Sanchez-Ruiz can be excused for looking at his current streak with surprise.
Having launched 2023 by winning the Turning Stone Classic, Jayson Shaw was also surprisingly absent from the weekend. Leading John Morra, 10-9, in the last 32, the Scot directly scratched attempting a cute, lock up safety, and the now left-handed Canadian had the upper hand thereafter.
At least the big names who exited got the chance to compete, unlike American hopeful Skyler Woodward, grounded at home in Texas by a historic ice storm that sadly stymied all travel plans.
The geopolitically unavoidable absence of Fedor Gorst, given the ongoing conflict in neighbouring Ukraine, was an indisputable negative. So was the withdrawal of Biado, the 2021 U.S. Open champion, who underwent a scheduled medical procedure in late January.
However, a powerful field, emanating from 46 countries and every continent, gave the tournament all the credibility and prestige it merited. So did its all-conquering champion and hugely inspirational silver medalist.
---
Out of Thin Air
In reality, Mohammad Soufi's run to the World Pool Championship final was far from his most unlikely journey.
Mohammad Soufi knows overwhelming pressure. He knows it all too well.
Not the pressure of potting a tricky match clinching 9 ball. Oh no, this is the real stuff, life or death pressure, where his actions could have signaled the end for many others and himself.
His story is both shocking and uplifting, a harsh journey few could imagine that has supplied him with the starkest perspective.
Between his semifinal victory over Kun Lin Wu and the final in Kielce, the 29 year-old star in Poland willingly poured out tales of the adversity he has encountered, the multiple hurdles he has cleared and how pool is a shining light in his life.
With the invaluable interpreting assistance of his friend, the gentlemanly Abdullah Alyousef, a semifinalist in last year's World 9-Ball Championship, Soufi explained the excruciating hardships he has endured.
As a nine-year-old living in Latakia, a port city on Syria's Mediterranean coast, Soufi began playing snooker and was soon entranced by cue sports. But, in 2011, everything in Soufi's world radically changed with the onset of a still ongoing civil war that has ripped his country apart.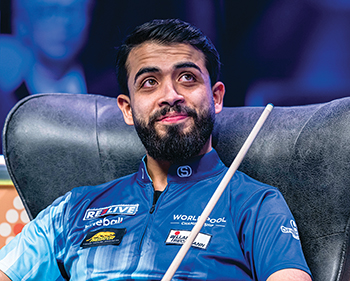 Despite a lack of resources and a heart-wrenching back story, Soufi was all smiles in Kielce.
The effects of the brutal conflict became so intolerable Mohammad, who loves his family dearly, nevertheless knew the only way was out. The gut-wrenching decision was made to cross the border into Lebanon but, as he put it, even there "the security situation was bad."
Turkey was Soufi's next destination and, on a dark beach in midwinter, he stared death in the eye.
People smugglers were sending boats across the sea to Greece demanding $1,500 from each passenger. Although Soufi did not possess such funds, the physically fit twenty something was offered free passage in return for piloting an overburdened vessel.
"I remember looking around," Soufi recalled. "There were old people, children, 50 of us. I had never driven a boat before, and I couldn't take on that responsibility. I told them no, I can't do it, but they stuck a Kalashnikov [pistol] to my head and told me I didn't have a choice."
It was a harrowing, cold, two-hour journey full of prayers and greater concentration than he will ever require on a pool table. At one stage the boat was pursued by Turkish police, naturally concerned for the safety of the migrants.
And yet, Soufi somehow did the job. Finally on European soil, a lonely Greek island, he was forced to walk, freezing and wet, for 20 kilometres prior to receiving guidance.
From there, he trekked through the Balkans, including Macedonia and Serbia. After 15 days of getting lifts, riding buses, and walking for lengthy spells, he arrived in Germany. For the past seven years, Dortmund has been his adopted base.
This, though, was no "happily ever after."
Although the mentally scarring horrors of war were indeed left behind, each day, surviving on his 400 euros monthly refugee grant from the German government proved an unceasing, grinding economic battle for quality of life.
Soufi's deep love of pool served to partially illuminate the gloom but, even that brought frustration as ultra-tight financial circumstances meant sustained practice was out of the question.
"For years I couldn't play the game. I had no car, no money for an Uber or a taxi to the club and no money to pay for the practise time when I got there. I started entering a few Euro Tour events, but I could only afford to practise for one or two days beforehand," said Soufi.
Incredibly, in light of such impossibly scant preparation and strong fields, Soufi managed to reach two quarterfinals and, in 2021, a personal best semfinal at the Lasko Open in Slovenia.
"I know I have a talent. I just want to play," he said in English, a burning passion in his voice.
When it was announced Matchroom were taking the World Championship to Poland, Soufi realized it might offer a golden chance. He scrimped and saved enough to prepare for a month prior and did not slack, practising for a back-breaking 10 hours daily.
Even then a painful hand injury and leg issue erected barriers to success, but they failed. What transpired, for those who understood his background and sacrifice, was truly emotional.
After losing his first outing, 9-6, to the seasoned Pole, Mateus Sniegocki, Soufi strung together seven wins, growing ever more self-assured. Francisco Sanchez-Ruiz proved too powerful in the final but, by then, Soufi's trip to Kielce had already been life-changing.
In addition to the $30,000 he received as runner-up, Soufi climbed to 14th in the Matchroom Nineball Rankings, just enough to earn a coveted invitation to the World Pool Masters in May.
Swift to further reward a magnificent achievement, Matchroom Multi-Sport boss Emily Fraser was delighted, and correct, to place Soufi alongside the sport's elite in Premier League Pool, scheduled for Leicester, England, from March 6-13.
Soufi has arrived on the international stage with a sonic boom but remains a million miles from total satisfaction.
Asked what he now wants most, Soufi, again in English, did not hesitate: "It is my dream to play in America. I need support to play there and, if I get it, I know what I could do. Next year I can win this championship."
Alyousef then interjected: "Mohammad works very hard. He has been through so much and he is standing here. He loves his family back. He is a good man, a really good man, and wants to help them."
It is the stuff of a potential movie, but any aspiring scriptwriter would need to wait before penning the concluding scenes. With his abundant natural talent, practise ethic and coolness in the crunch, Soufi's pool story is only just beginning.
Latakia, the home city for which he yearns, also produced Mustafa Hamsho, the uncompromisingly tough boxer who in the early eighties twice clashed with Marvin Hagler for the World Middleweight title.
Soufi's fight has lasted over a decade rather than twelve rounds and, with his hunger, drive, enthusiasm, and still largely untapped reserve of skill who is to say he will not become a heavyweight.
- Phil Yates