Current Issue
Next Page >
Dispelling Any Doubts
After waiting four months, Monica Webb picked up right where she left off in 2008, winning the San Diego Classic for her second straight WPBA Classic Tour title.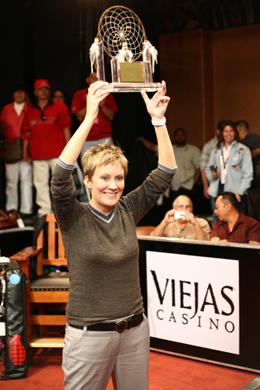 Pressure-free and confident, Webb has raised her game to new heights. (Photos by Ashi Fachler)
The touring pros on the Women's Professional Billiard Association may well rue the day they allowed Monica Webb to taste life in the winner's circle.

After toiling on the WPBA Classic Tour for a decade before winning her first tournament - the WPBA National Championship in November - Webb waited exactly one event to smack her lips a second time, winning the 2009 season-opening WPBA San Diego Classic at the Viejas Casino in Alpine, Calif.

Could this be a trend?

"I hope so!" said Webb, a few days after coming from behind to topple Korean starlet Ga Young Kim, 7-5, in the championship match. It's certainly not uncommon for top-tier players in individual sports to pile up the wins after breaking into the winner's circle, particularly players who have spent considerable time at the proverbial altar.

In fact, Webb needs to look no further than her own backyard for proof of that.

Good friend and fellow Georgian Johnny Archer, a great young talent who joined the men's pro tour in 1985 under the glare of great expectations, struggled to win for more than six years and was labeled as someone who couldn't seal the deal in tournament play. A handful of close calls and heartbreaking losses only added to the pressure Archer felt. Insiders questioned whether he could break through the mental barriers he had started to build within himself.

"I remember telling people back then," said former great Kim Davenport, now a close friend of Archer's, "that as soon as Johnny won one event, he'd really start winning."

True to form, after Archer won his first title in 1991, he won three more titles that same year. He went on to win four more titles in '92, and has since been the winningest American pro over the past 15 years.

Now that she's crumbled her own mental barriers, could Monica Webb enjoy that kind of success?

"There's pressure that isn't there anymore, that's for sure," said Webb. "I'm much more relaxed. It's nice to not have that pressure of being 'the best player to not win a title' hanging over me."