Current Issue
The Big GO!

The son of a pool player, Oscar Dominguez has spent his whole life in the game. Now 31, he's got big plans for 2016, including a new regional tour, a wedding and a ticket to the Mosconi Cup.
By Nicholas Leider
Some kids who grow up around pool are prodigies. The game is a second nature - you see it, you do it.

Just as often, kids who grow up around pool burn out. The game is something that's a part of you - it's all you know until you do all you can to get away from it.





Oscar Dominguez (Photo by Lara Rossignol)

Oscar Dominguez has taken his own path to the top level of American pool. The 31-year-old is the son of Ernesto Dominguez, a stalwart on the U.S. pro scene since his arrival from Chihuahua, Mexico, in the early 1970s. Surprisingly, Oscar went years without touching the table during his childhood.

It wasn't until he was in his late teens, tooling around his dad's poolroom, that the pool bug burrowed into Dominguez. Within five years, though, he was among the hottest young talents in the nation, topping the U.S. rankings and earning a spot on the 2009 Mosconi Cup team at age 24.

Seven years later, Dominguez remains among America's best players, but a second appearance on Team USA for Mosconi Cup has eluded him, despite being in the discussion year after year. With a wedding planned for November and a burgeoning regional tour under his direction, he has rededicated himself to the game in an effort to earn a spot in the transatlantic tilt.

"I'm dialed in now," he said. "I know what I want. I've traveled around and seen so many different styles of play, so I feel like developing a game for myself. I really believe I'm in my prime right now, and I want to ride the wave a bit afterward."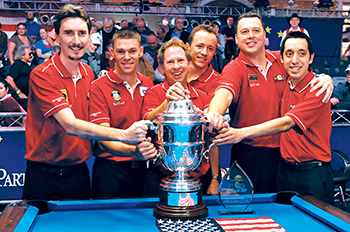 USA! USA!: Then 24, Dominguez (far right) had a hand in Team USA's 2009 Mosconi Cup win, America's last victory in the team tournament. (Photo by JP Parmentier)

Finding the Game
Although he rarely played as a child, Dominguez has vivid memories of watching his father cross cues with the giants of the game. "I can remember my dad and me going to Reno for the Sands Regency [events]," Dominguez said. "I'd watch him play guys like Mike Sigel, Nick Varner and Steve Mizerak."

Being the knee-high kid of a professional pool player, however, didn't mean Dominguez had blinders to other sports. His early interest was basketball, something he chased with the work ethic familiar to pool players. He spent much of grade school and high school at countless travel tournaments, shoot-arounds and training sessions.

By the end of high school, while maximizing his physical abilities and 5-foot-7-inch frame, Dominguez's passion for roundball decreased. That void was filled by pool, prodded by nights and weekends at a poolroom his dad owned. Locals looking for a sparring partner would ask him to hit balls.

"Eventually I ended up playing in weekly tournaments," he said. "I can remember it like yesterday. I'd go two-and-out every time. I was so competitive, I said, 'Dad, this is embarrassing. I'm a Dominguez. You got to help me.'"

Two months of dedicated practice later, the younger Dominguez showed the potential you'd expect from the offspring of a seasoned pro. Tournaments began to lead to a few bucks and cash games became a regular fix in his thirst for competition. Basketball seemed a little less important.

"I loved the individual aspect of it," Dominguez said about pool's appeal. "You do the work, you're going to get the results. I got addicted and the rest was history."

All the while, his father - a built-in role model as a pro who supported himself and his family with pool - avoided pushing him toward the game. "I never asked him to play pool," Ernesto Dominguez said. "It's a tough life. I lived it for 40, 50 years. But I see that he's happy. I don't want him to do something else if he likes this."





Chip off the old block: Ernesto, a solid pro who had the respect of his contemporaries, has guided Oscar's development as a player and person. (Photo by JP Parmentier)

Showing Promise
Dominguez entered his first major professional tournament in 2004 on a lark. A typical 18-year-old kid, he couldn't imagine scrounging together the entry fee for the UPA Pro Tour Championship at the nearby Bicycle Club Casino in Bell Gardens, California, outside of Los Angeles. Luckily, he had a friend with a few hundred bucks in his pocket.

Dominguez was surprised by his in-the-money finish (17th). He had no idea he was able to compete with established pros. He knew he still wasn't at that level, but he could compete.

"When I saw those players up close and personal, I knew I wasn't as far behind as I thought," he said. "They make mistakes too. After that, I told my dad I want to give it a run."

Dominguez postponed plans to go to college for a year and traveled around with his dad. The tournaments, the cash games, the experiences, all further stoked his competitive fire. His development continued with semi-regular trips to the Philippines, where he chased action alongside his father.

"Every day for a month, we were in action," Oscar said. "We're gambling nonstop. He's on one table and I'm on another. I'm playing for $1,000 and he's playing for another $2,000. Then we'd switch opponents. It was a blast. "When you're on the grind with someone, it's totally different. You build a bond. And getting to do that with my dad, that's something I will never forget."

Such experiences primed Dominguez for his breakout year in 2009, where he won the highly competitive Turning Stone Classic, finished second at the massive Jay Swanson Memorial and took third at the Super Billiards Expo Pro Players Championship. "You can see the ability he has right away," said Rodney Morris, a family friend since meeting Ernesto Dominguez in the 1980s. "He isn't flashy, but he's sneaky good. He's a smooth player, just like his dad."

Dominguez's consistently solid season led to his finishing No. 1 in the points race for one of the automatic spots on Team USA for the year-end Mosconi Cup. Joining a team with Johnny Archer, Corey Deuel, Shane Van Boening and Dennis Hatch, Dominguez had undoubtedly earned a spot among the American elite. The experience itself proved beyond any possible expectation.

"Going to Vegas with my family and friends, playing for your country, it was the most amazing experience in my pool career," Dominguez said. "I was nervous because I didn't know what to expect, as far as the production and the arena. But I wasn't nervous playing. I was confident in what I was doing, but I wasn't confident in my surroundings."

He picked up two points and Team USA won the transatlantic competition rather easily, 11-7, which stands as the lone American victory since 2005.

Seven years later, Dominguez remains among the top dozen players in the U.S., but he has yet to represent his country in the Mosconi Cup again. Whether he failed to qualify automatically or receive one of the invitational spots, Dominguez faced a string of close calls that included making last year's short list of eight, only to be left off the final five.

"I can't tell you how tough it's been," he said of the numerous close calls. "I always felt like I was on the brink of making it and just missed the cut."

Facing such repeated personal disappointment had something to do with Dominguez stepping away from pool for a few weeks in 2014. That break gave him time to reanalyze his life and his priorities, both at the table and away from it. "I came to the realization that Mosconi Cup isn't important in the grand scheme of things. Neither is pool," he said. "I started playing for myself, nobody else. I guess it's safe to say that the past disappointments of not making the Mosconi Cup team made me a stronger person. I'm using it as motivation to prove to myself and everyone else that I can do it."





(Photo by Lara Rossignol)

Giving It Another Go
Perspective eludes a lot of people - pool players being no exception. The hustle - from tournament to tournament, cash game to cash game or simply from one night to the next - can consume a lot of players. But Dominguez, thanks in no small part to an entire life spent with his dad, has never been one-dimensional. Throughout his career, Oscar has worked to support himself, joining his dad as two of the most respected pool table mechanics in the country.

Similarly, Dominguez continued to pursue his college education in kinesiology while establishing himself as a professional player. Though the game has supported him for years, he still envisions getting his college degree, if only for himself, considering the success of his pool-related endeavors.

One of Dominguez's latest endeavors kicked off in 2014. Along with his fiance, Desiree Rivera, he launched the Mezz West State Tour. Inspired by East Coast regional circuits such as Tony Robles's Predator Pro-Am Tour and Mike Zuglan's Joss Northeast 9-Ball Tour, the couple wanted to build something in the West. Two seasons in, the MWST boasts roughly 18 stops with added money in the $2,500 range. "[My dad] has been all over the world and has seen so many events," he said. "We utilize his theories and incorporate our own ideas into structuring a tour. And we don't just ask poolrooms to support it. We essentially work for the rooms to make sure they recover their investment while appealing to amateur and pro players."

Morris, based in Sacramento, is a frequent competitor on the tour. Considering the weight of the Dominguez name on the West Coast, he isn't surprised the MWST has established itself in the region. "The thing with Oscar and his dad that stands out is character," Morris said. "Those guys are respected in pool and that's obviously important when it comes to running a tour."

With so much going on, this year is as much about his performance as a professional as anything else. After the disappointments of years past, his goal of making the 2016 Mosconi Cup team is all a part of his plans for the future. "I told my fiance, 'You know what? Don't expect me to be home much," he said, noting Rivera fully understands the rigors of professional pool and has been nothing but supportive.

Whether Dominguez sees this as something of a farewell tour is not so simple. "I feel like it's sort of a last hurrah," he said. "I going to be married and I know that changes things. I don't mind it at all - I'm looking forward to it. I just don't see it changing too much as far as how I play."

When it comes to that, the early results are encouraging. Thanks in part to a victory at the Jay Swanson Memorial in February, Domingeuz sits atop the Mosconi Cup points list for Team USA. Mark Wilson, America's team coach, knows what he has in a player like Dominguez making the squad. "Oscar pursues excellence and is willing to pay the price," Wilson said. "The guy does everything from an overseas championship or a serious challenge match. He has unassailable character and integrity."

Whether this year or years to come, Dominguez sees his future tied to the game, which he expects will include a spot among the American elite. "Without sounding arrogant, I play too good now to let it go," he said. "I feel like I have a lot of quality years ahead of me. I know I will be able to play at an elite level."
Ball in hand: Dominguez plans to invest all of his time and focus on making 2016 a breakout year. (Photo by JP Parmentier)