Current Issue

Previous Page Page 2 Next Page >



Rule, Britannia!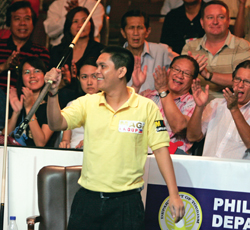 Pulpul, this year's Cinderella, gave the local Filipino crowd something to cheer about. [Photo by Mike Howerton]
That's a sentiment that was shared by the 128 players who gathered at the Philippine International Convention Center on Sept. 29-Oct. 5 for the first-ever staging of a World 10-Ball Championship, sanctioned by the World Pool-Billiard Association. Many players claimed that 10-ball was a welcome change from 9-ball, and mercifully absent from the tournament were the complaints about racking, breaking and lucky rolls that tend to crop up at 9-ball championships.

Bitter infighting in the Filipino pool community between Championship producer Raya Sports & Events and several local player-managers led many of the country's top players - including Reyes, Francisco Bustamante, Alex Pagulayan, Ronnie Alcano and Dennis Orcollo - to skip the event. Nonetheless, the lineup included top players from 47 different countries, including four women. Favorites from the start included such big names and world pool titlists as Shane Van Boening of the U.S.; Finland's Mika Immonen; Filipino hope Marlon Manalo; Niels Feijen of the Netherlands; and Taiwan's wunderkind Wu Chia-Ching.

But the 19-year-old Wu wasn't feeling himself. Two weeks earlier he had lost his treasured Southwest cue in Guangzhou, China, where he had played in a Guinness 9-Ball Tour event. It was the same cue that he wielded in winning the 2005 World 9-Ball and World 8-Ball Championships. He spent two days in a frantic search for the cue but to no avail.

"When I realized it was missing, I panicked," Wu said. "That cue is quite sentimental to me. I felt really bad, like I had lost my world."

He arrived in Manila with little confidence of making any noise in the tournament. Then one of the Taiwanese qualifiers in Manila who didn't make the field let him borrow his cue, and Wu noticed it was similar to his.

Wu used the borrowed cue and cruised through the stellar field. After handily winning his first two matches in the double-elimination group stage, he easily disposed of American Stevie Moore and Italy's Bruno Muratore to set up a mouthwatering showdown in the round-of-16 with 25-year-old Van Boening.

Van Boening looked strong all week and seemed to have the break shot figured out better than anyone else in the field. But Wu pounced on several glaring errors by the 2007 U.S. Open champion and finished off his 9-3 victory with an in-your-face slam dunk, sinking the 10 ball on the break.

Wu then eliminated Immonen, 11-7, in the quarterfinals and suddenly looked like the tournament favorite. His hurdle in the semifinals was an unknown Filipino who had become the tournament's Cinderella. Demosthenes Pulpul has a hard-luck story that's quite familiar in the Philippines - a dirt-poor kid who dropped out of school as a teenager and turned to pool in order to help feed the family. For the last 10 years he's been playing money games in the southern Philippine town of Cagayan de Oro, and some off-the-beaten-path poolhalls south of Manila, where his backers have mostly kept him under wraps.


Previous Page Page 2 Next Page >

Top