Current Issue

Previous Page Page 2 Next Page >



Best New Room - No. 2: Max Billiard Center (Oberhausen, Germany)



IN OBERHAUSEN, Germany, deep in the heart of what was the industrial heart of Germany in the back half of the 20th century, one old warehouse has been completely transformed into an absolute sporting adventure land.

Officially dubbed Max Billiard, Bistro, Indoor Soccer, this complex is a massive structure, clocking in at 107,000 square feet in total. In addition to the healthy 15,000-square-foot, 25-table poolroom, Max also houses four indoor soccer fields, a full restaurant and sports bar complete with projection TVs, and a night club.

When construction began on the property in September 2007, designer Frank Grümbel wanted to incorporate as much of the natural setting as possible.

"The building is a former industrial hall, so there was not much to do against that," he said. "I liked the style and the atmosphere a lot, so there was no reason to change it. [And] the high ceilings give the hall a special flair."

The space offered Grümbel the opportunity to incorporate the original structure into the final product. But the construction of the arena itself is more of a modern interpretation of what was an older building. To that end, four massive art deco lamps, each measuring 20 feet tall, hang above the bar, while colors melt from blues to reds to greens. (There's no shortage of natural light, either, as many of the original windows remain; only now they're a little cleaner and draped in red velvet.)

As for the players to fill the 25 Brunswick Gold Crowns, Grümbel wanted to appeal to both serious and casual types. In March, Max hosted the European 10-Ball Open, a 64-player event that attracted a host of Europe's biggest names. (Niels Feijen topped Nick van den Berg in the final.)

But like Fargo Billiards, Max also targets an audience that might be a little gun-shy about tooling around a pool table. With the other amenities, the arena is designed to attract visitors with a wide array of entertainment choices, of which pool is certainly a main player. A massive mecca of amusement, Max approaches the sublime with the sheer space dedicated to entertaining its visitors.

"The attraction of the Max is the character of this old-styled industrial building including its height and its wideness, which gives it a very special feel," Grümbel said.
Best New Room - No. 3: Stix Bar & Grill (Villa Rica, Ga.)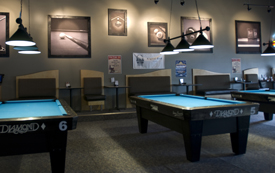 STIX BAR & Grill in tiny Villa Rica, Ga., certainly didn't happen overnight. Professional pool players Monica Webb and Helena Thornfeldt spent more than five years piecing together a business plan and plotting their strategy before opening the 8,000-square-foot club in Webb's hometown. Neither Webb nor Thornfeldt had ever opened or run a retail business, but they had one big asset on their side - access.

As stars on the Women's Professional Billiard Association's Classic Tour, Webb and Thornfeldt had visited more than their fair share of billiard clubs across the country. They knew what they liked, and what they didn't. They saw successful clubs, and they saw clubs that were not operated or managed very well.

"Whenever we were in another room, we talked to the owners," said Webb, the WPBA's top-rated player. "We asked a lot of questions about overhead and keeping costs down. We got tours, walked their kitchens, checked out their bars, studied the layouts and took lots of notes.

"We called everyone we knew for advice. We didn't want to make any mistakes."

In early 2008, Webb and Thornfeldt began looking for the right space for their dream business project. And they went to auctions to purchase kitchen and bar equipment from shuttered restaurants and bars. They bought booths, stools and anything else they could find to keep their project within budget.

"It was really tedious," said Webb, "But it was the best way to get good prices on equipment and furniture, and we saved a ton of money."

After spending seven months fruitlessly trying to land one location, Webb and Thornfeldt came upon a prime location in the center of Villa Rica (pop. 10,000), which sits 30 minutes west of Atlanta. A seafood restaurant located on a corner of the town's busiest intersection was moving, and Webb and Thornfeldt quickly gobbled up the space. Within four months Stix Bar & Grill was opened.

Stix features eight Diamond coin-op tables and a pair of Diamond Professional 9-foot tables. Bar counters interwoven in the playing area were custom built to match the pool tables. Not surprisingly, Webb and Thornfeldt run both house and APA leagues, and offer private lessons.

But pool is only part of the package at Stix. The custom bar (managed by fellow WPBA touring pro Debbie Schjodt) seats 35 and has 15 taps, and the room boasts 11 flat screen TVs, as well as a large projection TV. Stix also offers live music on weekends. The room is decorated with numerous pool artist Linda Pault's RT9 paintings, as well as blown-up pool photos.

Stix also features a 900-square-foot kitchen, replete with pizza oven. Thornfeldt runs the kitchen, which serves pastas, lasagna, rib eyes and, not surprisingly, Swedish meatballs.

Still just more than six months old, Stix has quickly become a favorite in Villa Rica. And given all the homework Webb and Thornfeldt, that should come as no surprise.

"You get into what you know and love," concluded Webb.

Previous Page Page 2 Next Page >

Top
MORE VIDEO...