Current Issue

Previous Page Page 4 Next Page >



Semifinals & Final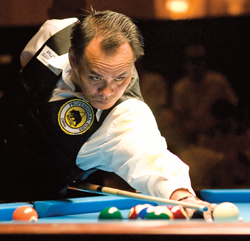 Novice Bustamante took an unorthodox approach to straight pool.
The Feijen-Van den Berg semifinal match should have been a corker. But Feijen seemed to be lingering, at least partially, in the funk he and Schmidt co-created the night before, and his opponent could not find the magic he had been working all week. Both players ran 40-plus at one time or another, but the nearly four-hour match was yet another anti-climax. Van den Berg staggered into the 150s before calling a far-corner combination out of the stack which was, in essence, a give-up shot, and Feijen made the game's last seven balls for a 200-157 win.

The Bustamante-Ouschan tilt looked to be exactly the same sort of pairing as Bustamante-See: a big age spread, with the younger player by far the better straight-pool player. For the most part, the game was not especially well-played; Ouschan obtained yet another four-rack lead, and Bustamante appeared to be as distracted as anyone could remember seeing him. He spent most of the contest imitating a dog chasing a car: He'd get close, and then she'd pull away again. He was trailing, 129-119, when Ouschan butchered a break shot, and that was just the shpritz of spinach that Popeye needed. He authored another cliffhanger run of five racks, needing every bit of his withering firepower to bail himself out at least six times, and won three innings later, 200-148.

The final match between Feijen and Bustamante was a matter of one player doing all the shooting and the other just all shot. Bustamante sent the cue ball into the drink on the game's opening break; by the time he got back to the table, Feijen had done the same for 43 object balls. Feijen tacked on another 72, and it was essentially over. Bustamante's long run for the game was 4; his body language in the chair had several spectators wondering if he was actually breathing. The high point of the game was Bustamante's "No, no, no, don't say nothing!" appeal when the referee attempted to announce the score of 191-5. But he's 44 (some say older); he had spent the better part of six days on his feet, with the added mental burden of learning a new game and a whole new sense of ball speed, and he had just played another grueling 200-point match (with Ouschan) barely an hour earlier. After flubbing a gimme, Bustamante conceded the match, 200-11.

With the victory, Feijen won his first world title, which also was the first world pool title for the Netherlands.

"Seven years ago," Feijen told the crowd in a brief victory speech, in which he was only partly successful in concealing his emotion, "I had a chance to make the final round, but I lost to Ralf Souquet. That's how long I've waited for another straight-pool tournament. I want to dedicate this win to my friend, [tournament promoter] Joe Kerr, who passed away five weeks ago. He was my first contact here in the USA, and without him I probably wouldn't be a pro today." And what a pro he's become. In an event where he need not go undefeated in two of its stages, he did anyway.


Previous Page Page 4 Next Page >

Top
MORE VIDEO...