Current Issue

Previous Page Page 4



Her Majesty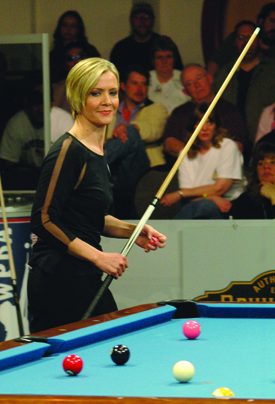 Fisher has won an incredible 11 Player of the Year awards since her arrival in 1995.
Ah, the "Jean Comparison." No reflective look at Fisher's amazing career is complete without a comparison to pool's other monarch, Queen Jean. Balukas, who packed up her cue for good with an unfinished run of 16 consecutive tournament titles, has long been thought of as pool's greatest woman player. And with good reason. Balukas was virtually unbeatable for more than a decade when she opted to play. Having won her first BCA U.S. Open title at the tender age of 12, Balukas already held seven U.S. Open titles, six World Open crowns and countless other 14.1 and 9-ball titles by the time she was inducted into the BCA Hall of Fame at the age of 26! But Balukas would routinely pack away her cue for long periods, sometimes more than a year. The reasons ranged from squabbles with promoters, to a desire to spend more time at the beach, to the $200 fine issued by the WPBA that eventually led to Balukas' permanent retirement from the sport in 1988.

No one can say for sure which player would have won more had they competed on the Classic Tour together. What is certain is that Fisher endured a far more rigorous road competing on the Classic Tour - larger fields, deeper talent, more frequent events. Add to the equation the development of foreign players and overseas tournaments, and the level of excellence that Fisher has maintained over the years is all the more impressive.

"That constant desire to improve and win is what's amazing," says Laurance. "We all had our time me, Loree Jon, Robin, Vivian. But to keep wanting more and more for 14 years is unusual. The desire is what she has more than anyone else.

"You have to admire that," Laurance adds. "She doesn't have a powerful stroke. She doesn't have a great break. But her mechanics are flawless, and she's the most consistent, dedicated and focused player I've ever seen."

Focus, in fact, is what allows Fisher to not get overwhelmed by the moment and to never dwell on the past.

"Success is about being in the present," Fisher maintains. "You're only as good as your last game. I think staying in the present is important to do well in anything, and not to dwell on what you've done before."

Still, when forced to look back, even Fisher has to shake her head in disbelief.

"When you consider the luck factor in 9-ball and the importance of the break," she admits, "I am amazed by my success. Even more so when you consider how many events we've had.

"How'd I do that?"

It's a question for the ages, that's for sure. And her career is far from over.

"I still have some years left in me," she says, mockingly. "But I can reflect a little more now.

"I'm still improving," she insists. "In fact, I think my break is actually starting to get better. But there's so much depth talent-wise on the tour. It's really different, but it's good. It's a progression."

And when Fisher does, indeed, call it a career, she promises never to be far from the game.

"I see myself always being involved in the sport," she says. "Nothing specific. It could be teaching, or books and DVDs. I'm sure there's something out there."

What is certain to endure beyond Fisher's competitive years is the impact she's had on women's pool.

"More than anything," Laurance points out, "Allison has given a generation of players something to shoot for, something to aspire to. She's the leader that every sport has like Tiger Woods is to golf. Beating Allison means something to any player."

Even Fisher modestly recognizes the legacy of her amazing career.

"I feel like I've been a good ambassador for the sport," she says. "And I'm delighted that all these other foreign countries are represented in the WPBA and are seen on television in their own countries. It encourages more players to get involved.

"If I've helped that happen, I'm delighted."

Previous Page Page 4


Top
MORE VIDEO...