Current Issue
Next Page >
Her Majesty
Already cue royalty in snooker, Allison Fisher turned to the U.S. and pool, and now stands as the greatest woman player ever.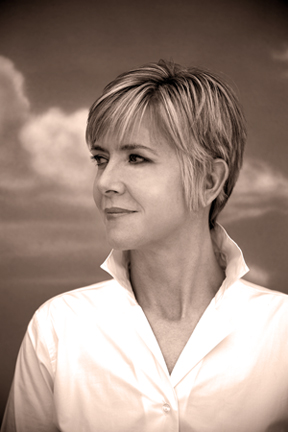 Fisher will enter the BCA Hall of Fame with 53 career wins on the WPBA Classic Tour. (Photo by Lara Rossignol)
AS THE wheels of the British Airways jumbo jet lifted off the runway at London's Heathrow Airport, Allison Fisher wrapped her fingers around the armrest of her seat and wondered, "What am I doing?" The plane was bound for Toronto. Her ticket was one way.

At 27, Fisher was already the holder of 11 world snooker titles and was the sport's most recognizable female player. Financially, however, women's professional snooker was lagging woefully behind the game's handsomely compensated men pros. After more than a decade circling snooker's massive 6-by-12 playfields, Fisher had decided to abandon the British game for its slam-bang American counterpart - 9-ball.

Little did she know at the time, but Fisher was embarking on a journey that would not only significantly alter her life, but would eventually earn her a spot in the Billiard Congress of America Hall of Fame and the mythical title of the greatest woman pool player of all time.

"It all happened quite suddenly," Fisher, now 41, says, sounding somewhat astonished by her own fortitude in making the decision. "I was willing to make that kind of change in my life.

"I didn't even think twice. I had one suitcase and a cue. Sometimes I wonder what made me think of this."

Not that Fisher's 1995 trip to Toronto, where she had friends and decided to call home base while working her way onto the Women's Professional Billiard Association Classic Tour, was without at least some semblance of preparation and forethought. Three years earlier, Fisher had stuck her toe into the American pool waters during a snooker/pool exhibition in Switzerland. Fisher, along with men's snooker star Ronnie O'Sullivan, performed a series of exhibition matches against pool pros Mike Massey and Ewa Laurance. Fisher's incredible cue skills and shot-making abilities were evident as she bested Laurance in both snooker and straight pool, and lost in 9-ball, 2-1. She also bested Germany's Franziska Stark, the 1992 WPA World 9-Ball Champion, 2-1.

Massey, the burly former pro, pulled Fisher aside on more than one occasion to encourage her to give the Classic Tour a whirl. The money is decent, he told her, and the tour is very organized.

In fact, Massey told Fisher at the time, the next big pro event was in nearby Munich, Germany, just two months later.

Intrigued, Fisher returned to her home in the small Sussex town of Peacehaven and tossed the idea around in her head. Eventually, she convinced her main snooker rival, 22-year-old Stacey Hillyard, to join her in Munich for a shot at American 9-ball.

Just days before the 1992 Munich Masters, Fisher and Hillyard set out for Breaks Snooker Club in south London with a few borrowed Huebler cues. Within Breaks was an area called Cue Club, which housed eight Brunswick pool tables.

"We'd gotten a set of rules, which actually said you needed to call a pocket on every shot," Fisher laughs. "They weren't even the right rules! But we practiced for a few days. Our breaks were really terrible."