Current Issue

Previous Page Page 2 Next Page >



One of a Kind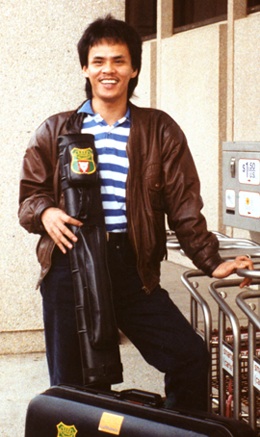 Bustamante hit the road in the early '90s, moving to Germany and making a number of trips to the U.S. and the Philippines.
The youngest of eight children, Bustamante nonetheless recalls a simple and happy childhood in a small village in the town of Tarlac, four hours north of Manila. It was in the streets where Bustamante received his now-famous moniker, "Django." His tough-guy attitude and noir look, along with the lit cigarette always dangling from his mouth, reminded neighbors of the gunslinger character made famous by Italian actor Franco Nero.

"Cowboy movies were very popular then," Bustamante said. "People looked at me when I would play [with] no shoes, and I smoked. I hated losing, so I would challenge friends to fistfights. People said I was like Django, and the name stuck."

His father eked out a meager living building makeshift toilets out of cement and planting rice. Bustamante seemed destined to follow in his father's footsteps, finding himself in the rice fields, bent over under the scorching tropical sun, knee deep in mud, planting seedlings for small pocket change.

His first brush with the game that would quickly become his life's calling came when he was 12 years old. His sister owned a small canteen in a busy area of town next to a large open-air poolhall, where jeepney drivers waiting for fares and various hustlers would play money games for hours on end. Fascinated by the colorful balls, the intense action, the poolroom banter, but especially the money changing hands, Bustamante visited the poolhall daily. He would rack balls or act as the referee for the money matches, for which he'd make small tips.

"When I was a spotter," Bustamante said, "I figured I could make some money from playing. So I played every day. There was a lot of action at the poolroom and I'm thinking, 'Oh, pool is easy money.'"

The choice between fast cash and staid books was easy for the youngster, and he quit school after the seventh grade.

"I didn't like going to school," Bustamante said. "It wasn't my style. Once I knew I could make money playing pool, that's all I wanted to do. I just wanted to get better and stronger."

Late at night, when the crowds disappeared and his spotting duties were finished, Bustamante would grab a house cue and practice alone. He was soon playing and winning small-time money matches. At 15 years old, he entered and won a local tournament in Tarlac. At 16, he was beating known players in nearby towns. By his early 20s, he was unbeatable in his area, so a friend took him to Manila, where this unknown kid from the north made even more money for himself and his backer.

"If you wanted to improve your game," Bustamante said, "you had to come to Manila because all the good players were there."

Eventually Bustamante became immersed in the big city's top-level money-game scene, which was unrivaled in the mid-1980s. With tournament opportunities non-existent at the time in the Philippines, greats like Reyes, Jose Parica and a slew of other massive pool talents battled it out deep into every night in sets of 15-ball rotation for sums big and small. Nobody had jobs except to play pool. If you didn't win, you didn't eat that day. It was a brutally tough environment that helped forge the Filipino players' amazing talent and made them so tough to beat.

"I like action," Bustamante said. "Gambling in pool makes you strong. It builds your heart, your nerves, and you get the experience. ... There are a lot of good players in the Philippines. And everybody's hungry."

Making it beyond the Manila poolroom, however, was still an impossible dream for most. Reyes, who had met Bustamante a few times but would only become close to him in the early 1990s, said one of Bustamante's secrets then was that he paid attention to the greats around him.

"He saw a lot of the good players in Manila," Reyes said. "People nobody ever heard of. He watched them and copied them, how they pocketed balls, how they moved the cue ball."

Previous Page Page 2 Next Page >

Top