Thorsten Hohmann was four balls from becoming a banker. Then his whole world changed.
By Keith Paradise
Ralf Souquet had seen enough.
He and a few fellow competitors had been watching countryman Thorsten Hohmann battle Filipino Francisco Bustamente in the quarterfinals of the 2003 World 9-Ball Championship in Cardiff, Wales. Bustamante led the match, 10-6, in a race-to-11 and was in control at the table, with only a few balls left to pocket for the victory. With the lunch intermission after the morning sessions beginning soon, Souquet decided to venture out to grab a bite to eat and place a couple of wagers on the evening matches – maybe even place a bet on Bustamante, since this match was clearly over.
When he arrived at the betting parlor a couple of hours later, Bustamante was nowhere to be found on the board.
"After about an hour so later we found Bustamante didn't win and that Thorsten advanced," said Souquet. "None of us really saw what happened."
What happened was that Bustamante rattled the 5 ball in the corner pocket's jaws, allowing the young German back to the table where he won the next five games to win the match, 11-10, and advance to the semifinals.
"It always happens, doesn't it," asked Hohmann. "Where you think you're dead and something happens and you think, 'Maybe it's meant to be.'"
The memory is not only a metaphor for this particular tournament but also this particular career, because until that missed ball Hohmann was more-than-likely going to be heading home after the tournament and putting pool on the back burner. A new career as a bank clerk was awaiting the young German, one he had temporarily postponed in order to compete in the world championships. But after his win in Wales, a new course was charted, one that resulted in a second World 9-Ball title, a China Open title, a Billiard Congress of America Open 9-Ball title and a roster of straight pool victories nearly as long as one of his patented high runs.
Hohmann's career will be celebrated when he is inducted into the Billiards Congress of America Hall of Fame in Norfolk, Va.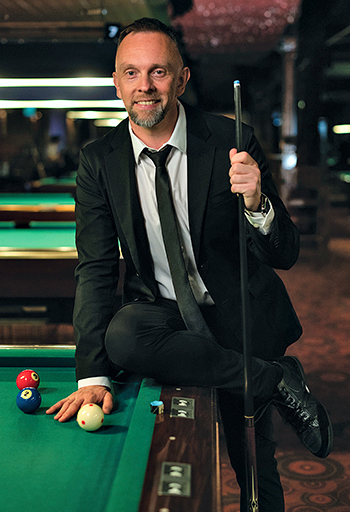 BCA Hall of Fame Class of 2021: Thorsten Hohmann PHOTO BY JONATHAN SMITH
Raised in Fulda, Germany, young Hohmann had been playing soccer for a half-dozen years or so when he tagged along with a couple of classmates to a local billiard club. For an incredibly introverted and shy boy, the solitude within the game suited him well. So well, that when the manager of the club asked when he would be seeing the boys again, Hohmann quickly said, "Tomorrow."
The gentleman behind the counter turned out to be instructor Michael Wahl, who quickly became Hohmann's coach and would ultimately go on to train former U.S. Open champion Joshua Filler a couple of decades later. The club became a second home to the diminutive, young boy, with Hohmann spending hours a day in self-isolation at the club working on his game.
"The environment was very friendly," said Hohmann. "That was my place of safety and comfort."
His game quickly developed, winning his first 128-player event at the age of 14. He divided his free time between Wahl's club and another billiards café in town, eventually joining a billiards team with Ralph Eckert, a fellow countryman who competed on the country's national team at the time and went on to a lengthy professional career of his own.
"I can remember him asking for input," said Eckert. "He would get, like, 10 different opinions and he would mix them around and come up with his own answer. He was like a sponge."
One year, in the German Grand Prix, a teenaged Hohmann defeated Ralf Souquet, 11-0, opening the set after winning the lag by breaking and running six straight racks.
"He had a great break," said Souquet of the young Hohmann. "He had a lot of knowledge, and he was a good pattern player. I remembered thinking that I needed to start working on my lagging because you don't want to give up the first break."
"He was acting like a robot," said Eckert. "There was not much expression in his face. He had a poker face at a very young age."
Hohmann found himself at a crossroads in the summer of 2003. The 24-year-old had spent the previous five years in the German military as a member of the unit's Sports Company. He received a salary and benefits in exchange for showing up at the base once a month, practicing and competing in pocket billiards events, winning a handful of European junior championships while he was enlisted. Unfortunately for the young German, a regime change eliminated his position along with many other occupations within the detail. With American pool only just beginning to gain traction in Europe thanks to competitors like Souquet and fellow German Oliver Ortmann winning world championships, Hohmann was facing the possibility of giving up the game and beginning an apprenticeship to become a bank clerk.
He called the department providing the training for the bank and was able to delay entry for six months in order to compete in the world championship as well as the Japan Open.
A couple of weeks later, Hohmann was on that elevated stage watching Bustamante in what appeared to be a sure run out in the final rack. The tournament room was set up in a way that patrons exiting the main table bleachers had to walk past a set of elevated tables which looked down on the main arena to exit. He remembers one fan shouting out, "Come on, Bustamante!"
"I was just in a zone back then, trying my best and staying focused," said Hohmann.
After being granted new life with his comeback win over Bustamante, Hohmann knocked out reigning champion Earl Strickland, 11-4, and took down Pagulayan, 17-10 in the finals, earning $65,000 and a plethora of invitations to larger purse events. Banking would be put on hold again, with the department simply saying, "Call when you're ready."
"From there on, it was like Thorsten's second life," said Souquet, who himself was elected into the BCA Hall of Fame in 2011. "I don't think he was ready to become a champion yet and neither did he."
At the urging of fellow competitor and promoter Charlie Williams, Hohmann relocated to the United States shortly thereafter, bouncing between Florida and New York when he wasn't traveling. His most lucrative year came in 2006, when he won the International Pool Tour's North American Open, Turning Stone and the World 14.1 tournament, bringing home over $350,000 in the process. Hohmann would tack on another World 9-Ball Championship in 2013, defeating Antonio Gabica in front of a mostly pro-Filipino crowd in Qatar.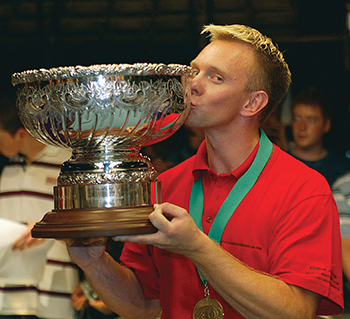 Hohmann's career decision changed the moment he kissed this trophy in Cardiff in 2003.
While Hohmann plays all disciplines of the game well, winning titles in 9-ball, 8-ball and even 7-ball, his mind and creativity has long been on display in straight pool competitions, winning the World Tournament of 14.1 four times and bringing home the 2006 WPA's World Straight Pool Championship. Although he considered 8-ball to be his strongest game growing up, multiple people spoke at length about instances where he ran triple-digit amounts of balls in either competitive or recreational settings. Wolfgang Roebig, Hohmann's best friend since the two met in the billiard club as teenagers, vividly recalls him running close to 200 balls against him in practice only to put his cue down and ask if he wanted to go and get a bite to eat. Jonathan Smith, house professional at New York's Society Billiards, recalled Hohmann running at least 100 balls on every opponent during the round-robin phase of the 2014 World 14.1 Tournament.
"I've never seen anyone put up the numbers that he does," said fellow professional and friend Hunter Lombardo. "This guy is special. These big numbers are something that he does every day."
Hohmann the person is a bit of a paradox. With chiseled facial features framed by facial hair and a muscular upper body rippling through his jersey, his exterior gives off a bit of a menacing vibe. Yet when he talks it's in shy, soft and contemplative tones. And when he does speak, especially to people close to him, the cerebral and introspective Hohmann usually makes the words count. It was he who encouraged Lombardo to travel and compete abroad, believing the stiffer competition would sharpen his game. It was the German who reached out to equipment manufacturer Predator and tipped them off to a then-unknown Filler and his girlfriend, encouraging the company to ink the couple to a sponsorship deal. It was the almost-banker who talked to the Fillers about the importance of saving at least half of their prize earnings for their future.
As tournament fields continue to get younger while he gets older, Hohmann is transitioning more towards teaching and developing innovations. Last year, while the world was living in isolation during the beginning stages of the pandemic, Hohmann released CueLab, an online phone application which offers a template for diagraming specific shots or drills. He has also acquired the rights to the popular 1990s billiards game Target Pool and is in the process of updating and modernizing the game, including a projection screen version of the competition that he has on a table at New York's Amsterdam Billiards, which recently hired Hohmann as a house professional.
"I am enjoying sharing my knowledge and it's a whole different learning experience for me as well," said Hohmann.
Instruction is another vehicle in which to unleash his intellectual side, breaking down a student's intangibles and explaining methods for improvement. Teaching isn't foreign to the Hall of Famer, who first began teaching billiards in the school system when he still lived in Germany.
"He has a really good memory, and he can see balls very carefully," said billiards influencer Rollie Williams, who has collaborated on instructional videos with Hohmann for his social media accounts. "So, he remembers what side you missed on, and he can recall it very easily."
Hohmann broke the bank with the IPT in 2006.
Although he still has the game and desire to compete in big events – Hohmann recently finished 17th at the World Pool Championship – he also realizes the window for competition is closing, with teaching and creating instruction innovations allowing him to remain connected to the sport. All in all, though, it has been a pretty impressive career for a player who was a phone call away from a banking career – which, technically, is still available.
"I wonder what they'd say if I called up today and said, 'Hey, back in 2003...'" said Hohmann.