Current Issue

Previous Page Page 4



On Top of the World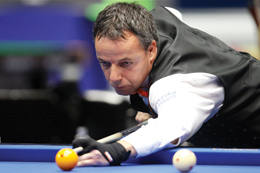 Jaspers (pictured) easily beat Blomdahl in the final after running 20 in his previous match.
The caroms event posed a unique challenge to the 16 players thanks to an unusually unforgiving format. While most tournaments consist of various round-robin draws, the World Games was a single-elimination bracket, with matches set for the first to 40 points.

Regardless, the favorites still managed to advance, with semifinal matches pitting Torbjorn Blomdahl against Marco Zanetti and Dick Jaspers against Daniel Sanchez.

Blomdahl earned the first spot in the final with a thrilling 40-39 win over Zanetti. Jaspers, meanwhile, pulled off the incredible in his match with Sanchez, which was a rematch of the 2005 gold-medal match won by the Spaniard. Looking for revenge, Jaspers fell behind, 26-16. It was then he uncorked an amazing run of 20 to assume control of the match. Four points later and Jaspers was in the final with a 40-26 win.

In an otherwise anticlimactic final, Jaspers added a gold to go with his 2005 silver by soundly beating Blomdahl, 40-18.

In the bronze medal match, Zanetti avoided dropping a second straight nail-biter, edging Sanchez for third place, 40-38.

The snooker event came down to a pair of Brits battling for the gold, as Nigel Bond and David Grace met in the final. Grace, who just recently became a full-fledged professional, couldn't keep up with Bond, who closed out the gold, 3-0.

The bronze medal went to Mohammed Shehab of the United Arab Emirates, when he dispatched Iran's Soheil Vahedi, 3-2.

Previous Page Page 4


Top
MORE VIDEO...