With the American pool scene looking for its next big star, Shane Wolford hopes to fulfill his promise as a player who can and will compete with the world's best.
By Nicholas Leider
Photos by Erwin Dionisio
When hearing of an athlete "entering the next phase of his career," it's natural to think of a quarterback moving from the backfield to the announcer's booth. Or maybe a washed-out minor leaguer taking a job as a coach at a high school or college. Or a basketball player accepting a spot on the bench after a lifetime in the starting five. For Shane Wolford, though, his next phase means going from a fledgling professional pool player to one who demands inclusion on the short list of the best in the U.S.
"I feel like I'm close to reaching that level," said the 22-year-old burgeoning pro, while crisscrossing the Midwest with Skyler Woodward, a player who's already in the category of America's best. "The difference between the elite players and [the tier] below is so small. I just need to do the little things to take that next step."
Understanding how to win in pool is a concept that Wolford understands well. At just 11 years old, in 2011, he conquered the 64-player 12-and-under division at the Super Billiards Expo, his first tournament outside the Roanoke, Va., area where he grew up. He then went on to take a total of five juniors titles at that single-elimination event in the next seven years.
Now a full-time professional, Wolford has sights set on larger hardware — namely a spot on Team USA in the Mosconi Cup, but also the type of titles that would guarantee him a spot on a five-man squad that functions as a snapshot of the national roster of talent for any given year.
(Photo by Erwin Dionisio)
"At the next level, it's about grinding and learning how to grind out games and grind out matches, if that makes any sense," said Jeremy Jones, captain of Team USA. "Everyone runs out really well at that level, so it's about winning games when maybe you shouldn't and minimizing mistakes.
"[Shane] is at the start of that transition, but I think he's handling it well so far. I expect him to only get better because he's committed, and he's got a track record of improving his own game."
Growing up in Roanoke, Va., with his sister, Savannah, and mom, Trina, Wolford was always close to pool. His dad, Kory, played in local tournaments — and where dad went, son wanted to follow.
"If I was playing pool, he wanted to be there next to me," Kory Wolford said. "He wanted to be the one shooting the ball. He always wanted to be doing what the adults were doing."
While middle-schoolers are excused and somewhat expected to cycle through interests and hobbies, Shane always kept an eye on pool. Even when he excelled on the football field through high school, primarily as a center and long snapper who drew interest from some small college programs, pool seemed to hold his attention a bit more than other pursuits. In some ways, those around him understood he was a bit out of step with the other kids.
"In some ways, Shane was never really a kid," said Kory. "He was always mature for his age — always focused on his goals and more interested in what he could do."
While his parents ran a local watering hole, Wolford stuck to one of the pool tables in the back. Surrounded by a family full of pool players, he separated himself through a mix of talent and hard work. By the time he knocked off his first title at the Super Billiards Expo in 2011, Wolford was already seen as the best player in his area.
"I first met him as a kid when he kept winning the weekly tournament [to the point] everyone gave up," said Ron Frank, a 55-year-old veteran of the pool scene who'd become his running partner and mentor of sorts. "People stopped showing up because they were just donating to the Shane fund."
Dominating the Super Billiards Expo like he did, Wolford attracted interest from the national billiards community. He participated in the Atlantic Cup, a juniors-level competition modeled after the Mosconi Cup, where he was able to work with some of the best coaches in the U.S.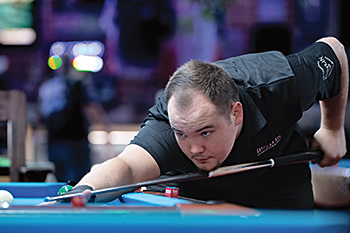 Playing in the major international events has Wolford eyeing a coveted spot on Team USA.
"It was fun to be a part of that process," he said. "We didn't do too well [in competition] against the Europeans, but it was exciting to be a part of a team."
All the while, Wolford kept working at his game. He focused on doing the work that most players would avoid —instead of throwing balls out on the table, Wolford held himself to a strict practice regimen where he worked at the table for six hours a day, at the minimum. As a teenager with school and football to distract him, he continued to improve —so much so that he was left flustered by losing the spot he had had with his sparring partner Ron Frank.
"I can remember the night he came home upset that [Ron] wouldn't give him the 8," Kory Wolford said. "Shane had won a few hundred bucks, but he said he wouldn't ever play Ron again. He didn't understand how that showed he was getting better. He was getting to that next level."
While college football wasn't in the cards — too much time away from the table, after all — Wolford headed to Bridgewater College, a small liberal arts college in Bridgewater, Va. But the responsibilities of higher education didn't mesh with a pool player hoping to hit as many major pool events as possible. Once COVID-19 changed everything and pushed all his classes online, Wolford moved back home where he could spend as much time as possible at the table.
"With COVID and everything, I was home anyway so I decided that school really wasn't school," he said. "I wanted to go ahead and pursue pool with everything I had."
By this time, his parents had opened the Wolf's Den in Roanoke, a poolroom that allowed Shane to practice as much as he wanted on professional-level equipment. Left to one's own devices, many 20-somethings might aim to only tread water. But Wolford stayed disciplined and took his game to another level.
"This area has some really good players, but Shane became one of the best [during COVID-19]," Frank said. "He worked on his game and worked on his fundamentals for at least a year while everything was shut down."
While the pandemic proved troublesome in logistical senses, Wolford knocked off the Maryland bar table championship and a Q City 9-Ball tour event.
With a proven track record as one of the most successful junior players on the East Coast, Wolford relishes in the challenge of becoming the next great American. After the last generation's many talents like Johnny Archer, Earl Strickland, and Rodney Morris, the U.S. has become unsuspectedly tight with up-and-coming world-beaters. Shane Van Boening has proven himself to be a generational talent and Skyler Woodward has established himself as a capable world-class player, but they are exceptions in a national landscape that's largely barren.
"The difference between world champions and the rest is so small," Wolford said. "I know I need to play perfect all the time but that's not possible. I need to play as best as I can and I think that will be enough." With a limited pipeline of fresh talent, it's easy to discount a player who raises eyebrows. But after a race-to-20 against Van Boening, where he took 15 racks when many expected fewer, Wolford proved his mettle enough for his opponent to mention to his sponsor that Wolford might just be the next great American player.
"That was when I kind of realized that I might be at a different level," he said. "I obviously go into [every match] thinking I'm going to win, but playing at that level, where I'm close to Shane Van Boening, that was different." To that end, getting to know the best the U.S. pool scene has to offer, Wolford is always curious to learn from the folks who came before him.
Wolford, shown in 2017, cut his teeth internationally on Junior Team USA. (Photo by JP Parmentier)
"Right now, I'm on the road with Skyler," he said. "I went to [the U.K.] with Shane when he won the world championship. … It's great to learn things while hanging around guys like that."
For any young American pool player, the Mosconi Cup seems like the ultimate goal. Team USA is the immediate representation of the best players of that year. While Wolford aims to represent his country in the transatlantic competition, that goal is more of a destination than anything.
"I really want to win a major," he said. "My focus is on winning the U.S. Open or a world championship. If I can do that, I'll have to be a part of the Mosconi Cup."
To get to that point, though, Wolford will have to traverse the small but significant gap that separates regional players from the world class. Putting in six or eight or 10 hours a day at the table over the last year, he is certainly not unfamiliar with hard work. Whether that's enough is a question that'll be answered in the years to come.
"Some guys have it come naturally — like Earl Strickland and Efren [Reyes], you know they are talented," Kory Wolford said. "But Shane isn't an absolute natural like that. He has to earn what he gets and that's fine. He'll hit balls for as long as it takes."
While only 22 years old, Wolford isn't exempt from the real-world pressures that his contemporaries are facing. Whether working a desk job for $15 an hour or traveling across America's heartland to chase the next big score with a cue case in the backseat, economic concerns are real for everyone. But Wolford has an admitted advantage on his contemporaries.
"My family is my support system," he said. "I wouldn't be able to do what I'm doing now without the support and understanding of my parents."
To that end, a 22-year-old hitting the road searching for fortune and fame is a tricky prospect. But a family who understands the situation is a bonus.
"It's a huge thing for a young player to come from a place where his family supports him," Jones said. "Having a smart family, a calm family in your corner is a huge advantage. Shane is a good kid and it just makes sense when you look where he came from."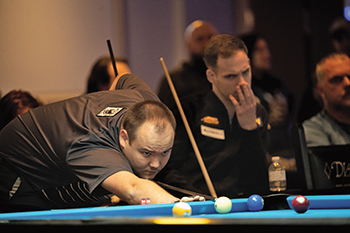 Wolford (facing Josh Filler) used the COVID-19 shutdown to hone his game.
With parents who are supportive and understanding of what it takes to become a great pool player, Wolford also relies on his mom to help handle all the logistical concerns involved in covering entry fees, booking flights, and handling expenses.
"Having a mom who manages the day-to-day," Kory said, "that's something that lets Shane focus on playing. He can keep his attention on pool knowing that he has help with the other stuff."
With a support structure in place, Wolford is looking to take that next step in his career while keeping things simple.
"I know what I'm capable of," he said.
"It's just about making it happen."