Untold Stories

Previous Page Page 4 Next Page

Untold Stories: Mosconi Made World Debut by Weird Fluke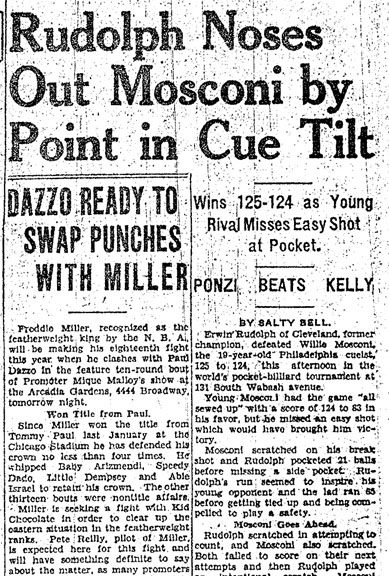 The Chicago Daily News caught Rudolph's comeback.
Bensinger's Adams-Wabash Recreation, the site of the 1933 event, was located at 131 South Wabash Ave. Willie said it was a classy place. He remembered velvet curtains, burnished brown wood, immaculate tables, and original oil paintings. A wrought-iron cage brought players from the first floor to the second. And there, in the tournament room, a murderer's row: defending world champion Greenleaf, plus Ponzi, Frank Taberski and Pasquale Natalie. In 1933, Mosconi was the youngest in the field.

The Chicago Daily Tribune put the total prize fund at $6,500, including $1,000 and a diamond medal for the champion. The competition would begin Dec. 4, go 18 playing days, and typically feature two games each afternoon (at 1:30 p.m.), and one each night (at 7 p.m.). Joseph M. Ferguson, a New Yorker, served as referee. The games went to 125; the format was single round-robin; and the table size was a then-tournament standard 5-by-10.

"The world's tournament, the first of its type to be held in Chicago in five years, is one of those events that goes on for days and days, for its schedule of 45 games, and will not be concluded until Dec. 21," reported the Tribune's Charles Bartlett. He noted the main attraction would be Greenleaf, a man who had run out a championship game in two innings, had gone through 21 world tournament games without a single loss, and who had run 126 balls in a 125-point match. Greenleaf, Bartlett reported, had "won the world's title so many times it has ceased to be amusing."

As it turned out, however, defending champion Greenleaf suffered that year the most disastrous showing of his career. He was a well-known drunk and apparently had gotten into the sauce in 1933 with a vigor bordering on the maniacal. Greenleaf was in the midst of an attempted divorce (his wife Emelia Ruth Parker actually served him with papers in the tournament room), and then, to make matters worse, Prohibition was ending. Literally, precisely then, coming to an end. For weeks, shiploads of foreign liquor had steamed across the Atlantic: Germany's Bremen; England's Majestic and Scynthia; Italy's Rex. They carried in their holds millions of gallons of scotch whisky, port, sherry, cognac, French champagne and cordials. The zero hour came at the stroke of midnight on Dec. 4 - a Monday - one day into that year's world title event. By noon on its second day, Greenleaf had an entire nation with whom to share a drink.

It's a testament to Ralph Greenleaf's towering skill that he could remain standing, much less compete.

Yes, he lost seven matches during the 1933 championship, but, playing against the world's best, he also won two.

"Ralph had a serious drinking problem, and it cut short his career and probably his life," Mosconi wrote in his memoirs. "I'm not giving away any secrets here. Greenleaf never made an attempt to hide it; and everyone knew about it - the promoters, the proprietors of the rooms, the other players, even the public. He carried a flask with him wherever he went, and he often showed up drunk for his matches. The amazing thing was he could play better drunk than most players could sober. I don't know how he did it."

Previous Page Page 4 Next Page

Top
MORE VIDEO...