Current Issue




Patience Pays Off




A unique system, a fearless teammate and a monster prize fund all paid off at the first United Billiard Leagues Championships in Chattanooga.

Story By Mike Panozzo
Photos By Tyler Smalley

On the same night that the wildly popular fantasy series "Game of Thrones" came to its dramatic conclusion after eight seasons with a woman named "Dany" ascending (albeit briefly) to the throne, another Dani was putting the finishing touches on a script every bit as fantastic as the hit HBO series.

Danielle "Dani" Martin, a 51-year-old real estate agent from Cortland, Ohio, was closing in on the final 8 ball in the fledgling United Billiard League's inaugural national championship. At stake was merely $100,000, the eye-popping top prize (largest ever doled out in amateur pool) awarded to the top team.

Martin's Kracker Jacks #5 (Warren, Ohio) squad and Tammy and the Boys (Chesnee, S.C.) were deadlocked at 2-2 in the race-to-five finale. Martin, whose playing level allows her three ball-in-hand opportunities per game, was facing Tammy's top player, Mike Burke, whose run-out capabilities don't allow him any ball in hands during a match. Cue ball in hand is the UBL's secret weapon.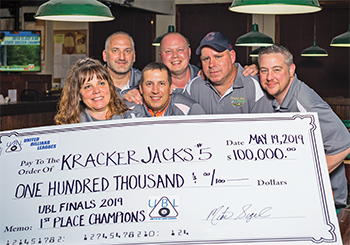 Teammates (l-r) Martin, Terry, Mariani, Beard, White and Persino made the biggest haul.



The UBL is the brainchild of Billiard Congress of America Hall of Famer Mike Sigel, widely regarded as one of the winningest champions in the history of the sport. In 2012, Sigel hatched an idea for an amateur league based on a handicap that offered lesser players ball-in-hand opportunities during a game. The idea came with a caveat: The prize payoff had to be monumentally large by pool standards. He pitched his idea to potential investors and thought he had secured the seed money in 2013, but the league failed to launch when the investor pulled out at the 11th hour. Sigel never gave up hope, however, and in 2018 he ran the league concept past longtime friend and fellow world champion Peter Margo.

"I thought the concept was ingenious," said Margo, who introduced Sigel to Joe Pallonetti and Anthony Serafino, former partners in a New Jersey commercial construction company who eventually agreed to fund the organization. "The principle is pretty simple. With the ball-in-hand rule, we think we can draw a lot of new players that were intimidated by traditional leagues. People who play even a little will say, 'Gee, with four ball in hands I think I can get out.'"

If the UBL concept is, indeed, ingenious, Martin should be the group's poster child. Time and again during the UBL Championships at Phil Windham's Chattanooga Billiard Club in Chattanooga, Tenn., the patient, unflappable Martin faced off against run-out caliber players with her squad on the brink of elimination. And time after time Martin outmaneuvered her more skilled opponents with lock-down safeties and shrewd ball-in-hand usage.

"When you can't run out, you have to know how to hide," said Martin, who is accustomed to playing better players in her American Poolplayers Association league, in which she competes as a 3 handicap. "You have to know how to work a ball and hide. You can't afford to miss because the good players are out in a flash."

Undeterred after the 41-year-old Burke blazed through the opening rack in the deciding match to give his Tammy's squad a 1-0 lead, Martin battled back, winning a chess match of a game to knot the contest. Pocketing a ball or two at a time then ducking, Martin continued her clever play through the next two racks to push her team to within a single game of victory, leading 3-1. In slowing the pace and making every rack a struggle, Martin had also slowed Burke's high-powered game to a crawl.

After Martin broke dry in the next game, Burke raced to the table as if on a time clock. Quickly he shot his way through the rack but ran long on position for the final stripe, a cardinal sin in 8-ball. Burke opted for a defensive foul by pushing several of Martin's balls into a cluster. A series of Martin safes and Burke fouls followed. Burke managed to bank his final stripe but was left with only a half pocket for the game-winning 8, which he missed. With just four solids remaining and two ball in hands to work with, Martin surveyed the table.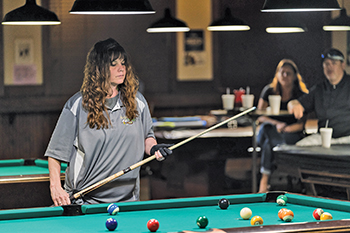 Patient and unflappable, Martin proved to be the perfect poster child for the UBL system.



"I kept telling myself, 'I've got this. Just focus, aim straight and don't miscue," recalled Martin later.

With her first ball in hand, Martin was able to pocket three of the four balls, leaving only the 3 ball and the 8 ball remaining along the same end rail. Using her final ball in hand, Martin carefully pocketed the 3, with the 8 just inches from the opposite corner pocket.

As she lined up the shot that would secure $100,000 for her team (Tammy's would receive $40,000 for second), Martin looked up at a collection of multi-colored balloons that were secured in netting above the table, waiting to be dispersed at the conclusion of play.

"I looked at the balloons," she said, "and I rattled off everyone's name on our team. I wanted to drop the balloons for them. Everyone had played so hard and we were all so tired.

"The money wasn't really a factor while I was playing," she contended. "It's about the competition. But by the end, I have to admit I started thinking, 'Oh my god! This could be big!'"

It was. The final 8 dropped, followed closely by the balloons, and Martin's teammates Scott White, Mark Beard, Mark Mariani, Brian Terry and Jamie Persino rushed to greet her.

"She's a rock," gushed team captain White, who doubles as Martin's boyfriend. "She never gets nervous. She plays in leagues with a bunch of monsters, where it's tough to win. This league has helped her become a better player. She's learning when to switch from safe, safe, safe to go, go, go!

"We've been together for 15 years and we are getting married," White added. "Maybe sooner now!"

Among the first to greet the winning team were Sigel and Margo.

"Are you happy to have won $100,000?" Margo asked with a laugh.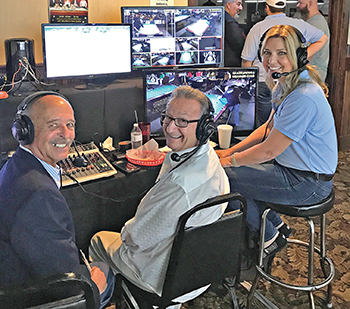 UBL promoters (l-r) Sigel, Margo and Loree Jon Hasson had plenty to say.



"I had to step back to realize what this meant," admitted Sigel. "I've worked on this for 10 years. I felt like I had a great secret, but no one would listen. Finally, I found people that saw what I saw. When the tournament ended, I almost cried."

Sigel and Margo's elation seemed warranted. The pair, along with Pallonetti and Serafino, had delivered a unique product to amateur pool players. More importantly, they made good on their promise to pay out $245,000 to the 16 teams that had advanced through regional playoffs to earn a spot in Chattanooga, a significant payout considering the league launched with a modest 125 teams and just 25 locations.

"This proves our legitimacy," said Pallonetti. "The system works. Truly, anyone can win. And we paid out the money, which is what everyone was worried about. Between the system and the prize money, there is no reason not to play."

For the UBL founders, money is a key, but parity is what makes the money worth chasing.

"This could not have turned out any better," said Sigel. "There were teams with five killers on it and teams with five ball-in-hand players, and there was never a favorite. All of the matches were hill-hill."

To Sigel's point, it was noted that several teams carried four zero ball-in-hand players, including semifinalist Kale's Team from Lafayette, La., and a pair of squads from Fusco's "The Spot" in Philadelphia. None advanced to the final.

"We had stacked teams in many of the leagues," said Margo, of the teams that made up the league's first "season," a 16-week session that led to playoffs to determine the 16 teams that would compete in Chattanooga. "Some of them didn't even make it through the playoffs after dominating their sessions."

As a further deterrent to the threat of stacked teams, to determine national finalists the UBL implemented a playoff round for session leaders during which five players from each team played three games each against "the ghost." Each player broke and ran as many balls as possible in three racks, using their ball in hand handicap. Players earned a point for each ball in their determined suit pocketed, and three bonus points for the 8 ball. A perfect score would be 10 points per game and a 30-point total score over three games. The kicker, of course, is that zero handicap players were really challenged to score well.

"If you break and make a stripe but have no shot, you're sunk," Sigel said, noting the UBL rule that requires players to accept the suit of any ball pocketed on the break. "Suddenly, stacked teams didn't do so well and teams that had players with several ball-in-hands posted good scores."

The result was that numerous teams that rolled through the session crashed in the playoffs.

One team that literally found a second life in the playoffs was runners-up Tammy and the Boys. The team, led by Tammy Morrison, who owns league location Break and Run Billiards, didn't even earn a spot in the playoffs. To add another element of surprise, the UBL randomly pulled the names of two teams that did not qualify for the playoffs and awarded them wild card slots. One of those teams was Tammy and the Boys, which went on to score well enough in the playoffs to earn a final-16 spot and parlayed that opportunity into a $40,000 payday.

"How about that?" said the 42-year-old Morrison. "A wild card team makes the final. We came here not expecting anything. It's been a great experience."

While future UBL seasons will consist of three 16-week sessions, the UBL chose to hold its first championship after just one session.

"We ran one 16-week session instead of an entire year because we wanted to overcome the stigma of people doubting the prize money," said Margo. "We wanted to get the money out there as quickly as possible to show that this is real."

The money was very real to the teams that invaded Chattanooga, each daring to dream about hoisting the oversized $100,000 winner's check. Several locations sent multiple teams to the finals - Kracker Jacks, Fusco's The Spot and Bubba's Sports Bar. In fact, Bubba's owner, Harry "Bubba" Bourque, a zero handicap, was a member of both of his location's teams and predicted a clean sweep.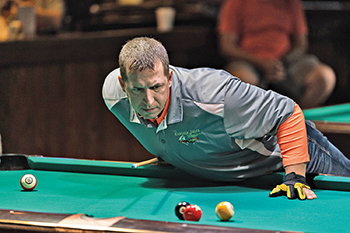 With $100,000 at stake, players like Kracker Jacks' Mariani took their time making critical decisions during the 16-team playoffs in Chattanooga.



"I own Bubba's Sport Bar and I'm on the first and second place teams and the 2019 UBL National Champion!" he wrote on a personal information form that each player submitted.

The burly, bearded 44-year-old Bayou billiardist, a former law enforcement officer, indeed, came tantalizingly close to breaking the UBL bank in Chattanooga. Both of his teams reached the semifinals, creating the possibility of Bourque claiming a share of $140,000. Additionally, locations received a bonus based on their team's finish, earning Bourque an even larger payoff.

Instead, however, Bourque's teams "settled" for $35,000 for third- and fourth-place finishes.

Bourque's "Kale's Team," which featured four zero handicap players, was initally defeated by Tammy and the Boys in the fourth round, 3-2, and was eliminated by Kracker Jacks #5, 3-2.

Kracker Jacks also eliminated Bourque's "Bubba's Shot in the Dark" squad in the semifinals, 3-2.

Tammy and the Boys earned its spot in the final with an unbeaten run through the winner's bracket, topping New Jersey's "Rat Pack," 3-2, Robert Gonnalley, 3-2, Kracker Jacks, 3-1, and Kale's Team.

While both Philadelphia entrants from Fusco's The Spot fell short of the title, "Cowboy Joe" Blyler, manager at Fusco's and a member of one of the fifth-place teams, said the system proved itself in several ways.

"I'm a strong player," Blyler admitted. "I knew from the start that this league is against me. But that's what amateur leagues are supposed to do. There are a lot more people that don't play that well than there are people like me. These leagues have to cater to those people if we want the sport to grow. I get that.

"I think the strongest argument for this league is that it is so good at teaching pool," Blyler continued. "With ball in hand, people who don't play well can learn to play better. This is the best example I've seen of a system that promotes learning to be a better player.

"Also, 8-ball is a tough game to start with, and ball in hand introduces different strategy to the game. It's fun. And allowing coaching is important because it's a way to teach the weaker players. Even if they miss the shot, they've learned how to read the table."

"At the start we heard a lot of, 'That's not pool, " offered league representative Scott Hammitt, who brought the UBL to Kracker Jacks. "But everyone quickly learns that the playing field is level and that has spurred more interest. It's fair. Every match goes to the hill. Lesser players are beating top players because of ball in hand."

All of which played out in the championship match, where Kracker Jacks #5 even chose to sit one of its zero handicap players, Brian Terry, in favor of players that had ball-in-hand options. Tammy and the Boys sat its namesake owner, who gets five ball in hands per game.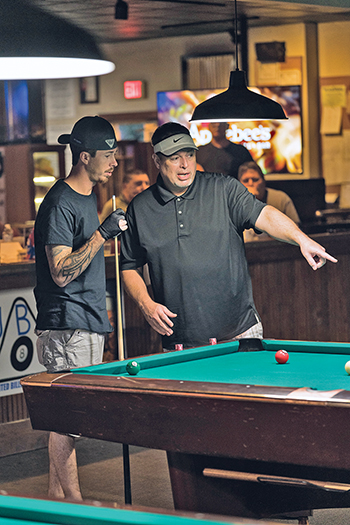 Coaching plays a big role in UBL play, with Tammy's Carter Trammell (right) instructing Josh Penfield during the finals.



A random draw matched up the combatants and 71-year-old disabled veteran Fred Scruggs dealt White his first loss of the finals, 4-1, to give the South Carolina crew an early lead. Beard responded with a 4-2 win over Carter Trammell to tie the match, and Kracker Jack's Persino rebounded from a 3-1 deficit to topple Kevin Lawter, putting the Ohioans on the hill.

With Mariani playing Tammy's Josh Penfield in what could have been the final match, Martin prepared herself, just in case, by finding quiet and solitude in her Impala in the club parking lot.

"I relaxed and watched Mark's match on my phone," Martin divulged. "When the match was coming to an end, I got myself going and went for a nice brisk walk to get the blood flowing. When I came into the club, I was ready to go."

Accustomed to listening to music while playing at home, Martin put in her earbuds to block out noise. She screwed together her McDermott cue and calmly put her fairytale stamp on the inaugural UBL Championships.

Pool may never be the same.