Joshua Filler makes it two in a row with mesmerizing run to inaugural UK Open title.
By Phil Yates
Photos by Taka Wu/Matchroom Pool
From the moment he lifted the World Masters trophy in Gibraltar two weeks earlier, London was calling. Driven by an unquenchable thirst for success, Joshua Filler was thinking of winning the inaugural UK Open. He did, fixing his addiction to glory. For now.
Many crave silverware, few possess the necessary blend of skill and nerve to mold their dreams into actuality. The Killer lacks nothing and scarily for those in his way, the German's myriad of attributes is enhanced by unswerving desire, rocket fuel to reach the pinnacle and remain there.
Filler's latest claim to greatness saw the 24-year-old parlay a slice of golden fortune into his ultimately spellbinding 13-7 victory over Spain's Francisco Sanchez Ruiz, the Ferrari overtaken by a beast of a vehicle hurtling at light speed towards the $30,000 first prize.
Yet, the essence of Filler, and his unshakeable self-belief, was best illustrated the night before in the gripping climax of his quarterfinal against Aleksa Pecelj, a steadily improving Serbian having the week of his life.
To that point, the route through the massive 256-player field had been a relative breeze for Filler, who opened with a 9-0 whitewash of Robert Hart, elder brother of actor and comedian Kevin Hart. Like a scene in Jumanji, Filler was on the rampage.
He stormed ahead against Pecelj, but a couple of untimely scratches radically altered the complexion of the contest and when the underdog sank the 1 at hill-hill, Filler faced his worst fear — defeat.
"I hate losing and the way it makes you feel. You'll do anything to not have that feeling and it motivates you," explained Filler.
When Pecelj missed the 2, Filler went to work. The layout was complex but he coped, arriving at the final two balls needed to avoid the desolation, the self-recrimination, the second guessing, that comes with elimination.
Faced with a lengthy pot on the 7 down the side rail, many would have rendered the task more difficult by employing power for short range shape on the 9. Clear headed and self-assured, Filler floated it in, left a pressure packed 9 from distance and, unhesitatingly, found the heart of the pocket.
An 11-10 winner in the most dramatic circumstances, Filler shouted out in relief. To those with title aspirations of their own, it was akin to the blood curdling scream of a monster intent on wreaking mayhem.
Next morning, Filler brushed aside another Spaniard, David Alcaide, 11-4, in the semifinals, at which stage a sumptuous title match clash of titans against Shane Van Boening was expected. Francisco Sanchez-Ruiz, poster boy for perseverance, had other ideas.
Pitch the Spaniard's story to Hollywood and it would surely have been rejected on the grounds of being too far-fetched. Having lost his first match, 9-6, to South Africa's Jason Theron, the player known as Fran to his friends, trailed Ashik Nathwani, 6-0, next time out. Immediate 0-2 departure loomed.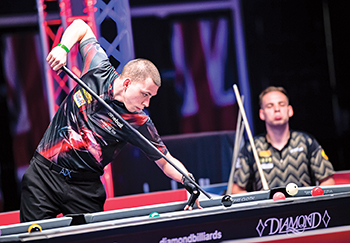 Pecelj had Filler on the ropes in the quarterfinals, but let the upset slip away.
Instead, in his darkest moment, a light flickered on. Sanchez-Ruiz edged through, 9-8, against Nathwani to begin an eight match one-loss side odyssey that saw him beat the likes of Pia Filler, 9-4, Alex Kazakis, 9-3, Ko Ping-Chung, 9-5, and Wojciech Szewcyzk, 9-4.
Once into single elimination, FSR was AOK against Dennis Orcollo, 11-7, and Daniel Maciol, 11-5, before overcoming Van Boening 11-4 in a semifinal that will inevitably be remembered for a controversial refereeing decision in the fifth rack that sparked heated social media debate.
With the 3 hidden close to the long rail, Van Boening played safe, kicking at slow speed, short rail first. The cue-ball contacted the long rail, then almost instantaneously caressed into the 3.
However, Eckhardt, efficient, experienced official that he is, was perfectly positioned, and deemed the white did not return to a rail after contact with the 3. He therefore called foul.
Through being party to numerous, super slow-motion replays, many, including yours truly, maintained Eckhardt was correct. Others were unhappy, Van Boening among them.
He, Eckhardt and Sanchez-Ruiz reviewed the shot on a table-side monitor. Van Boeing remained convinced he had not fouled, Eckhardt was equally sure he had, and the original call stood.
From there, Van Boening was flat as the opportunity of his second major triumph on UK soil in as many months, following his stirring victory in the World 9-Ball Championship, ebbed away.
By contrast, Sanchez-Ruiz was flying and, leading 7-5 in the final, seemed poised to make a stunning transition from zero to hero.
Sanchez-Ruiz knew the formula to block Filler in a final of consequence. He beat a teenage Filler to win the 2016 European 9-Ball Championship and, at this year's Derby City Classic, secured the 9-Ball division, defeating Filler 9-3. However, there was to be no treble.
Filler fought back to 7-7 before the pool gods generously bestowed their favor in the 15th rack. Having jumped to pot a hanging 1, Filler elected to go airborne again on the 2. That effort was misjudged but the 2 flew into the 6, dropped into a side pocket and the whole complexion of the final pivoted.
Poor Sanchez-Ruiz sat powerlessly as Filler dished for 8-7 before unleashing a mesmerizing five consecutive break and run outs to surge across the winning line with the utmost class. During this spell of genius, it was as if pressure did not exist, so many crucial balls were dispatched with total confidence.
"At 7-5, I was wondering how I could win, so I'm super-pumped I was able to turn it around," Filler said. "Winning means everything to me, especially at a tournament like this. I'm the first name on the trophy and that can never change."
Filler climbed to second, behind only Van Boening, in the live Matchroom Nineball Rankings. In addition to the World Masters, he has won the Treviso Open, European 14.1 Championship, the Big Foot Challenge at the Derby City Classic and lost in three other finals during a banner first half of 2022.
Van Boening showed top form through the event, until the semifinals.
Regardless, his message remained familiar. Laurels will not be rested upon. "I'm happy, I'm proud, but I'm never satisfied," he insisted, his eyes burning with intensity. "It will be a very long time before I am. If you don't stay hungry, there are always plenty of others coming along who are.
On the day when Matchroom announced that 67 -year-old Efren Reyes would accompany Carlo Biado in representing the Philippines at the forthcoming World Cup, a schoolboy from Finland young enough to be Efren's great-grandson, was turning heads.
The phenom in question was precocious Riku Romppanen, 14, who had already claimed the notable scalp of Skyler Woodward at a tournament in Las Vegas, where he spent downtime between matches completing pre-assigned homework, set by admirably empathetic teachers.
Romppanen's educational grades are unknown but, by winning three matches in London, including an extraordinarily composed 9-8 victory over Robbie Capito, the youngster earned an A-Plus. Capito led, 8-4, but the twice Asian junior champion could not slam the door.
Capito stoically recovered, going on to whitewash Albin Ouschan, 9-0, in a gargantuan upset, but there was no denying Romppanen his moment. Factoring in youthful exuberance and natural aptitude, his fresh face will undoubtedly be one to monitor.
Billiards was not Romppanen's initial sporting foray. He began potting balls on a table at his local lanes where, aged five, he bowled his first 200. Soon, though, primary focus switched, and ten pin's loss is clearly pool's gain.
Capito's narrative was equally intriguing given that the 20-year-old from Hong Kong had spent the previous week frustratingly cooped up in quarantine, unable to practice, having contracted COVID-19.
Two negative COVID test results afforded Capito hope, as did luckily obtaining a last-minute flight to London, and his eleventh-hour leap of faith was vindicated.
Capito (top) was solid, but 14-year-old Romppanen stole the show in London.
Capito landed at 9.30 a.m., dashed across the UK's capital from Heathrow Airport in the far west of the city to the Olympic Park in the east, immediately took on Robin Cripps and defied both lack of preparation and jetlag by edging through, 9-8. Falling asleep that night was not an issue.
Losing to Romppanen might have constituted a terminal setback but Capito re-grouped on the one-loss side, reeling off four solid victories before succumbing, 9-2, to Woodward in the qualification round for single elimination.
Capito's more than respectable 17th place finish was richly deserved and he, Romppanen and Spain's Jonas Souto Comino, 20, who thrillingly eliminated Jayson Shaw, 9-8, again showed that Filler is sensible not to allow his foot off the gas.
Ouschan, last year's world 9-ball champion and successful in the opening Matchroom event of 2022, the Premier League, was not alone as a giant slayed before the TV cameras clicked into action.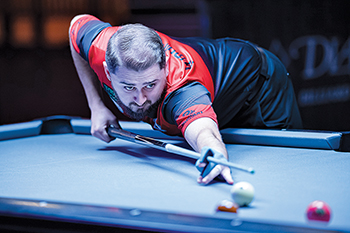 A back-in-form Woodward joined countryman Van Boening into the final 16.
Omar Al-Shaheen, runner-up to Ouschan at the World Pool Championship last year, likewise fizzled out early, his departure sealed by Rainer Laar, an anonymous Estonian. U.S. Mosconi Cup contenders Billy Thorpe and Chris Reinhold also failed to go deep.
Yet, most agreed that the swift exit of Pin-Yi Ko, hard on the heels of his impressive triumph at the Predator Bucharest Open in Romania, constituted the most stunning demise for a universally regarded member of the game's elite.
A subdued Ko went down twice in four matches, firstly, 9-4, against Luke Garland, an Englishman who transferred his attention to pool after struggling in vain for World Snooker Tour membership, then 9-6 to JJ Faul, a veteran from South Africa.
Although 37 percent of the field were Brits, Imran Majid was the solitary home hope to reach the last 16, losing 11-3 to Filler. Already facing a hefty deficit, Majid's fate was sealed by requesting a second shot clock extension in the same rack, and embarrassingly being fouled when time ran out.
Despite self-confessed trepidation from Emily Frazer, the ever-industrious Matchroom Multi Sport supremo and driving force behind the ground- breaking event, the 256-player field was filled out with consummate ease. In fact, a further 380 players found themselves on the reserve list.
"The level of player interest exceeded everyone's expectations," said Frazer, in smiling de-brief mode after a week that underlined 9-ball's ever deepening footprint in the UK. "It's been the highest number of entries for one of our open tournaments and it was also the quickest to sell out.
"These tournaments are world class, with the best in the business pitching up, but they're also about keeping alive the dreams of the amateurs, giving them a chance to sample the big time and maybe even to come up against an SVB or a Filler."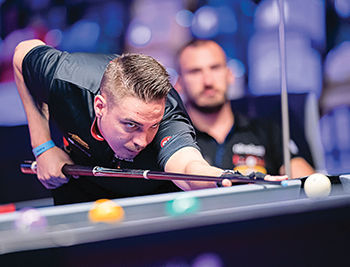 Sanchez-Ruiz churned through a dozen matches after his early loss.
Frazer was so enamored with spectator engagement, general atmosphere and the stadium feel at the Copper Box Arena, that she revealed discussions about returning for the next three years are well advanced.
"We planned, worked so hard and planned some more to pull this off, and we did it. I've had so many experienced players come up and say that if this isn't the best venue they've ever played in, it is certainly one of the best. Honestly, I don't think the overall feedback could've been more positive."
Gary Wilson, a losing semifinalist in snooker's 2019 World Championship, Martin Gould, a ranking event winner, and Fraser Patrick, supplied an infusion of snooker talent. To a man they were enthusiastic about the ambience, constant action and general buzz created by the 24-table set up.
"If the snooker guys are saying good things, then we must have done something right because their events and venues are set up to the height of professional standards. We've met those standards and that's very satisfying," added Frazer.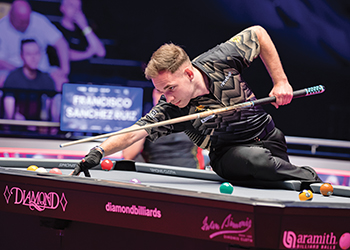 FIller turned a fluked 2 ball into a five-and-out in the title match.
Crowd numbers were encouraging without reaching eye-popping levels, but Frazer remains convinced they will increase, as the still fledgling tournament gathers prestige, exposure, and traction.
"We've already attracted a new audience. A lot of the spectators follow English 8-ball and they've caught the 9-ball bug here. I think we continue to prove that 9-ball is the most entertaining form of the game to watch, and this tournament's underlined the demand for it here in the UK."
At the 2012 Olympics, the Copper Box Arena staged Handball and the fencing division of Modern Pentathlon. A decade later, Filler and Frazer struck gold, creating their own Brit-centric slice of cue sports history in the process.